Marcus Samuelsson
by
Jane Wallace from New York
In my company, I don't buy palm oil anymore because it has such a bad effect on forests. I know other chefs and food providers are taking similar stances. The movement will only grow, and alongside it will be personal best practices that everyone uses themselves every day–to not throw away food, to maybe go vegetarian two days a week. And from there, a whole world of healthy, responsible eaters will blossom. - Marcus Samuelsson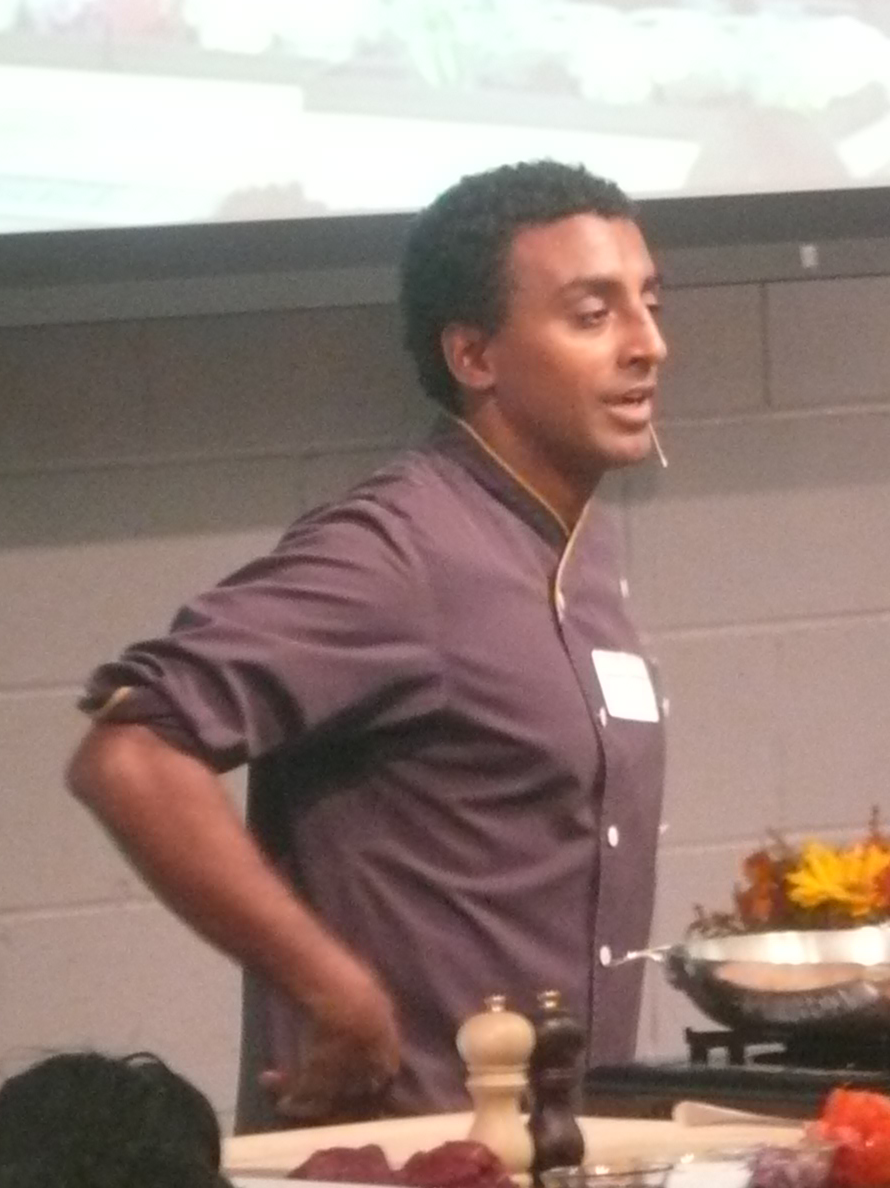 Marcus SamuelssonTduk Alex Lozupone [CC BY-SA 3.0 (https://creativecommons.org/licenses/by-sa/3.0)]Marcus Samuelsson can see an entire planet looking into a simple plate of food. As one of the world's premier chefs, he sees many things you might expect--subtleties and originality of flavor, texture, and the artistry of presentation. He can see the success of the galaxy of stars earned for his restaurants. The contents of award winning books. But then it starts to go global. Samuelsson can connect the world through a simple meal. The need to eat is universal, as is the need to drink clean water. The need for food and water to be sustainable also connects people around the globe. But the barriers to that nutritious plate of food around the world can be complex and formidable, and the ability to see those larger issues in a plate of food that is one of the things that sets Marcus Samuellsson apart.
His life is uniquely his own as well. In any gathering, he is likely to be the only Ethiopian guy with the Swedish accent. Rescued as an orphan, along with his sister, Samuelsson moved to Sweden as a three year old after their mother died of tuberculosis during an outbreak. He learned to cook alongside his Swedish grandmother, and then at the local culinary school. He then apprenticed in Europe. His big break came when he was brought to New York to open a Swedish restaurant. Aquavit won him three stars from the New York Times at only 24, younger than any other chef.
But it is, perhaps, his ability to see the globe in the plate, that has landed Samuelsson not just in some precious kitchens (he created President Obama's first State dinner), but a place at the table as well. Samuellson became a member of the World Economic Forum that meets in Davos, Switzerland every year. He is disturbed by policies like an American policy of subsidizing corn sales to poor countries--at cheaper prices than they could grow their own, but then leaving those same countries hooked and broke from the corn when the price goes up. Not issues in the average kitchen.
Samuelsson has also gone back to his childhood home in Ethiopia where his birth father is still the village priest. He has spoken with reverence and almost spirituality of the spices used there. And, of course, he wonders about how he will incorporate them into his dishes someday. Like everyone in his era, he wants the world to have fresh and locally grown food, but realizes the folly of that dream without food activists to give those without resources a chance. Even in his home in Harlem, he calls some parts "food deserts"--because local delis sell calories but not nutrition. It's easy to find Cheetos but hard to buy a fresh apple. Even with his activism and philanthropy, Marcus Samuelssons joy emanates from his beloved kitchens. He sees himself a lucky man. But he is also a man who has worked incessantly to create, recreate and perfect his successful gifts and share them with the world. Whether he is seated at the table or serving it up, his life is firmly centered on that global plate of food, and the barriers that keep others too far from the fork.
Page created on 7/19/2012 10:54:18 AM
Last edited 9/16/2019 5:35:11 AM
The beliefs, viewpoints and opinions expressed in this hero submission on the website are those of the author and do not necessarily reflect the beliefs, viewpoints and opinions of The MY HERO Project and its staff.

Bibliography
unknown, name. "Marcus Samuelsson." [Online] Available http://dinersjournal.blog.nytimes.com. 2011.
unknow, name. "marcussamuelsson.com." [Online] Available http://marcussamuelsson.com. 2012.
contributors, many. "macus-samuelsson." [Online] Available Http://www.huffingtonpost.com. 2012.
Finn, Robin. "Sundays Are For Calling Mom." [Online] Available http://www.nyt.com/2011/06/26/nyregion/for-marcus-samuelson. 2011.