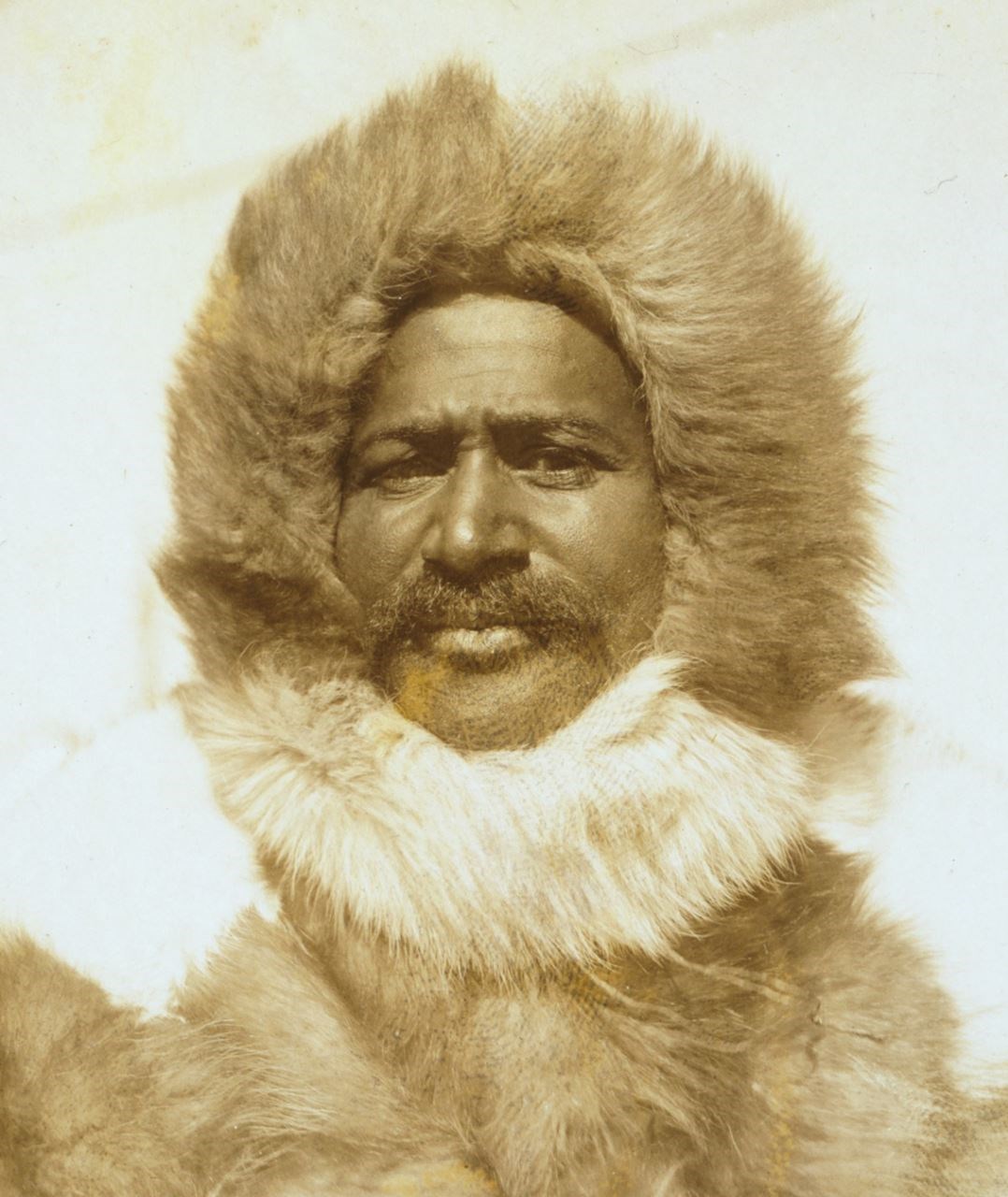 Matthew HensonUnknown author, Public domain, via Wikimedia CommonsMatthew Henson was an accomplished African-American explorer who, along with Robert Peary, was one the first men to reach the North Pole.
Though it is inarguable that both men were valiant and gifted explorers, there is currently much controversy surrounding the discovery of the North Pole, and who, in fact, reached first. Sadly, this controversy is said to be due in great part to racism at the time in America, and the fact that, despite providing skills invaluable to the 1909 expedition, Henson was technically considered an employee of Peary's: someone who helped Peary reach his Arctic destination. While his achievements were celebrated in the Black community, Henson received no national public recognition for his contributions to the expeditions for several decades. This despite Peary having said of Henson during their last and finally victorious North Pole expedition: "Henson must go with me. I cannot make it without him."
"Even more constantly in speech than in writing did Peary keep referring to Henson as the best traveler whom he had known, the most nearly indispensable man. Peary's verdict is, no doubt, the most important single testimony to Henson's ability and to his importance in those epoch-making discovery voyages which resulted... finally, in the supreme achievement of reaching an axis of the earth." -- Vilhjalmur Stefansson, explorer
In fact, though Peary received the prestigious National Geographic Hubbard Medal from President Theodore Roosevelt following their 1906 expedition, it was not until 2000, over a decade after Henson's death, that he too was awarded the recognition (at the newly named Matthew A. Henson Earth Conservation Center in Washington, D.C.). National Geographic, which awards this highest honor celebrating 'distinction in exploration, discovery, and research,' publicly admitted that the award was "long overdue."

Early Life
A year after the Civil War ended, Matthew Henson was born on August 8, 1866 to freeborn African American sharecroppers in Charles County, Maryland, the great-grand nephew of Josiah Henson, a famous fugitive slave. Henson became an orphan at the young age of 11 and by age 13 was working, first on a ship as a cabin boy, where the skipper taught him to read and write. While sailing around the globe he also learned about geography, math, history, and of course, gained seafaring skills.
When he was 21, Henson met the explorer and brilliant engineer, Robert Peary, a lieutenant in the U.S. Navy who was preparing for a surveying expedition to Nicaragua to search for a potential location to build a canal across Central America. Peary hired him to be his valet (many say 'servant') on the trip. Thanks to having worked on a ship during his youth and his skills in mechanics, navigation, and carpentry, coupled with his natural exploration abilities, Henson proved invaluable to Peary on the journey.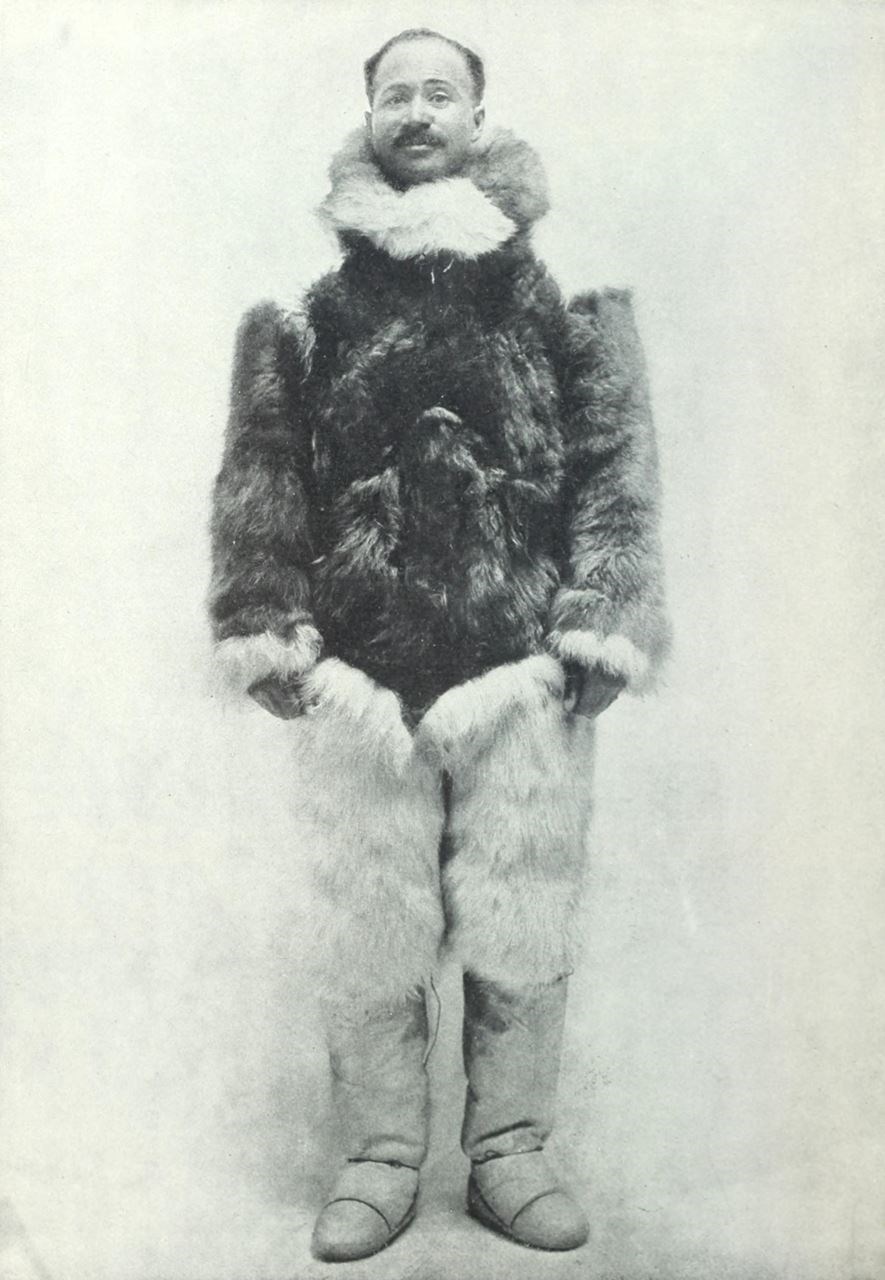 Matthew HensonUnknown author, Public domain, via Wikimedia CommonsAn African American Arctic Explorer
Likewise, three years later in 1890, Henson accompanied Peary in their first Arctic expedition across Greenland. The two spent 7 years in the arctic together and covered 9000 miles on dogsleds, primarily across northernmost Greenland and Canada. Drifting ice packs kept them from reaching the North Pole during several attempts, but in 1906 they tried again, and as with all their arctic expeditions, set off from Greenland. This time they were thwarted by cracking ice sheets and blizzards, but were able to beat the record for the furthermost point north previously reached, which they, themselves, had set years earlier.
By now, the time spent in the arctic and Henson's natural capacity to learn had garnered him many vital skills for their exploration in these extreme climatic conditions. Having learned their language, the native Inuit (also known as Eskimos) taught him how to survive in the grueling environment, and he then personally trained all the members of the North Pole expedition, including Peary, himself. The Inuit took a great liking to Henson, and admired his skills in hunting and sled-driving, so much so that Peary even stated: "He was more of an Eskimo than some of them."
In 1909 the crew left from Greenland, determined to reach the North Pole. At the time the North Pole was considered entirely mysterious, since no plane had yet flown over it, nor had any ship ever reached it, or any explorer ever set foot on it. So elusive was it that in the late 1800s a race between countries and explorers had begun, to see who would be the first to reach this alien region, and some 756 men had died trying to achieve the feat.
Aboard the SS Roosevelt were Peary and Henson, several Inuit men and women, over 200 dogs, coal, hunting supplies, and a massive amount of whale meat and walrus blubber for food. They anchored their ship at Ellesmere Island, Canada, and used a brilliant (but expensive) system requiring great teamwork, wherein 24 men, with 19 sledges, and over 130 dogs broke way towards the North Pole across the frozen ocean, stopping at determined points and leaving supplies, the next team going farther each time. This allowed the final and most courageous team of Peary and Henson to travel lightly, and likewise, the dogs to travel as quickly as they did (an average of 30-60 miles a day!) since they were not carrying as heavy a load. Finally, the two explorers, along with a group of the Inuit men, and their sled dogs, raced forward towards their polar destination (30 dogs went all the way to the pole!). On April 6, 1909, Peary, Henson, and four Eskimos reached Camp Jesup, 89°47', the first people to ever reach the North Pole.
Most current scholars believe that Henson technically arrived first, in that, leading the dog sleds by foot and having the precarious task of breaking the trail across the icepack, he was ahead of the expedition. It is widely believed that, because Peary had become paralyzed from frostbitten feet and had lost several toes, and likewise was being pulled in a sled, Henson was to have stopped just before reaching the Pole, to allow Peary to reach first. As fate would have it, though, thanks perhaps to a miscalculation by the whole group, Henson and 2 Eskimos arrived first, then waited for Peary, during which Henson realized they had already reached their ultimate destination. Peary was evidently angered, and following the expedition, Henson and Peary dissolved their camaraderie. In 1912 Henson wrote a book about his arctic exploration, A Negro Explorer at the North Pole and in 1947, with Bradley Robinson, his biography Dark Companion . The books are said to have further angered Peary.

Henson with a photo of Robert E. Peary
Roger Higgins / Public domain via Wikimedia
His Legacy
Henson began to finally gain recognition for his accomplishment several decades after their famous expedition. He was elected a member of the exclusive international Explorer's Club in 1937, was awarded a Congressional medal in 1944 for his work on the Peary expedition, and in 1945 received a medal from the U.S. Navy, as well as an invitation to the White House by President Eisenhower in 1954. He also received honorary degrees from Howard University and Morgan College. It is said, though, that his most-prized award was a gold medal from the Chicago Geographic Society.
During their expeditions Henson fathered his only child, Anaukaq, with a woman named Akatingwah. Peary too, fathered an Inuit son, Kali. Harvard professor and Henson biographer, Dr. S. Allen Counter, met the men's sons on a Greenland expedition decades later, and brought them to public attention. Though Henson never saw his son again after 1909, in 1987 Anaukaq visited the U.S. with Kali, to visit their father's graves (Peary died in 1920 and Henson died on March 9, 1955) and to meet their extended families. The documentary North Pole Legacy: Black, White, and Eskimo," speaks further in depth of their experience. Anaukaq's 5 sons and numerous grandchildren still live in Greenland.

It was also Dr. S. Allen Counter that petitioned the National Geographic Society for years to present the Hubbard Medal to Henson, and later, who successfully fought to have Henson and his wife, Lucy, reentered from a cemetery in the Bronx to the Arlington National Cemetery alongside Peary, a place where many American heroes and soldiers are buried. In 1996 an oceanographic explorer survey ship commissioned by the U.S. Navy, was named the U.S.N.S Henson in Henson's honor. Most recently a television movie titled "Glory and Honor" and documenting Henson's adventures was released in 1997.
This co-discoverer of the North Pole triumphed over great adversity throughout his life to eventually become one of the world's most intrepid explorers – from being orphaned as a child, to braving the extraordinarily harsh elements of the Arctic environment, to ultimately conquering over the racism which for so long attempted to keep his accomplishments under wraps.