John Sidney McCain
by
Andrew from Leawood
John McCain. Sure, many people have heard of him but few know his real stories and his exciting, inspirational past. U.S. Senator, this is what comes to mind when most people think of him, but there is much more to him than just politics. John McCain has lead a life of compassion and fortitude, reaching out to help his fellow Americans in need. And although some Americans are too narrow-minded by politics to see this, I think this makes him a stronger, more dignified leader. This is why John McCain is my hero.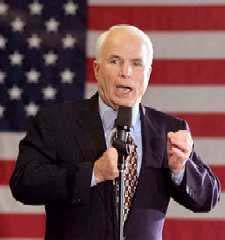 John Sidney McCain was born on August 29, 1936, in the Panama Canal Zone, where his father was stationed by the U.S. Navy. As McCain grew older, he was more and more influenced and interested by the Navy life and he had a great respect for what his father did. When he reached his late teens and early twenties, McCain joined the Navy, just as his father and grandfather had done. After several years of training, McCain graduated from the Naval Academy in the year of 1958. After graduating, McCain began his career as a Naval Aviator. McCain continued to serve his country as a Pilot, until the Vietnam War. There was a call for Pilots to help out, and McCain heroically volunteered for the job. On October 26, 1967, McCain's plane was shot down during his 23rd air combat mission. His plane plummeted into enemy territory and he was feared dead. Then the Navy received word that McCain and his men had been taken as prisoners of war. McCain was beaten for information for several years, but refused defiantly to give any. Then McCain discovered that because his father was a Navy Admiral, he would have the chance to be released early. This was very uncommon and most men would have been more than happy to leave such a horrific place, but McCain stood up and refused to leave until all of his men were released also. McCain waited more than two years for this moment to come, and when he returned home, he was too badly tortured and injured to continue his life as a pilot.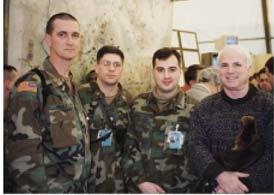 After returning home, McCain married his second wife and moved to Arizona. There he began to discover politics. In 1982, he was elected to Congress, representing the First Congressional District of Arizona. He worked as a representative for several years before moving to the U.S. Senate in 1986. He took the place of Arizona's great Barry Goldwater and is still the senator today. In the 2000 Republican Primary Election, McCain ran against George W. Bush and suffered a defeat. There are rumors of McCain running in the 2008 Election, but one thing is sure, until then, he will stay Senator of Arizona.
John McCain is many different things to many different people but, to me, he is an ordinary person who has accomplished extraordinary things, a hero. John McCain has served his country greatly through his time in the Navy and as a noble prisoner during his time in Vietnam, and as a political leader in the state of Arizona. And he has also suffered and survived skin cancer twice in his lifetime. John McCain is an extraordinary person and if he isn't a hero, then I don't know who is.
Page created on 10/26/2005 12:00:00 AM
Last edited 8/28/2018 7:16:54 PM
The beliefs, viewpoints and opinions expressed in this hero submission on the website are those of the author and do not necessarily reflect the beliefs, viewpoints and opinions of The MY HERO Project and its staff.