"I'm grateful for having shared stories of motherhood with women around the world.
You are my heroes and I celebrate you."
- Melinda Gates -
"If you want to go fast, go alone. If you want to go far, go with others." This quote from Melinda French Gates takes on new meaning when you see how far the Bill and Melinda Gates Foundation has gone since its launch in 1994. In the beginning they were following in the footsteps of Bill's late mother Mary, a devoted philanthropist and father, William H. Gates, whose foundation focused on projects in the Pacific Northwest, as well as global health problems. Today their foundation has many partners, the biggest one being, Warren Buffett, whose pledge of $30 Billion will go a long way towards meeting the goals of the three divisions of their foundation: global health (including nutrition), global development, and community and education causes in the United States.
Melinda Gates was born August 15, 1964 in Dallas, Texas and has never forgotten her modest beginnings. Her father, an engineer, realized his family would need extra cash for all four kids to go to college so he set up a cleaning business that Melinda worked in scrubbing floors and ovens. Her parents made it very clear that they all needed to go to college to make it economically in the US. And so Melinda did, receiving a bachelor's degree in computer science and economics from Duke University in 1986 and a master's in business administration from Duke's Fuqua School of Business in 1987. That same year she joined Microsoft Corp. where she distinguished herself in business as a leader in the development of many of Microsoft's multimedia products, including Encarta and Expedia. She married Bill Gates in 1994 and left Microsoft in 1996 to start a family and focus on their non-profit foundation.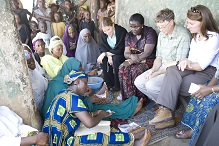 Something significant happened to Melinda that would inform her philanthropy in the years to come. Before their wedding the Gates' treated a group of friends to a 3 week safari in Africa to celebrate their engagement. This, their first visit to Africa, drastically changed their lives, introducing them to extreme poverty and suffering and to a world totally different to anything they had encountered before. According to an article in the Guardian newspaper, Melinda Gates said, " We were driving down the road in what was then Zaire, now Congo, in our smart Jeeps and all the shops in the street were shut down. The women had no shoes and were carrying huge bundles of sticks on their heads with a baby in front and on their back. It was so different, you were almost assaulted by it, in a way that made you want to know more. So we went out into the villages, to understand, and the more we learned the more we wanted to do something to help."
And help they have! Check out what they have been up to since 1994.
In a recent video released by the Gates Foundation Melinda said, " Bill and I feel like even though the world has made progress and has gotten the deaths of children under five down to 9 million deaths a year, those deaths are still tragic and they are still completely avoidable and we feel like we shouldn't live in a world where there are still 9 million children dying a year. So this is a place where we know where we want to focus and we think we and a lot of partners can make a huge difference."
It is common knowledge that better nutrition for mother and baby, clean razor blades to cut umbilical cords and education of the importance of breastfeeding and skin to skin contact is bringing down the rate of infant mortality. As many as 200 million women in developing countries need access to contraception which will save millions of lives of mothers and babies by alleviating unplanned and unwanted pregnancies.
On a recent trip to Nairobi, Melinda encountered a mother who, through the use of contraceptives had planned to have only three children. This planning allowed her to open a sewing business and make sure that her smaller family ate well and could go to school.
Most mothers she encounters around the world through her work with the Gates Foundation seem to want the same thing: to be able to care for their children, give them the proper food, clothing and education so they can have a good future.
In a recent Huffington Post blog, Melinda Gates said, "I talk a lot about the incredible opportunities we have to change the lives of women and children around the world. The main reason for my enthusiasm has been that we already have many of the key tools to save the lives of mothers and their newborns. Now, I have another reason for optimism - new research proves that countries that can integrate these tools into their existing health systems can save lives on a large scale without using new technology."
Melinda had travelled to northern India, to a remote village in the district of Uttar Pradesh that was practising something like Sure Start, a community based sharing of information about childbirth and caring for newborns.
One of the mother in laws spoke with Melinda and told her that she had had 8 children and 6 had died. She told Melinda that she now knows the reason they died. She had cut the umbilical cord with a sickle used in the field instead of a clean razor blade. Her next two children lived because she used a clean razor blade and now she is teaching the young women in her village this lesson so no more babies will die for this reason.
Melinda Gates said, "This is the power of getting women together to talk about how cultural practises make a big difference. A lot of people think that our foundation is about innovations in science and technology and bio technology and that's absolutely true. But we also believe there is another type of innovation that is just as important and that is social and cultural change. We need to talk to women in a way that appreciates their culture but also helps them understand what will keep their children alive."
She continued, "So let me give you an example, if you say to a man or a woman, if you bath in a stream, and as soon as you get out of the stream, how do you feel when you get out of the stream before you put your clothes on and they say I feel cool, I feel chilled and they immediately are trying to dry off and put their clothes on. So you say to them that's exactly how your baby feels after it's born. As soon as it comes out it's starting to get chilled. You want to keep the baby wrapped up and warm. They say, Oh, of course, that just makes sense. Again, through gathering women together and talking with them about cultural practises you teach women to not wash their baby when it's first born to keep that baby wrapped up and warm to put that baby on their chest and kangaroo care it They have literally decreased infant mortality by 54% in this district over 18 months."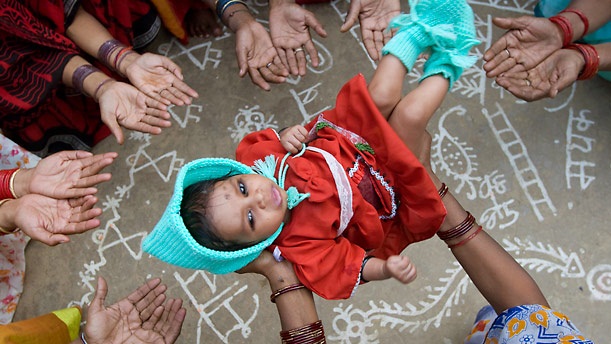 There are so many things going on at the Bill and Melinda Gates Foundation that it would take a book to tell about them. Chapters about vaccinations, about eradicating polio in India, about improved education, about amazing scientific breakthroughs and simple innovations that villagers can use to have more toilets. But the one that I find most heartening, the one that makes Melinda Gates my hero is the chapter about her commitment to mothers and newborns. Many millions of them will now have a chance to live, a chance to aspire to a happy and healthy future.
So who is Melinda Gates hero? This past mother's day she released a short video saying, "I am feeling very grateful this Mothers day. I'm grateful for the progress being made in Mother's and Children's health. I'm grateful for having the incredible experience of being a mother to my three children. And I'm grateful for having shared stories of motherhood with women around the world. You are my heroes and I celebrate you."
Page created on 7/11/2012 9:52:30 AM
Last edited 7/17/2019 4:11:39 PM
Related Links
Bill and Melinda Gates Foundation
- Rooted in our mission, our Values are at the heart of who we are. They shape our approach to our philanthropic work; guide the leadership team that directs our strategies and grantmaking; and, along with our Code of Conduct, they are the foundations of our organizational culture.
Impatient Optimists
- Hello. Welcome to Impatient Optimists. We need your help. We believe that every person deserves the chance to live a healthy, productive life.
TEDX CHANGE
- Melinda Gates speaks at TEDX CHANGE. The TEDx program is designed to give communities, organizations and individuals the opportunity to stimulate dialogue at the local level.