"Immediately, it''s no more fishing, no more crabbing, no more swimming, no more walking on the beach."Gulf Coast Resident Marie Michel
On April 20th, 2010, and oil rig explosion devastated the Gulf of Mexico. An estimated 205 million gallons of oil spilled into the gulf. If all the oil was placed in milk bottles lined up side by side, it would stretch 11,300 miles. 102 school gyms could be filled with oil. 400 wildlife species were at risk of dying out. Many say this is the worst oil spill in U.S. history. Without a doubt, this was a tragic environmental catastrophe, and somebody needed to clean it up.
You don't need to be a professional to make a difference. Volunteers can take classes to make a difference. There are 4 levels of volunteers.
Level One, Basic Training: Spilled oil would never come in contact with this volunteer (beach cleanup).
Level Two, Paraprofessionals: This volunteer would be working at the site. Level two has a safety procedure that has to be directed by professional.
Level Three, Wildlife Rescue: This volunteer would be a trained professional. Not everyone can get level three, as it is a graded program.
Level Four, Boat Crew: These people might have direct contact with the oil. To get to this stage, a volunteer would have to work through the Vessel of Opportunity Program.
There were three main ideas for cleaning the gulf. The first was to contain it on the surface, the second was to dilute & disperse the oil, and the third to remove it from the water. All three schemes were used as well as various other techniques.
Mushrooms are also an innovative way to clean the gulf. The mushrooms soak up the oil. Really! this was used in the 2007 oil spill.
Hair is another way to get the oil out. People have donated pet hair (and people hair) and stuffed them in tights.
Another way you could clean an oil spill is with hay. The hay floats and can absorb the oil. Then, the hay would be scooped up and burned for energy or processed.
Although this disaster was over 2 years ago, the effects are continuing to be devastating. Sick dolphins and turtles are still beaching along with tar balls. The once beautiful coral deep in the gulf is now dead and brown. Fish are still showing up with diseases related to the oil. 30% of Americans still refuse to eat gulf seafood, even though scientists are positive it is safe to eat. However, the Gulf Coast seems to be overall recovering. Louisiana's economy has recovered, the beaches are soft and sandy and the water is clear and blue. Hopefully, someday the gulf coast will be as beautiful as it once was, thanks to the heroes who did their part to help out, even if in a small way.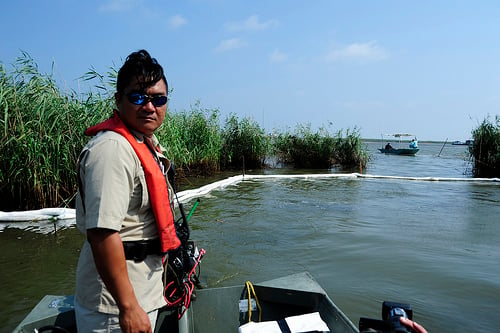 The heroes of the Gulf of Mexico Oil Spill have impacted me so much. They are such an inspiration to be and one day I hope to help out if ever there is another similar disaster (hopefully there won't). I want to dedicate myself to nature, and I want to help out whenever possible, even in a small way. I believe anybody can make a difference, and these heroes prove it. Heroes are not measure by the size of the act, but by the size of their heart.
Page created on 8/6/2014 6:15:04 PM
Last edited 1/5/2017 9:27:03 PM