Reilly Sheffield
by
Slater from Canada
Reilly Sheffield and I have been friends since we first met in kindergarten, in Los Angeles, California. Looking at the smart, blonde haired thirteen year old with fierce pale blue eyes and a wonderful sense of humor, you would never think for a moment that he had a life threatening disease, TS- Tuberous Sclerosis. TS has symptoms like epilepsy, autism and tumors.

Reilly is really smart, funny, generous, has a great imagination, is brave and kind and is a loyal friend. When I asked him who inspired him, who his hero was, he said that his parents were his heroes. When I asked him why, he said "because they love me, and because it helps to use their lives as a comparison. And also my adult friend Rich. He is really nice and always makes me laugh. Plus he has been in the hospital like I have. So it's nice to have someone to talk to about hospitals…depression…and that kind of stuff. My parents just need to love me to be my inspiration. Really that's all I need right now. Love… and antidepressants" he adds with his dark sense of humor. Reilly just had a kidney transplant and the medication he is on has a side effect of depression. But I don't, and Reilly doesn't want you to feel sorry for him. He's a strong kid.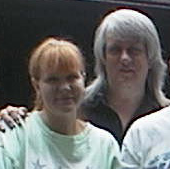 I can see why Reilly's heroes are his parents. Chris and Pat Sheffield have worked very hard to raise millions of dollars to find a cure for TS. They also are kind, funny and treat Reilly like a regular kid, so that everyone else does too. We spent many happy times at the Sheffield house, creating skits with stuff from the massive box of dress-up items, swimming in their pool and biking down at the park with his little sister Parker. Chris would get Reilly and I out of school for a 'secret' lunch of French fries… It's good to have a PTA mom on your side when you're skipping out of the school cafeteria. I guess what I am trying to say is that his parents are always there for him.
Some of his hobbies are swimming, playing with friends, playing video games and reading and playing with his dog, Judy. When Reilly grows up he wants to be "an architect…. or a dad. Maybe both."
Reilly Sheffield is my hero because he has embraced life with open arms. And because, throughout everything, he remains positive. He doesn't let TS envelope him like a cloak, but stamps it down into the dust with his foot. He makes me grateful for the little things. He makes me appreciate who I am. As a human being. I asked him if he wanted to share anything else and he told me: "Be yourself and don't let anything change you, unless you want to."
Page created on 1/10/2007 12:53:19 PM
Last edited 1/13/2017 7:00:28 PM
The beliefs, viewpoints and opinions expressed in this hero submission on the website are those of the author and do not necessarily reflect the beliefs, viewpoints and opinions of The MY HERO Project and its staff.
Related Links
TS Alliance
- Check out how to help children and their families with TS
Pistolera Post
- Watch Reilly in 'Reilly's Message' about TS
Pistolera Post
- Watch the 2005 film 'Faces of TS' to see and hear children's stories told by their brave parents
Reilly's Blog
- Check out Reilly's Blog