Rembrandt was born in a time and place ideal for being a gifted artist. For his country of the Netherlands, this was a heady and prosperous time. After declaring its independence from Spain in 1581, the Netherlands enjoyed a peaceful respite from its power-hungry neighbors' interference. From 1609 to 1621, the Netherlands enjoyed a golden age in which it developed as a great sea power and expanded its trade around the globe. Amsterdam, its major seaport, became the world's most important commercial city, giving the Netherlands the highest standard of living in Europe. As a new and bustling economy took root, this was a Golden Age for art and artists as well.
Rembrandt Harmenszoon van Rijn, was born July 15, 1606 to a prosperous family. After attending the University of Leiden, he convinced his parents to allow him to take up painting instead of Latin. From 1621 to 1624, he studied with a history painter in his hometown of Leiden. He then left for the big city of Amsterdam where he studied under Pieter Lastman. After only one year, Rembrandt had surpassed his teacher. He returned to Leiden, where he enjoyed immediate success as a professional artist and teacher during the years 1625 to 1632. Wealthy merchants in his hometown of Leiden recognized good art and were willing to pay a fair price for it. Leading citizens and officials commissioned group portraits in order to document their important achievements. One such painting, called Doctor Nicolaes Tulp's Demonstration of the Anatomy of the Arm (seen above) was hung in the Hall of the Surgeon's Guild. This remarkable piece was completed in 1632 when Rembrandt was only 26 years old.
Rembrandt's personal prospects brightened even more when he moved to Amsterdam in 1632 and then, in 1634, married the beautiful and devoted Saskia van Uylenburg. Due to Saskia's generous dowry, they bought a large (and heavily mortgaged) house and were able to live an affluent lifestyle – even allowing Rembrandt to indulge in his obsession for collecting art. Saskia became a frequent model for Rembrandt as he painted her into many scenes of biblical and mythological subjects.
The contentment of the couple ended with the death of their first child at only two months of age. Rumbartus, a son, had been named after Saskia's father. A second and then third child, both girls, also died in infancy. It can be seen that Rembrandt's work gradually became more sober during these years. In September 1641, they rejoiced at the birth (and survival) of their son, Titus. However, tragedy struck again when Rembrandt's beloved wife died of tuberculosis on June 14, 1642, less than a year after Titus' birth.
This loss was devastating to Rembrandt. He threw his sorrow into his work and produced what today is considered an innovative masterpiece of art - The Nightwatch. Painting this in the same year as Saskia's death, he reached new heights in his experiments with light and focus in this composition. Although the city officials who had commissioned the piece were disappointed that Rembrandt had not followed the established tradition of more static poses, it was a landmark painting. The individual actions and positions of the painting's subjects would pique the interest of other artists for years to come.
By this time in his life, Rembrandt was struggling with severe financial difficulty. His fervor for collecting rare art had strained his budget. In addition, his poor management of his affairs in general, and a coinciding national downturn, forced him to declare bankruptcy in 1656, consequently losing his house.
In our modern age of technology, we might forget just how difficult this undertaking would have been. This is where the genius of his technique comes into play. In those days, an artist did not simply go down to an art shop and buy whatever colors he needed. Colors were mixed by hand from whatever elemental materials were available.
"Of all the Baroque masters, it was Rembrandt who evolved the most revolutionary technique and who seemed to grow into the Italians' spiritual heir. Where others needed five touches he was using one, and so the brushstrokes had begun to separate and could sometimes only be properly read from a distance. The exact imitation of form was being replaced by the suggestion of it: to some of his contemporaries, therefore, his paintings began to look unfinished. It was from the Venetians that he had learned to use a brown ground so that his paintings emerged from dark to light, physically as well as spiritually. Yet, despite a palette that was limited even by seventeenth century standards, he was renowned as a colorist for he managed to maintain a precarious balance between painting tonally, with light and shade, and painting in color. Just as form was suggested rather than delineated, so the impression of rich color was deceptive. Never before had a painter taken such a purely sensuous interest and delight in the physical qualities of his medium, nor granted it a greater measure of independence from the image."
Waldemar Januszczak, Techniques of the Great Masters of Art
It was in the self-portraits of Rembrandt's last years, while studying his own soulful stares into the mirror, that he recorded what the faces of humankind so often reflect in life. His, too, was a face on which sorrow and grief had left their marks.
Also, Rembrandt's paintings had become more reflective at the very time when the public was enamored with the more ostentatious style of those imitating Van Dyck. The fine detail found in the work of a Van Dyck was not what Rembrandt chose to emulate. Instead, his brush strokes became thinner and stronger, the colors richer. Although biblical themes were still his favored subjects, now he painted more intimate portraits rather than large group scenes.
Although he found solace and love again in his devoted mistress, Hendrickje, and his bond with his son Titus remained strong, he was to lose them both. Hendrickje died during a plague epidemic in 1663. In 1668, as the plague raged through the Netherlands again, Titus died. Heartbroken, Rembrandt lasted only one year after Titus' death. He passed away on October 4, 1669.
Rembrandt's personal life, as tragic as it became, was not so different from that of many others throughout history. From this little sketch of his life, you might not know why his having been here on this earth would qualify him for the title of "hero," unless you thought of his devotion to his family, his dogged determination to hold true to his ideals and that his paintings are very beautiful indeed.
It is in the meaning of his paintings that we find the key. During that dark time in Rembrandt's life, he became reclusive and labored to paint only that which was an obsession to him. It simply was not in him to conform to the new standards of technique and style in the paintings of the day, even though they might have brought him more success. He labored over the exploration of something else. It was the need to express what makes us human and how we communicate this to others through our emotions. Although he rarely wrote about his work, he did say this: "The deepest and most lifelike emotion has been expressed, and that's the reason [the paintings] have taken so long to execute." Here is where Rembrandt's true genius and heroic qualities shine forth. He sought to capture in paintings the suffering, reflection and compassion that has been shared by humanity since the beginning of time.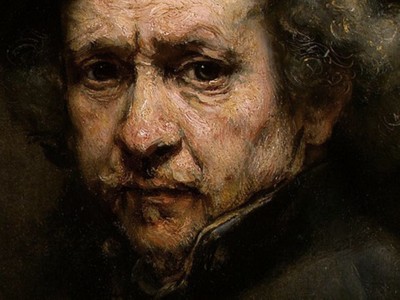 Perhaps it was this compassionate understanding of human grief that led Rembrandt to cast himself and his loved ones, and even his neighbors, into so many introspective religious scenes - as though by doing this he might discover the meaning of life and possibly its transcendence. In a way, the Parable of the Prodigal Son reflects his quest. If we look at the first painting of this subject, "The Prodigal Son in the Tavern," done in 1635, we see an exuberant Rembrandt, full of energy and hope, slightly devil-may-care, his feather aglow with a light that is matched by Saskia's shimmering gown. We can sense the joy and promise of life in this painting.

Contrast this with "Return of the Prodigal Son," completed in the year of his death in 1669, and we see a world of difference - not only in style and execution, but in substance, depth and wisdom. The son is now wretched, humble and contrite. The joyful face of the father is subdued, but it shows understanding, compassion and an almost indefinable expression that is beyond forgiveness.
Such is the mystery of Rembrandt. Beyond his being one of the Great Masters of Art, this is why we still honor him today. This is why he is a hero for all time.
Extra Info
Click here to listen to the Rembrandt Van Rijn story
Did Rembrandt have an eye defect that might have helped, rather than hindered, his art? Read this article from BBC about what a group of scientists discovered and see what you think.
Did Rembrandt have heroes?
Most art scholars would agree that Rembrandt had at least two artists whom he idolized: Peter Paul Rubens, with his "fluid, vigorous brushwork and grand, painterly illusions;" and Titian, who later in life had "gone in search of more reflective moods and discovered a new and glorious freedom in his brushstrokes." As Rembrandt grew older, it was Titian whom he most admired.