Originally when I thought about having to choose a hero, I looked way back into history. I looked at presidents and scientists, someone who simply fit the generic definition of a hero. I was having trouble settling on anyone like this because none of them really had a personal impact on me. That is when I realized that a hero does not have to be well-known or anything of the sort. I now know that a hero is a personal choice, and the term hero is a subjective term. In my opinion, a hero is someone who is intelligent, caring and determined. She is brave and a person you can look up to and aspire to be like someday. I found my hero when I was traveling to Baja, Mexico in a group called "Global Explorers."
My hero is Aracely Rojas. She was one of the guides on my Global Explorers trip. She's inspired me and made me want to work hard so that I will have a chance to accomplish some of the things she has.
Aracely's character alone deserves anyone's admiration. She was always in a cheerful mood. I don't think she ever stopped smiling. She was incredibly kind, generous, and courageous. She was constantly encouraging us to try new things and experience as much as we could.
Aracely Rojas was born in a small Nicaraguan town, near the border of Hades. Only a year before her birth the Nicaraguan Revolution had ended. Both of her parents were revolutionaries and taught Aracely how important it is for her to work for her dreams.
Through her grade school years, Aracely moved around Mexico, from huge cities like Mexico City to very small ones. When it was time for her to start at a university, she moved to the Baja Peninsula and started at a school in La Paz. She is working towards getting her degree in marine biology, and now she is working on a thesis about conservation. While in school, she was a kayak guide in places like the Sea of Cortez. This is how she got involved with Global Explorers. She went on trips just as trial runs, and this June, she will be leading her first group on her own.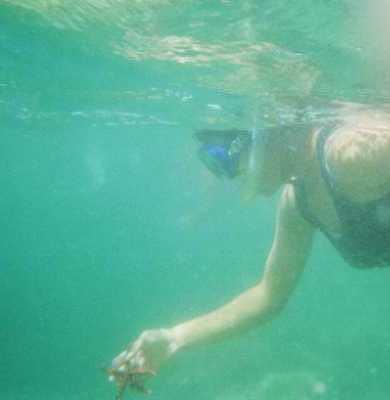 Ever since I can remember, I have loved nature, especially the water. I have always loved working with kids and enjoyed helping the community. For the past few years, I have been really interested in both conservation and marine biology. Aracely's job involves all of this, and for that reason, I look up to her just for what she gets to do for a living. I have not met many marine biologists, but those that I have were a lot harder to relate to. They were all much older and less… fun.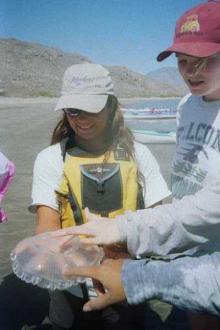 The more time I spent with Aracely, the more I looked up to her. At first she was just a really fun, young, bubbly person. Then, I found out how much she knew about desert ecology and the cultural aspects of Mexico. Later, she showed courage and enthusiasm by picking up a venomous scorpion for the first, and second, time in her life. This was before I even saw her doing what she does best, snorkeling and kayaking which, because of the trip, and Aracely herself, are probably the two best things I could ever think of doing. I am so glad that I have gotten to come across a person as incredible as Aracely, and I hope that she can spread her knowledge further and get more kids involved with the environment. As for me, she has given me a new desire to work hard, and as she told me, to "Listen to my heart, but don't forget my head," in order to achieve my goals and dreams.
Page created on 5/12/2006 4:15:34 PM
Last edited 5/12/2006 4:15:34 PM
Related Links
Global Explorers
- provides international immersion experiences for teachers and students "to discover the wonders of Classroom Earth."
Baja Journey
- More information about the Global Explorers trip I went on
Biography of Aracely Rojas
- More information on Aracely Rojas