Ben's despair is not unique - that's why people with the mission like that of Ruty Hotzen are heroes.
You see, in part, a hero is someone who embraces a vision of a better world and then lives "as if" it is a present reality. We call it living "as if." In history we find heroes of all stripes and colors from Abraham (the Father of Judaism, Christianity and Islam) to Israel's Menachem Begin to Egypt's Anwar Sadat to South Africa's Nelson Mandela. For each their vision for peace and justice was never limited by contemporary realities in which they lived.
In other words while the politics and norms of their societies may have dictated a life of racism, nationalism, or as our poet Ben put it:
pain for the people we love
why must hate take over?
They lived "as if" the future of love, peace and harmony was as close at hand as the violence and injustice that was a part of their everyday existence.
Inspired by her hero, Janusz Korczak, Ruty Hotzen is one of those unique individuals whose life and work is an outstanding example of someone who lives - and works - "as if."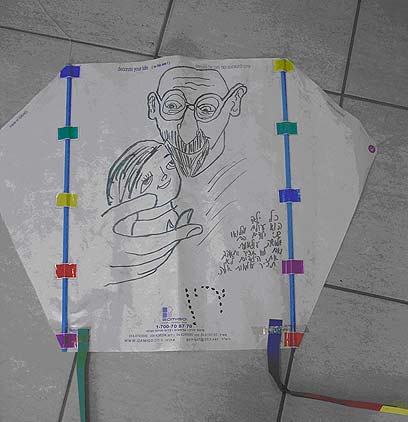 Janusz Korczak featured on a kite from Itamar School, Israel
The truth is we live in a world where children are often placed at the bottom of our culture's "care" list. Children do not vote, pay taxes and so it is often true that when it comes to the policies and practices of governments and other public institutions the needs of our children are neglected. Of course, as Ruty is quick to point out, we know from history that when we neglect the needs of our children and their children's children for the benefit of short term political and economic gain, society, indeed the world, pays a very heavy price.
Ruty knows this truth well. She lives in Israel, a country that throughout its history has been wracked by violence. And Ruty knows that this cycle of violence can only be stopped through the care and nurturing of children, regardless of their national, religious, or racial affiliation.
Ruty points to the visionary steps that Israel's Begin and Egypt's Sadat took to heal the wounds that so divided their two counties. Begin and Sadat put aside politics, religion and in effect said to the world that by signing a peace treaty: "We come to this table not for us, but for the welfare and benefit of our children and their children's children."
Ruty shares the belief that peace in the Middle East as well as the rest of the world will come when we put children and their education first.
Herself a lifelong educator, five years ago, Ruty adopted the Talking Kites program, which she has taken to places near and far.Talking Kites was initiated by artist Adi Yekutieli as a tribute dedicated to dialogue through the language of art worldwide.
Involving thousands of young people, a Talking Kites event combines the fun and excitement of building and flying kites while sharing a common vision for peace and justice. And with each kite soars a twofold message of inspiration. The first is at the end of each kite string where a child who may be Muslim, Jewish, Christian, Black, White, Palestinian, or Israeli shares a dream of a better world. And secondly on each kite is written a message of inspiration, which embodies the life, philosophy, and teachings of Janusz Korczak.
Now as we said earlier, Janusz Korczak is our hero's hero. He was a Polish-Jewish Doctor, children's book writer and educator. He worked with children who were marginalized and abandoned by society and families. He set up orphanages to care for and educate "his" children. He did this not because he was sympathetic to their plight or because he glorified them but because he sincerely believed that within each child burned "a moral spark that could be vanquished by the darkness that is at the very core of human nature."
To prevent these divine sparks from being extinguished, Korczak believed that one needed to love and nurture each child so that they would continue to believe in truth and justice. And Korczak himself walked the talk.
When the Nazis marched into Poland with an agenda of hatred manifested as genocide, Korczak did all he could to shield the children with the hope embodied by his presence and the presence of his vision for them and their future. So committed was he to children that when the Nazis told him he was free to go, Korczak chose to march to the death camps with over 200 children. In the process he kept a dairy about the atrocities he witnessed, as well as the hopes and visions onto which he and his 200 children clung like life lines.
This diary of this hero has lived on to inspire Ruty and thousands like her to carry on the work and teaching of Janusz Korczak.
At her Talking Kites events Ruty share the vision of Korczak. When you are present at a Talking Kites event you will see with your eyes and you will hear with your heart the message of Janusz Korczak. Inspirational lines from Korczak's writings paper the sky, soaring like the dreams they capture.
One kite may say: "Every child deserves love!" Another may read "You do not leave a sick child and you do not leave children in a time like this."
As Ben wrote after flying a Talking Kite:
KITES
Fun in the hot sun
Flying high over the sky
Blowing in the wind
In a world that is segmented by the "isms" that so divide the human race, and where the possibilities for peace seem as distant as a snow hill in the Gaza Strip - To witness Ruty's vision for a world (a vision that embraces the impossible possibility for peace and justice) is to be treated to the sensation, no, the belief that peace is not so far away after all. It is right there in the hands and hearts of our children - and all we have to do is nurture it and keep it well and live and burning as hot as a spark.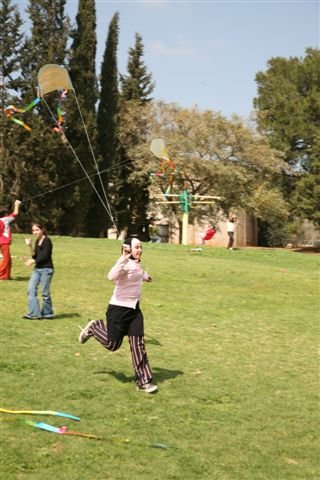 "Talking Kites" (photo taken by Galena)
When we do this, we too might have the same experience as Ben who wrote in his third poem entitled "Peace":
PEACE
People doing good
Fun for the people we love
Why can't we have it..
And so it is that Ruty, Janusz and now Ben are people who live "as if" peace is a possible possibility and each asks each one of us, "Why can't we have it?"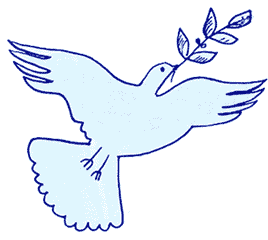 Peace