Steve Irwin
by
Liz and Kate from Michigan
"I want the cleanest water, the freshest air, and wildlife in abundance, but most of all I want a future for our children."
Steve Irwin was a wonderful man. He had so much to offer the world. His bravery and courage will never be forgotten. He was born February 22, 1962 in Victoria, Australia to parents Lyn and Bob Irwin. He had no siblings of his own. He later was married to Terri Raines from Oregon, USA in June of 1992. In July 24 1998, the crocodile hunting duo had their first off-spring, Bindi Sue Irwin. In December 1 of 2003 another child was born to the Irwin's, Robert Clarence Irwin.
As his parents were the founders of the Australian zoo, he had been around wild animals all his life. At age six for his birthday, he received a scrub Python, something he had always wanted. When he reached the age of nine, he started to help his dad catch crocodiles for the zoo. He had a very successful career in television. In 1992, he shot his first very popular TV episode of the "Crocodile Hunter". He also had four other very popular TV shows such as, 'Croc Files', 'Croc Diaries', 'New Breed Vets' and his unfortunate season 'Oceans deadliest'. He had over 5 hundred million viewers in over 120 countries world wide. He also starred on in his movie, 'Crocodile Hunter Collision Course'. Because of his continually launching career, he appeared on famous talk shows like Regis and Kelly, Conner O'Brien, the Tonight Show Larry King Live, and Oprah.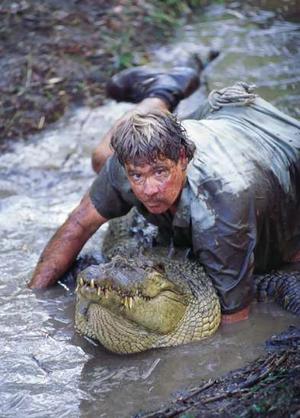 Steve Irwin was a hero for many people and he demonstrated this because he was willing to do anything to save an innocent animal's life. He would swim through dangerous waters to rescue a small snake or a full-grown crocodile. His personality won the hearts of viewers all around the world. Every day on Animal Planet every hour people would be shocked at what he did. Sort of like a circus performer juggling his life every show.
Steve Irwin was a great teacher and a huge inspiration to all who loved him. Some great hero characteristics that define him are he was brave and had a lot of courage. He showed us this when he would go against all odds to save an animal in danger. Also, he was kind and helpful to all he would help an animal that was lost, hurt, or just there. Steve Irwin would be there for any animal in its time of need. Another one is he was very understanding of life, he would know when an animal just wanted to be left alone. When it was time to leave he would just go and not try to get more information out because that would disturb the animal.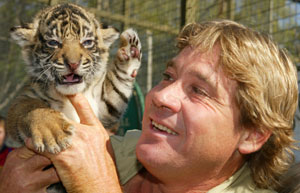 While filming his last episode on the series "Oceans Deadliest", Steve Irwin died on camera. Many people wept of sorrow with the loss of a great man. While Scuba diving in the Australian coast in Sydney, he swam along the bottom, when a stingray buried in the sand stabbed him in the heart with its barb. Reporters said that Steve had boxed the stingray in accidentally. The animal was in shock and twisted around until the tail sprung up. His death was announced dead at 5:10 September 4th 2006. Steve Irwin has taught a very important lesson to all he has taught us a new way to look at wildlife. When he went out on an adventure he would let us know he was not out to harm animals. When he was killed it made us all who love him think of the wildlife and how he cared for the wild. When we think of Steve Irwin we think of the wildlife and animals. Why do we love Steve Irwin so much because we love how he cared and helped any animal even if it could kill him. In conclusion, Steve Irwin was a very good man. May he rest in peace.
Page created on 3/17/2007 12:00:00 AM
Last edited 3/17/2007 12:00:00 AM
The beliefs, viewpoints and opinions expressed in this hero submission on the website are those of the author and do not necessarily reflect the beliefs, viewpoints and opinions of The MY HERO Project and its staff.