SUJANA
by
DEWI FITRIYANI from SMAN 24 BANDUNG
Sujana, a hero of the environment.
There are many definitions of a hero. A hero can be described as a person who dedicates his life to the needs of others. Or, a hero can also be described as a person or something that affects or saves others' lives. A hero can help motivate others. Of course, everyone has his own perception about the characteristics of a hero. And I believe that everyone can be a hero, for himself or for another person. A person must not always be strong or famous or rich to be a hero. All that a person needs to be is just, have honest intentions and great spirit to make something better, not only for many people, but, most importantly, for himself.
A great thing always starts from a little thing. Actually, I have many people that I consider as heroes, for example, my parents, The Holy Prophet of Islam Muhammad SAW, my teacher, and many more. And there are people who are real heroes for the environment, although they are often forgotten or overlooked. Some of these people are road cleaners. Maybe you will think that it's ridiculous and maybe you will also wonder why I would choose a road cleaner as my hero when there are many famous figures in the world. But have you ever thought what your environment would be like if there was not a road cleaner in your area? We would live in a big trash bin. In most of the cities in my country, the roads are cleaned using brooms instead of heavy machinery. Yet, some people keep littering. But maybe you will say, "It's their job, so of course it's their responsibility to keep the environment clean." Yes, you may be right again, but have you ever thought that it is really a hard job?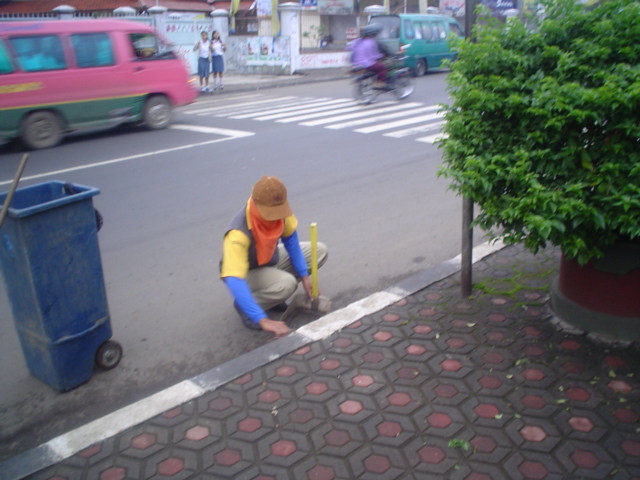 Mr. Sujana is the road cleaner in my area, Ujung Berung. I can see my area is always clean and there is no flood. Sujana was born in a small town, Tasikmalaya, on April 15th, 1966. He only graduated from junior high school. Then he became the road cleaner. Now, he lives with his wife and their three children. He admitted that his job is hard enough. Everyday he leaves for work at 4.30 a.m. and starts sweeping the road with his two friends. They must clean 3 kilometres of road. He works until 3.00 p.m. Everyday he brings a waste container and sweeps the foliage, plastic, paper, even house waste from road. He puts the trash into the container and carries it to the waste dump truck. Sujana works on a hot sunny day or in the rain. He says that he does not find any big problems with his job. He just feels sad if there are people who are not aware of the importance of keeping the environment clean. Sometimes while Sujana is sweeping the road, he sees somebody littering in front of him, but it never makes him lose his temper. He asks the person not to litter again, and then he picks up the rubbish and puts it into the trash container. Sujana also earns a very small income, but he admits that he is quite happy with his job, because he can do something for his earth.
Sujana is a simple person who, because of his honest intention, makes the environment around us better.
Page created on 8/12/2005 12:00:00 AM
Last edited 1/5/2017 9:53:31 PM
The beliefs, viewpoints and opinions expressed in this hero submission on the website are those of the author and do not necessarily reflect the beliefs, viewpoints and opinions of The MY HERO Project and its staff.