Sacagawea
by
Destiny from Nevada
Imagine yourself sitting in a boat next to Lewis and Clark going on the Lewis and Clark Expedition. What would you be doing there? You would be a guide. You would be a famous explorer. You would be Scagawea.
Sacagawea was born in 1790 in what is now the state of Idaho. She was a Shoshone Indian whose tribe would move from place to place to gather food. One day, when Sacagawea was ten or eleven, Hidasta Indians attacked the Shoshones. Sacagawea was grabbed by a Hidasta Indian. She was taken to the Hidasta tribe where she was taken prisoner.
After a few years, a man by the name of Toussaint Charbonneau came to the Hidasta village. He was interested in gambling and played against Sacagawea's master for Sacagawea and won. She was taken immediately to where Charbonneau lived, which was Fort Mandan. Charbonneau was part of the Lewis and Clark Expedition and one day, Meriwether Lewis came to Charbonneau's cabin and asked, "Can your wife Sacagawea come with us on the expedition?" Charbonneau responded yes and they were off with Sacagawea with them.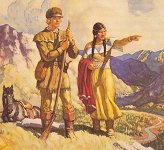 Six months later, Sacagawea had a baby. His name was Jean Baptise Charbonneau. During the winter of that year, the men were struggling to survive. They had to kill some of their horses for their food. Once the winter was over, the men left their fort and started off for the rest of their journey. One day, when the men and Sacagawea were in their boats, Sacagawea's boat keeled over. Sacagawea rushed to the rescue and saved important papers, tools and medicines. Lewis and Clark were so appreciative that they named a river after her. After the journey, Sacagawea and Charbonneau went back to Fort Mandan and Sacagawea died in 1855.
I chose Sacagawea for my hero because she did adventurous things. She also showed that girls can do anything. I think that Sacagawea is the best hero ever.
Page created on 5/17/2007 12:00:00 AM
Last edited 5/17/2007 12:00:00 AM
The beliefs, viewpoints and opinions expressed in this hero submission on the website are those of the author and do not necessarily reflect the beliefs, viewpoints and opinions of The MY HERO Project and its staff.