Sacajawea
by
Laura from Sycamore Jr. High
Imagine someone that you look up to, respect and honor; that's a hero. I think of someone who saved someone from a fire or has done something brave. That was before I read "A Hero's Trail." From reading the book I learned about survival heroes, heroes on the spot, hero to others near and far, hero for all time and hero within.
My Hero is Sacagawea [1790 – 1805]. She lived in present day Idaho. She went along with Lewis and Clark on their expedition to explore the West. 2005 is the Lewis and Clark Bicentennial. She did not know any English but she spoke Shoshone and translated to her husband Charbonneau, who spoke Shoshone and French. Then he spoke to Francois Labiche, a member of the expedition, who spoke French and English. Then, he spoke to Lewis and Clark who spoke English. So she was very helpful on the expedition.
Sacagawea was born around 1790 in present day Idaho. She was part of the Shoshone tribe. In Shoshone, her name meant "Bird Woman". When she was 12, she was captured by the Hidatsa tribe, which was an enemy of the Shoshone. She was taken from her home. It was a long way from Idaho to North Dakota - that's a long way. There she was sold as a slave to Toussaint Charbonneau, a fur trader [and later her husband]. Her son Pomp was born on February 11, 1805. He became the U.S.'s youngest explorer. She joined Lewis and Clark on their expedition to explore the West. Out of the 33 permanent members on Lewis and Clark's expedition, Sacajawea was the only woman. She was very valuable when Indians, who came ready to defend their territory. When they saw Sacajawea and Pomp, they were very friendly. So she was very important.
Sacajawea was an example in T.A Barron's "A Hero's Trail." She was a Survivor Hero. When her boat that she was riding on in the expedition was hit by very strong winds, she got important papers and supplies that could have been lost. Also, she would have been a hero on the spot because without her quick thinking she wouldn't have gotten all those supplies. She also guided Lewis and Clark to where the Columbia river emptied into the Pacific Ocean. Without her, they would have been attacked by Indians or would not know where to go. That's why she is a hero, described in T.A Barron's "A Hero's Trail."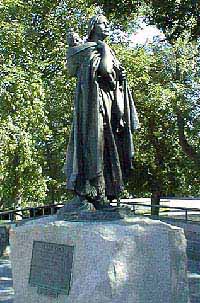 So now you know more about Sacagawea. She survived a long journey to explore the west. She made it to the Pacific Ocean. Now she is a person you should honor and respect. She didn't save someone from a fire or saves someone's life. However she was a survivor hero. She also was a very important person in history. Without her Lewis and Clark might not of made it to the west. I Hope you enjoyed learning more about Sacagawea.
Page created on 10/29/2005 12:00:00 AM
Last edited 10/29/2005 12:00:00 AM
The beliefs, viewpoints and opinions expressed in this hero submission on the website are those of the author and do not necessarily reflect the beliefs, viewpoints and opinions of The MY HERO Project and its staff.
Extra Info
Bruchac, Joseph. Sacagawea. Broadway: Scholastic, 2001. Barron, T.A. The Hero's Trail: a guide for a Heroic Life. New York: Philomel Books, 2002.