"TheDream.US" fund scholarship program to aid immigrants
by Kimberly Hefling
Associated Press

Under the program, about 2,000 'Dreamer' students are expected to have their tuition, fees, and books paid for with scholarship funds.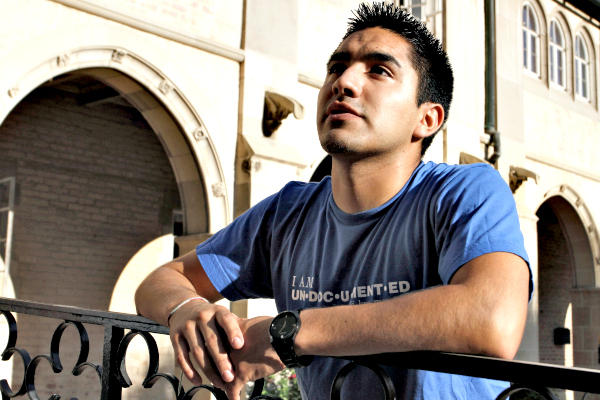 Jonathan Alcorn/Reuters/File
WASHINGTON

A former owner of The Washington Post on Tuesday announced the creation of a scholarship program for students known as Dreamers who were brought to the United States illegally as children.
Donald Graham said the "TheDream.US" fund already has raised about $25 million.

The program was created by Graham; Carlos Gutierrez, commerce secretary under President George W. Bush;, and Henry Munoz III, the finance chairman for the Democratic National Committee.

The program has other high-profile supporters such as the Bill and Melinda Gates Foundation, actor and director Diego Luno, former Florida Gov. Jeb Bush, and Grover Norquist, president of Americans for Tax Reform.

An estimated 65,000 students graduate from American high school each year without legal status. They don't qualify for federal financial aid or many other scholarship programs, and without financial assistance, their opportunities to go to college are limited.

A majority of states don't afford them in-state tuition, although a growing number of states are extending the opportunity.

Under the scholarship program, about 2,000 students are expected over the next decade to have their tuition, fees, and books paid for with the scholarship funds.

"All of us want to help set something right that is greatly wrong," Mr. Graham said at a press conference.

To qualify, the students must be participating in the "deferred action" program announced by President Barack Obama in 2012. That allows immigrants brought into the United States without legal permission as children to obtain temporary resident status for two years. The status is renewable.

Graham said he got involved with the issue after learning about immigrant students unable to go to college as part of his work with District of Columbia College Access Program. He said he didn't worry about wading into a political issue because "Educating kids is not taking a political stand," and he sees widespread bipartisan support for these students.

Last year, The Washington Post was sold to Amazon.com founder Jeff Bezos.
Page created on 2/6/2014 2:52:52 PM
Last edited 8/3/2018 12:07:54 AM
The beliefs, viewpoints and opinions expressed in this hero submission on the website are those of the author and do not necessarily reflect the beliefs, viewpoints and opinions of The MY HERO Project and its staff.
Related Links
The Dream.US
- A new multimillion dollar National Scholarship Fund for DREAMers, created to help immigrant youth who've received DACA achieve their American Dream through the completion of a college education
The MY HERO Project
- BUSINESS HERO: BILL GATES by Egan from San Diego
The MY HERO Project
- HEALTH HERO: MELINDA GATES by Wendy Jewell
MY HERO Newswire
- Hero Who Thwarted Child Abduction Reveals Illegal Immigrant Status