Slater Jewell-Kemker is an award winning 20-year-old director who is introducing her generation to the international youth climate movement. Born in Los Angeles to filmmaker parents, she has grown up with the belief that she could not only create her own media, but change the world around her by doing so.
For the past four years she's been doing just that in her ongoing documentary, "An Inconvenient Youth", a film whose main goal is to give young people on the front lines of climate change a voice, but also to shift the perspective on the climate crisis from one of fear and misunderstanding to one of the heart.
She has been recognized for her filmmaking and activism by the United Nations, Toronto International Film Festival, Sidewalk Film Festival, My Hero Film Festival, SilverDocs, Cannes and others. In addition, she's given numerous workshops on filmmaking within the youth climate community, enabling young people of her generation to tell their own stories and be empowered to stand up for a green, sustainable, caring world.
Slater and "An Inconvenient Youth" are currently working with Architecture for Humanity to develop a prototype off-the-grid facility for small communities most affected by climate change. These shelters, designed to collect fresh water and solar power, are more than shelter during times of emergency, they are year-round safe spaces designed to address each village's cultural and communal needs.
What people are saying about AN INCONVENIENT YOUTH:
"The inspired beginnings of what is already a knock-out documentary. told from the perspective of our generation." - Jeremy Osborn, Co-Founder 350.org
"Love. Why is it so hard to say? Why is it ridiculed as a solution? Why is it corny to say it nowadays? We need to find ways of expressing our love and we need to become comfortable with that language urgently." - Dr. Danny Hutley, UK Youth Climate Coalition
"Amazing video Slater. I'm very happy to be able to show people something so honest and persuasive about COP-16 and this movement. Thank you. - Carra Beth Cheslin, SustainUS.org
"I love it, you made me cry, then smile, and feel inspired all over again." -Emily Hunter, eco journalist, activist and editor of "The Next Eco Warriors"
MY HERO recently caught up with Slater in Canada for this interview:
What motivated you to go on this journey of making a feature documentary when you were 15?
"When I was 15 years old, I was given the opportunity to represent Canada at a youth summit working hand in hand with G8 Environment Ministers attending their own summit. I was extremely excited, not only to be standing up and having a say in my own life, but to know and work with other young people from around the world on some of the most important issues we face- climate change and the environment. We worked non-stop, getting little sleep, to come up with the ideas we felt would spark action on our leaders part. Sadly, it was not to be. It ended up as a photo-op. We were literally paraded on a stage with flags. I remember feeling utterly drained, discouraged and angry. How was it that we, the next generation, the ones who will be experiencing the drastic effects of climate change, were being excluded from meaningful dialogue and used in such a blatant way? I realized I had to do something to change things, and that something, was filmmaking. By telling the stories of young people, maybe I could affect the way people look at climate change and their planet and give a voice to my generation. I've been working on this film ever since!"
You filmed in Nepal, a country that is experiencing devastating climate change right now. How did this experience affect you?
"Nepal affected me on a very deep and visceral level. I thought I was simply making a film on climate change. I discovered that it goes so far beyond that. Climate change isn't just an environmental issue anymore, to think so is small minded. It's about people and social justice as much as it's about the natural beauty and wildlife that surrounds us. It's about bringing a standard of life up for everyone so that as this change envelops us, we will be able to adapt, together. It's about education, poverty alleviation, gender equality- it's about toilets and clean drinking water. It's about sharing... about changing and preparing for change. It's about embracing opportunity. Like my friend Kyle Gracey says, "Even if climate change didn't exist, we all want clean air, clean water, better jobs, more innovation." We have a responsibility to not only help each other, but as wealthy nations to pave and show a better way, one built with sustainable energy, with innovative ways to adapt, with just and caring values that embrace not only our brothers and sisters, but everyone."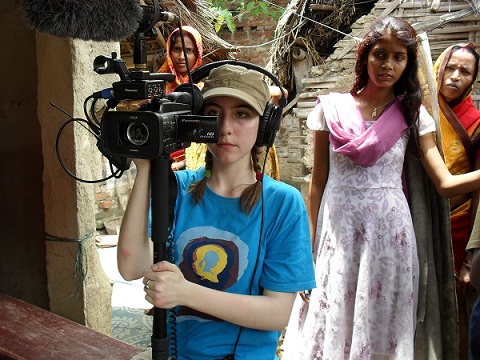 Can you tell us a little about your partnership with Architecture for Humanity and the Off the Grid facility that will come out of it?
"Alina Pokhrel (my subject in Nepal), myself and the whole AIY team are currently working with Architecture for Humanity to develop a prototype off-the-grid facility for small communities most affected by climate change, inspired by the people in the villages we visited and filmed in Nepal. These shelters, designed to collect fresh water and solar power, are more than just a shelter during times of emergency, they are year-round safe spaces designed to address each village's cultural and communal needs."
What gives you hope?
"For the past few years I've spent much of my time filming and thinking about climate change and the international youth climate movement. We all know how depressing this subject can be. But there is a truly beautiful, exciting idea that is racing through this community and taking hold. That idea is love. I know it sounds corny, but this idea that love has the potential to change the world gives me hope. And I see it in the young people I work with. This overwhelming, overflowing creativity and passion and drive to create a better world- it reaches beyond borders and nationalities, and uses our common humanity to bind us together. That concept, that maybe in the midst of such a frightening thing as the climate crisis, we will finally come together as people and create a caring, just, sustainable world- that gives me hope, however idealistic and naive it may be."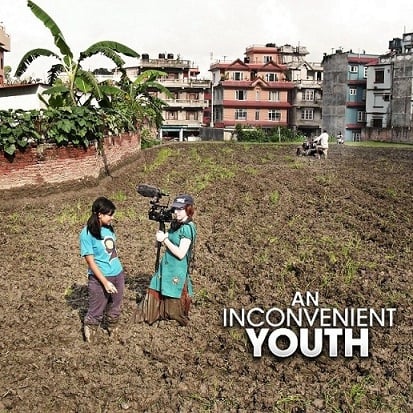 What do you have to say to young people who want to do something about climate change, either in their own community or globally?
"Hold onto your passion and never let it go. You may just be one person, but you as a young person, particularly in this age of the Internet, have so much power to affect the world around you. Connect with other young people, create your own media to share your story or join a community that already exists and is actively working to create solutions to this climate crisis and/or working on adaptation. Please check out the links below for resources."
You have, at a young age, already experienced a lot of the world and met some pretty amazing people. Who inspires you? Who is your hero?
" A hero of mine at the moment is Xavier Dolan, a brilliant young director out of Montreal. His stories are both incredibly simple and deeply connected to feelings of joy, pain, loneliness and ecstasy we all share as human beings. I think as artists we always yearn to create something much greater than ourselves, and that striving for beauty is very much woven into the fabric of his films."
Climate change is a pretty intense issue, what do you do for fun?
"I'm a keen tango dancer and pianist, and as a filmmaker and Cinephile it's my goal to become a film encyclopedia. I live on a farm in the countryside of Canada, and I get a lot of calm and fulfillment from walking in nature and taking in the quiet beauty around me."
Do you have a quote that inspires you?
"To be truly radical is to make hope possible rather than despair convincing" - Raymond Williams
Related Links
An Inconvenient Youth
- AIY captures the vibrant untold story of the global youth climate movement. Decisions made today are shaping the world they will live in and they are no longer willing to sit idly as the planet is degraded for the short term gain of the older generations. Director Slater Jewell-Kemker has been interviewing celebrities and politicians about the environment since she was 10, now she is telling the stories of these remarkable young people on the front lines of climate change. AIY is the exploding story of this movement, fighting for their planet, their future.
Creative Visions
- Slater is extremely proud to be a Dan Eldon Fellow through her partnership with Creative Visions, the foundation created to honor his memory.
Open Architecture Collaborative (formerly Architecture for Humanity)
- AIY is partnered with Architecture for Humanity and the Lions Club of Biratnagar,Nepal to create an OFF THE GRID facility for the village you see in An Inconvenient Youth 2012. In Nepal there is no debate about climate change, as they are the fourth most vulnerable country to it's effects. This prototype will serve as a solution for adaptation to this climate crisis.
Global Youth Climate Movement
- Our world is quickly evolving whether we want it to or not. We see it in social revolutions, economic meltdowns, and an environment made increasingly unstable by the effects of climate change. Rising temperatures worldwide are causing erratic weather patterns and the melting of the world's glaciers resulting in heat waves, droughts, flooding, rising sea levels, crop failures and fresh water shortages. But there's still hope. Around the world young people are banding together, and with their passion, knowledge, dedication and creativity, they™re working hard to change the policies and mindsets around them to achieve their dream of a green, sustainable world.
Check out 5 of their stories.