Rory Stear and Kristine Pearson
by
Jacob, Claire, Jackson, and Evan from Seattle
"My vision in co-founding Freeplay was for it to be both the best in the world, and the best for the world." ~ Rory Stear
Kristine Pearson is the Head of the Freeplay Foundation. She travels around Africa distributing radios and finding out how they could be improved. When Kristine was 20 years old, she immigrated to Africa and immediately fell in love with the continent. At the time, there were programs designed for rural areas, but there was no way to communicate them to people. There was no power and no way of disposing of batteries. This lead her to become the head of the Freeplay Foundation. In 2001, the Freeplay Foundation used the first $50,000 Tech Museum Awards prize to develop the Lifeline radio, which is virtually indestructible and provides programming about medical care to classrooms around the world.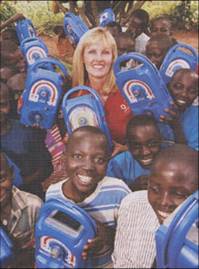 Freeplay Energy Plc's mission is to enlarge and advance sustainable energy and Freeplay Foundation seeks to apply their technical advances to restore the results of energy poverty, which is the main obstacle to economic growth in poor and rural areas. The Foundation's work is currently in Africa where the high cost of batteries and low levels of electricity keep the poor from getting basic information.
The two organizations have made public health, education and incomes better in poor and rural countries. They are helping get rid of poverty and improving the quality of life for people around the world. Since Freeplay Energy's first radio was created in 1996, aid agencies and the Freeplay Foundation have given over 600,000 self-powered radios to rural and poor parts of the world, providing access to information to more than eight million people.
Rory Stear found a regular wind-up radio after his business partner saw it on a BBC program. He got worldwide rights to the radio, developed it further, and adapted it for use in rural conditions. Freeplay Energy was created in 1994 as a commercial company. Stear recognized the possibilities of disposable battery-free radios in addressing energy poverty in developing countries and created the Freeplay Foundation in 1998.
Rory Stear and Kristine Pearson have created a radio that, after a few minutes of winding up or solar power, can give a few hours of listening time. Because of what they have done, millions of people are getting a better chance at education, better medical care, and higher incomes.
In 2003, Kristine Pearson was a finalist for the Wharton Infosys Business Transformation Award. In 2004, she attended the Global Social Benefit Incubator at Santa Clara University, because of her Tech Award. In 2004, she became a lifetime member of the World Technology Network and in 2005 she received the Global Humanitarian Award.
Page created on 5/25/2015 12:00:00 AM
Last edited 1/5/2017 9:48:25 PM
The beliefs, viewpoints and opinions expressed in this hero submission on the website are those of the author and do not necessarily reflect the beliefs, viewpoints and opinions of The MY HERO Project and its staff.
Related Links
Freeplay Foundation
- is committed to providing innovative and practical energy solutions and to ensuring sustained access to information and education via radio for the world's poorest communities.
Tech Museum Awards
- 2005 Global Humanitarian Award
Bibliography
Unknown, Unknown. "Campo de Actividad: Tecnologia." [Online] Available http://www.schwabfound.org/schwabentrepreneurs_sp.htm?schwabid=773.
The Tech Museum , of Innovation. "2005 Global Humanitarian. ." [Online] Available http://www.techawards.org/about/global_humanitarian_award/2005.
Unknown, Unknown. "Sustainable Times Online." [Online] Available http://www.sustainabletimes.ca.