"A career in science is a great way to make the world a better place." – Dr. Susan Love
On February 9, 1948 James and Peggy Love welcomed their first of five children into the world. They named her Susan Margaret Love and instilled in their oldest daughter an almost fervent desire to positively impact the world around her. And chuckles Love, "I have instilled it in my daughter as well. She wants to become an astro-physicist."
Initially attracted to medicine as a way to combine her affinity for science and her wish to work with people, Love began her premed studies at the College of Notre Dame in Baltimore, Maryland. After two years of study; however, she left to begin a residence in a convent in New York City. Ultimately, Love decided that the best way for her to be of service was not as a nun and she returned to school, this time enrolling at Fordham University in New York City and was awarded her B.S. in 1970. She received her M.D. from SUNY Downstate Medical Center in Brooklyn, NY. Love graduated cum laude and was ranked fourth in her class. At that point, the appeal of surgery was three-fold, as Love explains, "You get to work with your hands, you have immediate answers, and you really get to fix people." By the time she completed her surgical residency at Beth Israel Hospital in 1979, she was the chief resident, a position which, at that time, was practically unheard of for a woman. She would also become the hospital's first female surgeon on staff. During the next 12 years, Love would also serve as a pioneer for women in another scientific area: academia. She taught at Harvard Medical School, first as a Clinical Instructor in Surgery, from 1980 to 1987 and then as an Assistant Clinical Professor in Surgery from 1987 to 1992.
Love didn't intend on focusing on women's health; but found that when she went into practice, "they wouldn't give me any patients who were men. I got mostly women who had breast problems. And it was clear to me that they weren't being treated very well. It became clear that I could make a much better difference as a breast surgeon." In 1981 she became a member of the staff of the Breast Evaluation Clinic of the Dana Farber Cancer Institute. In 1988, she founded the Faulkner Breast Center in Boston—the first institution in the country to have a multi-disciplinary all-female staff.
As a practicing surgeon, Love realized that there were a lot of women around the world who were being diagnosed with breast cancer who weren't being educated about their bodies or the implications of their diagnoses. "In those days," says Love, "Women were treated with a 'Don't worry your pretty little head about this' attitude, and to be totally fair, male patients were not being given a lot of information either. The doctor was boss and whatever the doctor said was right." Love also noted that most women weren't being adequately counseled about their treatment options. "They would say 'Well, if you were my wife, I would do a mastectomy,'" even after clinical studies suggested that mastectomies didn't necessarily improve the chances of survival and that subcutaneous mastectomies still left up to 10% of the breast tissue which could become cancerous. Love chuckles, "I would say 'Ask them if they like their wives.'"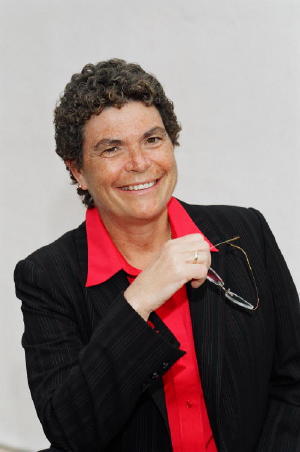 Through her own work as a practicing surgeon, Love had become quite adept at "explaining things to patients." So, in 1990, she co-wrote Dr. Susan Love's Breast Book with Karen Lindsey, widely considered to be the breast bible. The over-600 page tome, covers everything from the biology of the breast to how it works, growth and development of the breast, diagnosis and treatment of cancer, how cancer operates on a DNA level to clinical trials, augmentation and reconstruction, and prevention is additionally valuable because it presents such a vast amount of complicated information in a straight-forward, accessible and sympathetic manner. In 2005, the book enjoyed its fourth revision and reprinting.
In 1990, Dr. Love co-founded the National Breast Cancer Coalition, a self-described grassroots advocacy group. She also became its director, a position she still continues to hold. To date, the NBCC network counts amongst its network 600 member organizations and 70,000 individual activists. The group's missions are to assist in research advancement, increase access to comprehensive care and to promote the inclusion of breast cancer patients in every level of the agencies responsible for guiding the course of breast cancer from research and development to treatment and data monitoring.
Since the group's conception in 1992, federal funding for breast cancer has increased over 800 percent from less than $90 million when the organization began to more than $800 million in 2003. In 1993, President Clinton created a National Action Plan on Breast Cancer in response to the NBCC's 26 million signature crusade.
In 1992, Dr. Love headed west and became the founding director of the Revlon/UCLA Breast Center. She also continued teaching, this time at UCLA Medical Center, where she still remains as an Adjunct Professor of Surgery. In 1997, she resigned from her post at the Revlon/UCLA Medical Center.
In 1998 she was awarded an MBA from the executive program at UCLA's Anderson School of Business. She was also honored with a nomination from President Clinton to the National Cancer Advisory Board, on which she worked from 1998 – 2004. Lastly in 1998, she published Dr. Susan Love's Menopause and Hormone Book, again co-authored with Karen Lindsey.
In 1995, Dr. Love had also become the Medical Director of the Santa Barbara Breast Cancer Institute. In 2000, the Institute changed its name to the Dr. Susan Love Breast Cancer Research Foundation. In 2004, the Foundation changed its name again to the Dr. Susan Love Research Foundation and moved from Santa Barbara to the Pacific Palisades, in Los Angeles.
After Dr. Love resigned from the Revlon/UCLA Breast Center, she made a career change to focus on research and advocacy. She has spent her time developing better diagnostic tools, such as ductal lavage—a diagnostic procedure, considered to be the equivalent of a pap smear, but for breast cancer.
A tiny catheter removes cells from the milk ducts and then examines them for pre-cursors to cancer, assessing the risk of breast cancer development. As a diagnostic tool, ductal lavage is valuable as it may highlight the potentiation of cancer years before a tumor grows that is large enough to be picked up in mammogram screen. Ductal lavage is also useful for high-risk women, as the ability to determine their risk is more fine-tuned. Hence, high-risk women who are considering a double mastectomy may discover that their cells look normal. Ductal lavage also offers hope to young women, as mammography isn't often very accurate for them.
But Dr. Love is quick to point out that ductal lavage still needs improvement. "It's not quite there yet, because looking at cells under the microscope is not the best. It's like trying to pick a criminal out of a line-up by its clothes."
Throughout her distinguished career Dr. Love has won numerous awards, including the Walker Prize from the Boston Museum of Science in 1998, the Alumni Achievement Award from SUNY Downstate Medical College in 1999, the Excellence in Cancer Awareness Award from the Congressional Families for Cancer Awareness in 2002 and the Lila Wallis Women's Health Award from the American Medical Women's Association in 2004. Dr. Love continues to be inspired in her work by her personal heroes, people such as "Eleanor Roosevelt and Elizabeth Blackwell--the first woman to go to medical school. People who didn't take no for an answer, who saw what needed to be done, went out, and did it."