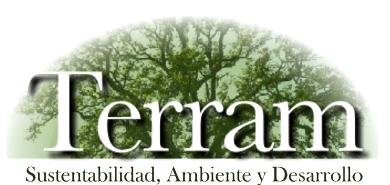 Sustainability, Environment, and Development
"...The proposition that must be kept present today is that there is not and there will never be any type of development if it is not understood that all public policy must be immersed in the "ecological issue" and that any avenue that departs from this idea inevitably will generate underdevelopment. To resolve environmental problems and to make the transition to a sustainable economy is an historic mandate and the only true and efficient way of achieving development..."
A History of Sustainable Development
In today's often struggling and volatile world economy, some feel that economic prosperity, particularly for second and third-world nations, should come at nearly any price.
The Terram Foundation understands that everything comes at a cost. They know that with economic expansion often come ugly side effects. But they also understand that the burden of economic opportunity is often carried by those least able to carry it: by the voiceless, the underpriviledged, and the environment.Likewise, The Terram Foundation (Fundación Terram, in Spanish), an NGO based in Santiago, Chile, was founded in 1997 with the purpose of promoting sustainable development, defined as "a socio-ecological process characterized by the fulfilment of human needs while maintaining the quality of the natural environment." The foundation too is eager to see Chile's economy grow to new heights. It is just unwilling to see it happen at the price of the well-being of laborers, the environment, or core ethics.
Focusing on the concept of sustainable development, the foundation seeks to meet current needs without compromising future welfare. Terram's work, once primarily focused on sustainable natural resource management and ecosystem protection, has grown to include a variety of social issues, particularly international trade agreements, democracy, social empowerment, increased living standards, and worker's rights. Through 'research, publications, outreach' and public dialogue, the foundation is accomplishing, one step at a time, what it set out to do.
Big Fish, Big Problems
A primary area of focus for the Terram Foundation is salmon farming, which has grown exponentially in Chile over the last two decades.
Although not a native species to Chile, salmon, which was introduced to its Pacific waters in the '80s, has grown to be Chile's second largest export, with current numbers expected to grow even more significantly over the next several years.
Focusing on worker's rights issues, as well as environmental concerns, the foundation is working towards achieving higher standards in Chile's thriving aquaculture industry.
The industry, though thriving economically, is causing wild fish populations to drop at alarming rates, biodiversity to suffer, and creating massive amounts of nitrogen waste.
The foundation states that "the environmental impact of salmon farming is equivalent to pouring organic waste from seven million people into the waters off the southern coasts of Chile."
Salmon farming, coupled with abalone breeding which is depleting natural seaweed, is causing great environmental impact to the aesthetically renowned South American nation's coastline.
Likewise, it is imperative, to say the least, that environmental protection standards are set into place quickly.
A Seaweed Solution
Through extensive research the Terram Foundation has developed technology to help avert numerous ocean catastrophes simultaneously, using a natural element – seaweed—to do the job.
By attaching seaweed seedlings to long lines created around salmon farms, the seaweed - again, depleted dramatically by abalone farming which uses it as its feed source - is able to thrive on the salmon farming waste. In doing so, the seaweed also serves as a cleanser for the waste in the water, reducing nitrogen levels and pollutants.
As the seaweed grows, it continues to provide a good food source for the abalone and other aquaculture, which in turn, also averts natural plants from being overharvested for the purpose.
In accordance with the organizations' other goals and an unwaivering mission towards sustainable development, The Terram Foundation also trains low-income and underpriviledged groups in the cultivation of the environmentally beneficial seaweed, simultaneously creating job growth, community involvement, and local solutions to larger environmental concerns. The Terram Foundation's work has not gone unnoticed. Most recently they were selected as 2007 Prize Award Recipients at the prestigious "Tech Awards" which celebrate technology benefitting humanity. As recipients of the Intel Environment Award, they were honored as "innovators using technology to make the world safer and healthier, more prosperous and just."
Their work is equally celebrated in Chile, where they are seen as an open source of dialogue for topics that are oftentimes underaddressed, an alternative source of information for journalists, champions of the environment, and a voice for the voiceless.
Page created on 11/15/2007 7:10:03 AM
Last edited 1/5/2017 9:54:43 PM
Related Links
Fundación Terram
- is a non-profit organization whose aim is to contribute to generate new proposals for the sustainable development of Chile. These proposals seek to meet the present generation needs not compromising the future generation's right to enjoy
The Tech Museum Awards
- is an international Awards program that honors innovators from around the world who are applying technology to benefit humanity.
Salmon Farming Threatens Chile's Patagonian Lakes

- A new WWF study just released finds that the production of farmed salmon in Chile's unique Patagonian lakes has doubled in the last decade, contaminating them with nutrient pollution, invasive species, disease and harmful chemicals.
CHILE: Exposing the Salmon Industry
- More than 30 environmental and consumer organisations in six countries that produce farmed salmon, including Chile, have launched a global week of action to raise awareness on abusive practices by the salmon industry.