Terrrance Stanley Fox
by
Emily from Calgary
Terrance Stanley Fox was born July 28, 1958 in Winnipeg, Manitoba. His mother and father were Betty and Rolly Fox. He had an older brother named Fred. Another brother Darrell was born 4 years later. Judith, his only sister, was born in 1964. The family moved to Surrey B.C. and then to their last destination, Port Coquitlam, two years later. His parents say he was a determined little boy and never liked to miss a day of school. Terry Fox became a real athlete in junior high school and he met his friend Doug Alward. Both boys played baseball, rugby and basketball. By grade 12, Terry Fox and Doug Alward shared the Athlete of the Year Award. Terry Fox graduated from Port Coquitlam High School with honors.

Terry Fox went to Simon Fraser University in Vancouver. Terry Fox played on the basketball team. His coach said "Fox outshone players who were more talented because he showed more drive." In March 1977, Terry complained of a bad knee pain. He was then diagnosed with osteogenic sarcoma, which is a form of bone cancer. To stop the spread of cancer the doctors amputated his right leg 6 inches above his knee. Three weeks after surgery he was walking with an artificial leg. In July he was playing basketball again in the Canadian Wheelchair Sports Association and met Rick Hansen.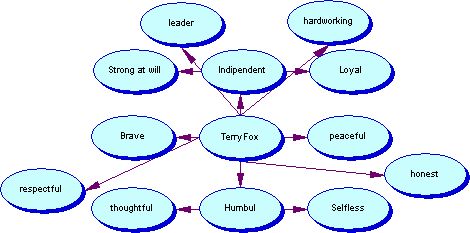 Terry Fox remembered reading an article about an amputee named Dick Traum running in the New York City Marathon. He began training to become a marathon runner in 1979. A better artificial leg was developed for him using a pogo stick and a motorcycle shock. After running, his leg stump would be covered in cysts and bleeding sores. In August 1979 Terry ran his first marathon with his friend Doug Alward. Terry finished last only 10 minutes behind the last two-legged runner. That fall, Terry Fox came up with the idea of running across Canada to make money for cancer research. His goal was $1 for every Canadian. He was sponsored by Ford who donated a camper van, Adidas provided shoes, Imperial Oil paid for the gas and Safeway gave food vouchers and money. His plan was to start in St. John's Newfoundland and finish in Vancouver Island. This was going to be known as the Marathon of Hope.

On the morning of April 12, 1980 in St. John's, Terry dipped his artificial leg into the Atlantic Ocean and began his Marathon of Hope. By the start of May he arrived in Nova Scotia. By the end of May his brother Darrell joined Terry and made things go better. When the group reached Quebec it quickly became the worst time for Terry on the run so far. They even went five days without a shower because none of them knew how to speak French. However, when they entered Ontario at the town of Hawkesbury, they enjoyed a welcoming party with a brass band and a thousand balloons. Terry got a standing ovation from fans at a CFL game. Then Terry got to meet Prime Minister Pierre Trudeau. By the middle of August Terry had raised $11.4 million for cancer research. On August 31, just before Thunder Bay, Terry thought he was coming down with a cold. He had chest and neck pain but kept running because people were cheering him on. Terry was forced to stop and go to the hospital. The doctors told him his cancer came back in his lungs. He stopped his Marathon of Hope after running 3339 miles and had to go home.

By February 1981, Terry Fox has raised $24.17 million equaling Canada's population of 24.1 million at that time. He reached his goal of $1 per person in Canada. Terry Fox Runs are held yearly now in 60 countries and more than 360 million has been raised for cancer research. Terry Fox's legacy lives on.
Page created on 2/25/2006 12:00:00 AM
Last edited 2/25/2006 12:00:00 AM
The beliefs, viewpoints and opinions expressed in this hero submission on the website are those of the author and do not necessarily reflect the beliefs, viewpoints and opinions of The MY HERO Project and its staff.