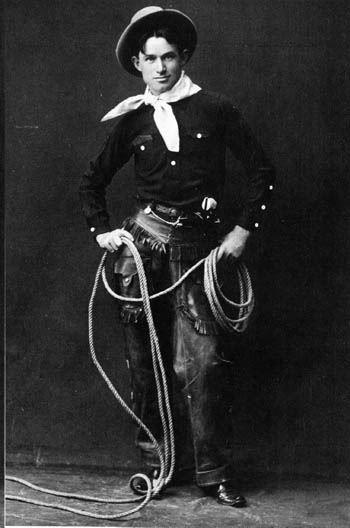 Will Rogers (19th century photo)https://commons.wikimedia.org/wiki/Will_RogersWilliam Penn Adair Rogers was born in the wild Oklahoma Territories on November 4, 1879. This was the real Wild West and Will's family survived hardships with grace and courage. Will's parents, both of Cherokee descent, provided him with a stable, loving and interesting home. Clement Van Rogers was a senator and judge who helped write Oklahoma's state constitution. He was also a successful rancher and businessman. Will's mother, Mary America Schrimsher, descended from a Cherokee Chief, was a gentle lady of her day. She was the perfect senator's wife: knowledgeable about literature, music and etiquette; and known for her good humor, piety and devotion to charitable works. She was also a rancher's wife and the mother of eight children. Of those eight, the Rogers family lost four children to the diseases common in those times. Will's surviving three sisters doted on Will, and his mother was eager to teach her bright young son what she felt was important in the world. She stressed upon him the importance of community and that there was a spark of divinity in each and every individual. Will adored his mother and took her message to heart. For Will, however, the schooling of the day would be somewhat of a challenge.
"I was not a child prodigy, because a child prodigy is a child who knows as much when it is a child as it does when it grows up."
The Rogers Ranch was a center for many of the important and notable people in the region. Will had access to the important people in his community but he was comfortable with all people, no matter their education, wealth or race. He also took naturally to the life of a rancher and outdoorsman. Before the age of five, a freed slave by the name of Uncle Dan Walker taught Will Rogers a skill that would become a source of fascination for him, as well as a part of his public persona, for the rest of his life - rope tricks. Will became so good with rope tricks that he was listed in the Guinness Book of World Records.
In fact, Will was so taken with the outdoor life and his rope tricks that he had little patience for schooling in the community's little one-room schoolhouse. His parents enrolled him in Harrell International Institute, where his sister was attending. This was followed by Willie Halsell College and then Scarritt Collegiate Institute in Missouri. Will spent more time roping than studying, however, and after only one semester at Scarritt, he was expelled. He spent two years in Kemper Military Academy, Missouri, before quitting school for good at the age of eighteen.
"Nothing you can't spell will ever work."
Now Will was able to focus on what he truly loved - performing. He joined vaudeville in 1905 at Madison Square Garden, where he rode his pony, Teddy, around the ring, doing rope tricks to slow-paced orchestra music. At those times, when his rope tricks would fail, Will would begin a little patter in talking to himself. His self-deprecating humor gradually became one of the most popular features of his act.
"When I roped her, that was the star performance of my life."

Will married his long-time sweetheart, Betty Blake. Betty was his best friend and an astute adviser about what the public most enjoyed. She suggested that he read newspapers every day and comment on the daily topics during his roping act. Soon Will was so informed that he could do three daily shows worth of material! From then on, Will Rogers was a household name. His leading line, "Well, all I know is what I read in the papers," became a heads-up that humor was sure to follow.
"There's no trick to being a humorist when you have the whole government working for you."
It was natural that Will would begin writing his own news columns. Through the years he wrote over an astonishing 4,000 of them, syndicated in 600 newspapers. Other overlapping careers blossomed, too. Will wrote six books and went on to appear in seventeen films. Radio was another natural medium for him. His down home wisdom appealed to the everyday folks who regularly tuned in to hear him.
"Rumor travels faster, but it don't stay put as long as truth."
Will was so well informed and insightful that he was asked to be a commentator at the National Convention in 1948, and he continued in this function for many years. To all requests for him to run for office, however, Will Rogers always gave a firm no.
Will was a devoted husband and family man. His three children spoke fondly of their father as "Dad." He and Betty remained close partners for all the twenty-nine years they were married.
"I'm not a real movie star. I've still got the same wife I started out with twenty-eight years ago."
Will demonstrated the same care and love toward his community and his world that he did for his family. As Will said, he thought of himself first as a caring member of the human race. In a way, he predated and set the example for the charity works of the pop icons of today:
"Rogers' humanitarian activities were widely followed and admired. When an earthquake destroyed Managua, Nicaragua in 1931, Will Rogers flew south to lend his name to fund-raising efforts; after floods ripped through the lower Mississippi Valley in 1927, Will Rogers was on the spot to entertain and to ease the pain of the dispossessed; when Oklahoma and surrounding states became a 'dust bowl' during the famous drought of the 1930's, Rogers stumped Oklahoma and Arkansas for the Red Cross."
Peter C. Rollins
Will's love of adventure never left him. The thrills of riding led to the thrills of flying, and it soon became normal for Will to travel all over the world in any plane that happened to be heading in the direction he wanted to go. Will "never piloted an aircraft but was an enthusiastic, fearless air passenger and champion of air travel during embryonic times." He was even listed as number 46 in Aviation Week and Science Technology's All-Time Top 100 Stars of Aerospace.
"If Lindbergh will fly the ocean, we ought to muster up enough courage to fly over one state, even if it's only Rhode Island."
Even after being in several plane crashes (he broke several ribs in the third one), Will insisted that airplane travel was safer than travel by automobile. He was one of its greatest promoters and traveled around the world three times. "Often he flew in mail planes, paying by the pound and cramming himself uncomfortably into the cockpit with the mail sacks. Rogers would become the first passenger to make a round-trip transcontinental flight in a mail plane." (National Aviation Hall of Fame)
Tragically, on August 15, 1935, at the age of only fifty-five, Will Rogers lost his life in a plane crash. Pilot Wiley Post, a great scientific aviation pioneer and Will's close friend, made a brief landing at Point Barrow, Alaska, to ask for directions. After receiving them, Wiley took off and the plane veered and crashed. Both men were killed instantly, and the nation lost two of its most treasured heroes.
It's difficult to compare Will Rogers to anyone we know today. His deep sympathy for humanity and his gentle humor in pointing out man's follies cause many to compare him to Abraham Lincoln. And Will did not merely stand aside and observe his fellow man - he lived his life to the fullest. He was a decent and honorable man. He was a proud and respectful husband, to the degree that some thought he was unusual! He was adventurous and eager to look ahead to the new world of air travel, and he actively took part in it and promoted it. He cared about his country and did his best to point it in the direction of honor and good sense. He was a passionate humanitarian who dedicated himself to helping others at home and around the world in their times of need. What more could be required of a hero? Will Rogers was an early citizen of the world, but he never lost the simplicity of his roots in the red Oklahoma soil of his home.