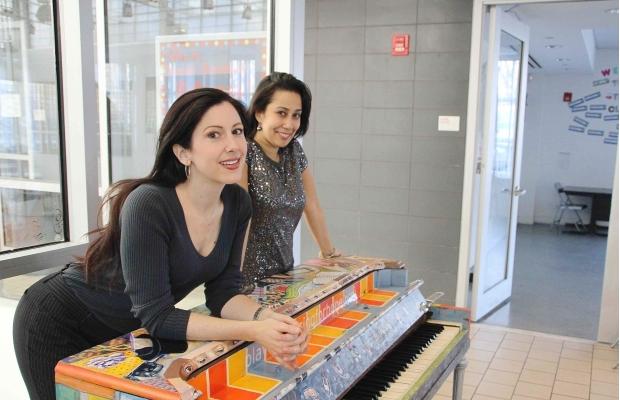 Eighty-eight keys make a piano. Eighty-eight pianos sprinkled throughout Manhattan, for all the world to see, make a passion live for singers Camille Zamora & Monica Yunus. The Julliard alumni are gearing up for a June piano extravaganza throughout New York to touch the hearts and souls of the music that lives in everyone. It's called Sing For Hope. An extraordinary mission by extraordinary muses is the delight of this story and its writing.
Sing for Hope Co-Founders Camille Zamora and Monica Yunus discuss the progress of their passion during our interview:
The Sing for Hope Pianos celebrates Sing for Hope's vision that everyone deserves access to the arts and to creative expression. The project selects artists from across the city, with visions as diverse as their backgrounds, to customize their own unique piano, which will be part of a public art installation designed to make music accessible to the community. 88 pianos, representing the 88 keys on a keyboard, will be placed throughout the five boroughs of New York City from June 1st-16th so that professional and amateur musicians alike can take turns making music. After the installation closes, the pianos will be presented to under-served schools, hospitals and other local organizations,

enriching our local City communities through art for years to come.

Painted by a Sing for Hope Volunteer Artist, public school student, or iconic New York personality chosen through an open application process, each piano is:
· a unique, individually credited work of art,
· created by the donation of time and talent of an artist, civic figure, or community group chosen through our open application process, and
· part of a year-round continuum of arts outreach to communities in need.

Sing for Hope, with our roster of over 1,000 Volunteer Artists, is uniquely positioned to bring unwanted pianos to loving new homes. Once on the streets, neighborhood associations and community organizations serve as "piano buddies" and supervise each piano throughout the duration of the project, making sure they are covered in case of inclement weather, etc. The Sing for Hope Pianos unite our city, as artists from all walks of life create daily spontaneous concerts and neighborhoods come together around the shared gift of music and art. After their public residency, the pianos are donated to local schools, healthcare facilities, and community organizations, where Sing for Hope artists and community members continue to bring the pianos to life year-round through classes, performances, and workshops.
The Sing for Hope Pianos are the "hardware" for the "software" of our year-round arts outreach programming. They are tangible, playable symbols of our "art for all" mission and a joyful celebration of our city's cultural diversity. One of the country's largest public art installations, the pianos reach over two million New Yorkers and visitors.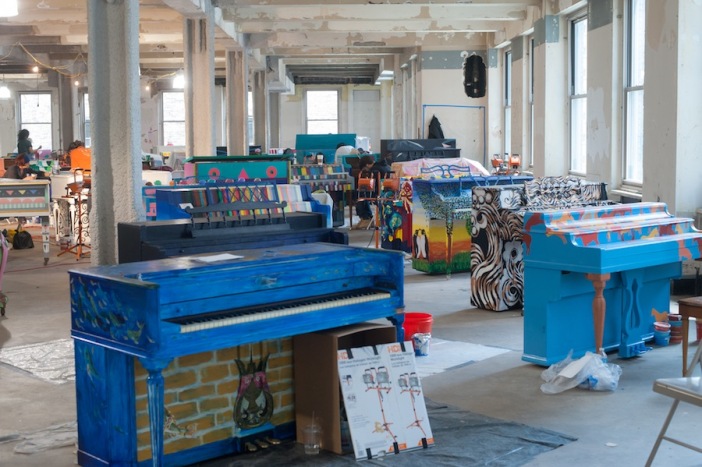 What was your first inspiration to begin this incredible endeavor?
Our inspiration to start Sing for Hope comes from our belief that the arts are central to our well-being: they help us learn, connect, heal, and envision and create a better world. Yet too often, the most vulnerable among us - inner-city youth, the elderly, hospital patients, people living in poverty - have minimal access to outlets for creative expression. So, Sing for Hope (SFH) is a way for us to work together to make the arts accessible to everyone. From classrooms to hospital rooms to the city streets, SFH taps the inner artist in each person. Because with art, comes hope. And that saves lives.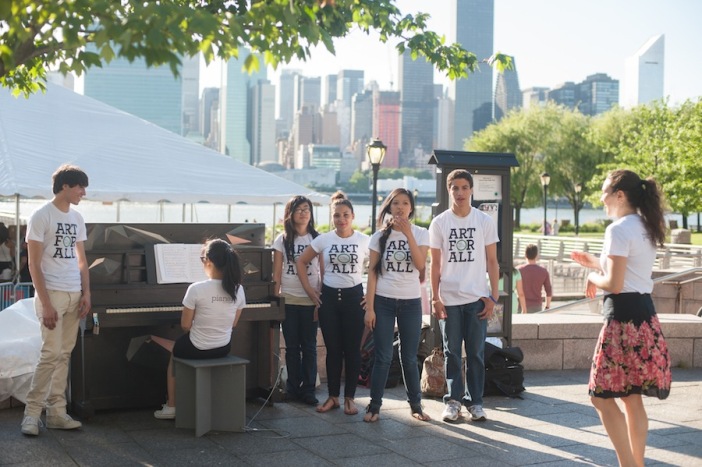 Can you describe in simple terms the essence of your work and its relevance in today's world.
The Sing for Hope vision of art for all is informed by our belief that the arts have unique power to uplift, unite, and transform individuals and communities. Our outreach programs in under-resourced areas - from schools to community centers to healthcare facilities - demonstrate this every day. Each Sing for Hope program is defined by the service of artists, the needs of the community, and our belief in the transformative power of the arts. Sing for Hope provides a network of support for artists of all kinds, from almost every artistic discipline - from dancers to instrumentalists to opera singers to visual artists - who share their art with communities in need. This "artists' peace corps" of more than 1,000 volunteers are the engine that drive the Sing for Hope mission and their dedicated involvement is what allows Sing for Hope such a vast scope.
Discuss your youth and growing up; your interests and ultimately your chosen area of work. Can you offer any highlights of how you were influenced growing up, including any milestones, whether direct or indirectly associated with this field of work?
To quote a recent article, "Sing for Hope was founded in 2006 by best friends Camille Zamora and Monica Yunus, internationally acclaimed sopranos who met as students at Juilliard. Camille and Monica share a belief in the power of arts volunteerism to transform communities in need. Recognizing their shared passions, they established Sing for Hope as a resource for artists to engage local communities. Today, Sing for Hope is the country's leading "artists' peace corps," a nation-wide movement that activates artists as agents of transformation in under-served areas and promotes the ideal of art for all."
In our own words...
Zamora: Sing for Hope's development has been organic - a response to a need. When my best friend died of AIDS in our hometown of Houston, I wanted to do something to contribute, to make myself feel better as much as anything. So I performed a small concert to raise funds for the hospice where he died. It ended up being an important healing event for myself and for the community. You realize that music can be a catalyst for bringing people together and for charitable giving. So we saw this pick up speed in Houston year after year. By year three or four, my opera colleagues all over the country were saying, "If you ever need another singer, call me!" United Airlines sponsors the event to the tune of 10 free tickets annually, but I was getting this comment from as many as 70 or 80 singers a year. Monica and I started dialoguing about it, asking, what if there was a go-to resource for artists who can't necessarily write a big check for a given cause, but who want to give back through their art?
Yunus: A few years after we left Julliard, Hurricane Katrina hit and I felt a similar need to do something to help. I organized a concert with Camille's help and we raised several thousand dollars, and felt we had contributed in some small way. The larger discussion that came out of that was about creating an organization that would empower artists to serve communities in need through this incredible art we have. We wanted to provide a resource to bring communities together and allow artists to give back through what they know best - their art. So Sing for Hope, the greater structure, was born out of these conversations. Our motto is "Uniting Artists, Uniting Communities." Now in our fifth year, our programs touch thousands of lives by leveraging the volunteer power of professional artists to create positive change for communities in need.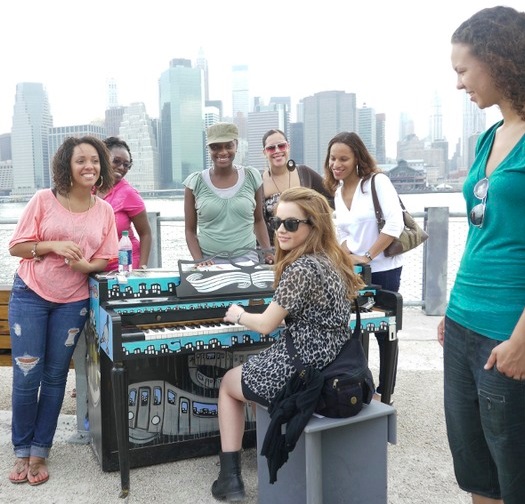 What has surprised you most over the years?
It has been wild to see how help often comes from unexpected sources! We've definitely seen how things often feel the toughest right before a break-through. Staying open, positive, and true to the Sing for Hope mission along the way has definitely been key. As our organization's name implies, we never give up hope!
What message would you like to send to students?
Figure out what you love and then stay with it. Be prepared for a long haul, during which "stick-to-it-iveness" is key. If you really love your work -- love your chosen field, love your colleagues, love the spirit of what you do -- you will find your place. Careers are lifelong and ever-evolving, and as such, you will find that you will tap a wide range of complementary efforts and skills along your path: communicating, teaching, mentoring, writing, presenting, producing, pitching, collaborating, creating.
Along the way, don't be afraid to reach out to people whom you respect -- teachers, coaches, colleagues, professionals whom you admire -- to ask for advice, help, and support. These people form your supportive inner circle, the "Team You" that you can turn to them along your road.
Careers, now more than ever, are constantly changing journeys: in the years ahead, you will likely work alone and in groups, teach, travel, have heady moments and not-so-heady moments, and times of extremely full schedules as well as periods of less activity. The through-line, and what sustains you, will be your passion for your chosen field, and your desire to learn and share your discoveries. Enjoy the process, and thank you for sharing your work with our world, which really does need it!
Who are your heroes and role models and why?
We have so many people who have helped us along our path and continue to mentor us every day. Key among these heroes are our board members, who bring such passion to our organization, and our Founders' Circle - a group of visionary philanthropists who have ensured Sing for Hope's mission longterm. Our Founders' Circle includes the wonderful Anna-Maria and Stephen Kellen Foundation, the beloved Metropolitan Opera Chairman Ann Ziff, and the generous Arnhold Family Foundation in loving memory of Sissy Arnhold. Their generosity stands as an example of what is possible when civic spirit, passion for the arts, and generosity meet.
Another key hero along our path includes the brilliant entrepreneur Hamdi Ulukaya, president, CEO and founder of Chobani yogurt, whose supportive spirit is a beacon for Sing for Hope and our communities.
Brian Feist and Adam Goldenberg are two other SFH guardian angels, whose tireless efforts helped our organization to find an incredible home for our Sing for Hope Pianos as they are brought to colorful painted life by our Volunteer Artists.
Luis Moreno of jumP is our angel who, from the outset, helped us to forge our strategic path and create a brand identity that would truly sing for hope in the wider world.
Lastly, the people who participate in our programs every day - our incredible staff, Volunteer Artists, students, community members - provide our ongoing inspiration. They teach, inspire, and mentor us every day!
What do you love the most in your life and work?
We feel so fortunate to do what we love, with a team we love, in a city we love!
Page created on 3/1/2015 1:34:48 PM
Last edited 3/1/2021 6:36:46 PM
Related Links
Sing for Hope
- Sing for Hope transforms underserved communities by mobilizing professional artists in volunteer service programs that bring the power of the arts to those who need it most.