Arthur Ashe
by
Dylan Stern

from

Suffern

"I could never forgive myself if I elected to live without humane purpose, without trying to help the poor and unfortunate, without recognizing that ...the purest joy in life comes with trying to help others."

There are many heroic people in history, but my hero is Arthur Ashe. He overcame prejudice to be the best in his sport. He was often underestimated and put down. Yet nothing stopped him from achieving his goal.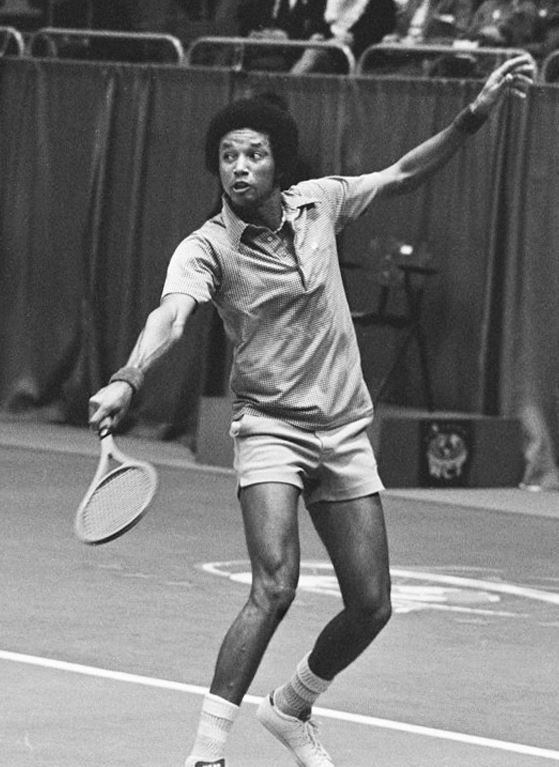 Arthur AsheBogaerts, Rob / Anefo [CC BY-SA 3.0 nl (https://creativecommons.org/licenses/by-sa/3.0/nl/deed.en)]
His greatest year, professionally, was 1969, when he won both the US Open and the Davis Cup for America. Yet later that year he was denied entrance to a South African tournament because of his color. Perhaps because of this, his life's crusade after tennis was helping African Americans achieve equality.Ashe grew up in segregated Richmond, Virginia. When he was only six years old, his mother passed away. After high school, Ashe got a tennis scholarship to the University of California at Los Angeles. His college career culminated in his winning an individual championship in 1965.
He had a daughter, Camera, in 1986. But, in 1988, he tested positive for HIV. Doctors told him he most certainly contracted the virus by getting an infected blood transfusion in during a 1983 heart operation.After years of lackluster tennis Arthur had his next best year in 1975, at age 31. He won Wimbledon and was ranked #1 in the entire world. He retired from the game in 1980, and was inducted into the Hall of Fame in 1985.
On December 3, 1992, Arthur Ashe announced the creation of the Arthur Ashe Institute for Urban Health (AAIUH) in response to his concerns about health care delivery in urban America. According to its mission statement, the institute serves many purposes:
"Preventing illness & disease through health education and treatment in traditional & non-traditional settings

Assuring availability of care through training in urban medicine & allied health disciplines

Breaking down institutional & cultural barriers through urban health care conferences and seminars for professionals

Seeking cures through research

Building bridges through collaborations."
Ashe died in 1993, leaving behind a wife, daughter, and many saddened fans. He had over 800 career victories, yet, even more than that, he was a crusader for equality and for awareness. He showed every young tennis player that obstacles can be toppled. It's a shame that someone with such a good heart and such good intentions died so tragically. Arthur Ashe will always be remembered as a hero.
Page created on 6/4/2004 10:47:00 AM
Last edited 7/15/2019 3:39:50 PM
The beliefs, viewpoints and opinions expressed in this hero submission on the website are those of the author and do not necessarily reflect the beliefs, viewpoints and opinions of The MY HERO Project and its staff.