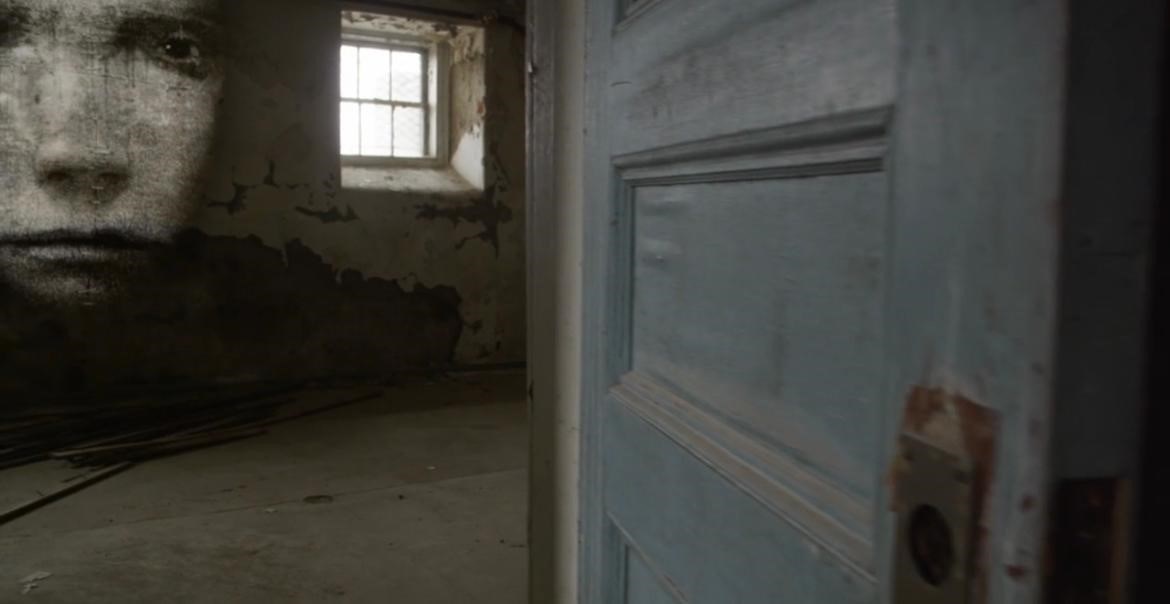 One of Alan Magee's paintings featured in the opening of the film. Alan Magee: art is not a solace Directed by David Berez and David Wright, 'Alan Magee: art is not a solace,' is a documentary that explores the work of American artist Alan Magee's work. Magee uses art to examine the darkest aspects of the human experience, often commenting on war and its inevitable victims, civilian and military alike, gun violence, cruelty and corporate greed. These themes seem in contrast to his works focused on the beauty found in nature and various objects, though Magee suggests that 'these dual realms are inseparably interwoven.'
For MY HERO, the film consists of three excerpts for the documentary, opening with striking images of some of Magee's paintings paired with troubling audio clips of news readings about the imminent invasion of Iraq in the summer of 1990. It was around this time that Magee started 'a new and haunting body of work.'
Magee explains that for him 'this was a time of intense dread,' as 'the justification of war had been set' and 'the media were on board […] offer[ing] no alternative to the story.' At the time, the degree of censorship was vast, and civilians across the globe were simply 'expected to accept' this.
Talking of the censorship imposed on society, Magee notes, "To be told we can't look at something- this, for an artist, is very disturbing. To take away the tools through which we can experience empathy, and these are pictures and stories."
At MY HERO's 18th Annual International Film Festival Special Awards Ceremony on Saturday 19th November, David Berez was present to accept the award on behalf of himself and Wright, along with Alan Magee himself.
On why he presents this annual award, Ron Kovic spoke of how 'we need peace more than ever now […] we need to hear this message of peace and non-violence, co-operation and honest, open dialogue.' Having lived with the lasting physical effects of war for the last 54 years, Kovic added that he 'just feels lucky to be alive and speaking on behalf of peace and on behalf of a better world.'
Kovic also congratulated Berez and Magee for their dedication to the truth and explained that 'artists need to tell the truth, even at risk of jail, of censorship, of intimidation or being threatened, or even life itself.'
David Berez gave a wonderful brief acceptance speech, in which he spoke to how Kovic's book, 'Born on the Fourth of July' resonated with him as a young man, and how he experienced a similar feeling about Magee's work throughout the filming process. Berez was 'thrilled' that their film 'resonated' with MY HERO and expressed gratitude on behalf of himself and others behind the film.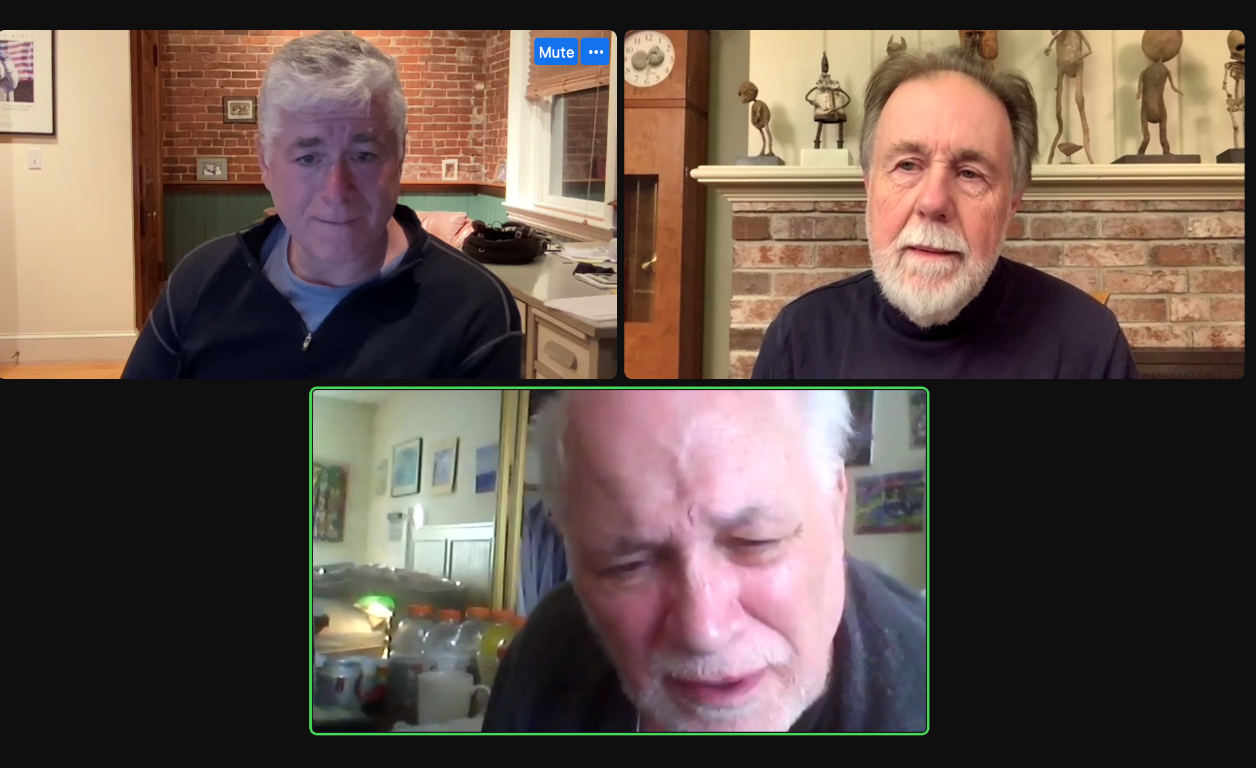 Ron Kovic (bottom), David Berez (top left) and Alan Magee (top right) at MY HERO's virtual 18th Annual International Film Festival Special Awards Ceremony 2022.MY HEROMagee shared similar sentiments, thanking the team of creators responsible for the film's making, and said how 'profoundly encouraging' it was to have their work acknowledged at the event.
Watch David Berez and Alan Magee accepting the award at the MY HERO International Film Festival: https://myhero.com/2022-ron-kovic-peace-prize
You can view 'Alan Magee: art is not a solace' at: /alan-magee-art-is-not-a-solace
You can explore Alan Magee's work here: https://www.alanmagee.com/
About Ron Kovic and the Ron Kovic Peace Prize:
Ron Kovic is an accomplished author, painter, and activist who has worked for world peace over the last 40 years. As a former Marine Corps sergeant, he served two tours of duty in the Vietnam War before being wounded in combat and paralyzed from the mid-chest down. He went on to become a prominent spokesperson for the anti-war movement and has since addressed the Democratic National Convention in 1976, President Obama and other dignitaries at the 32nd annual Kennedy Center Honors Ceremony in 2009, and Rome's Mayor Gianni Alemanno and other civic leaders as a member of Council for Dignity, Forgiveness, and Reconciliation in 2010.
'Born on the Fourth of July' is an award-winning feature film by Oliver Stone, where Ron Kovic is portrayed by Tom Cruise.
The MY HERO Film Festival is honored to annually bestow the Ron Kovic Peace Prize to the director of the short film that
most effectively addresses the issue of world peace. Up to $1000 of cash prizes supports the critical efforts of
artists and peace activists whose work shows the power of non-violent solutions to our world's troubles.
About MY HERO International Film Festival:
The MY HERO International Film Festival brings together professional and youth filmmakers who honor local and global heroes working for positive change in the world. Thanks to generous sponsors, prizes are awarded to elementary, middle school, high school, college and professionals in a variety of categories including documentary, narrative, music video, animation, experimental, and more.
To find out more about the Film Festival go to: /Films/festival
Join us on November 19th at 2pm PST for the 18th MY HERO Film Festival Ceremony, the celebration of the best of humanity. The featured winning short films shine a light on activists, peacemakers, environmentalists, humanitarians, artists & others who make a positive impact in the world. Congratulations to the filmmakers for bringing these important stories to life. Thank you to our prestigious Awards Presenters for their vision and generosity! Register HERE.
Save the date for the Family-Friendly Awards Celebration on December 10, 2022, at 10 am (PST). Festival winners and their heroes will be on hand to answer questions and share their stories. Short clips from select films will be screened. Categories include narrative, documentary, music videos, animation, experimental, trailers, spoken word and PSAs. Awards are given to winners at Elementary, Middle School, High School, College and Professional levels. Register HERE.
To view the 2022 MY HERO International Film Festival Program,
Click here
View all winning films online