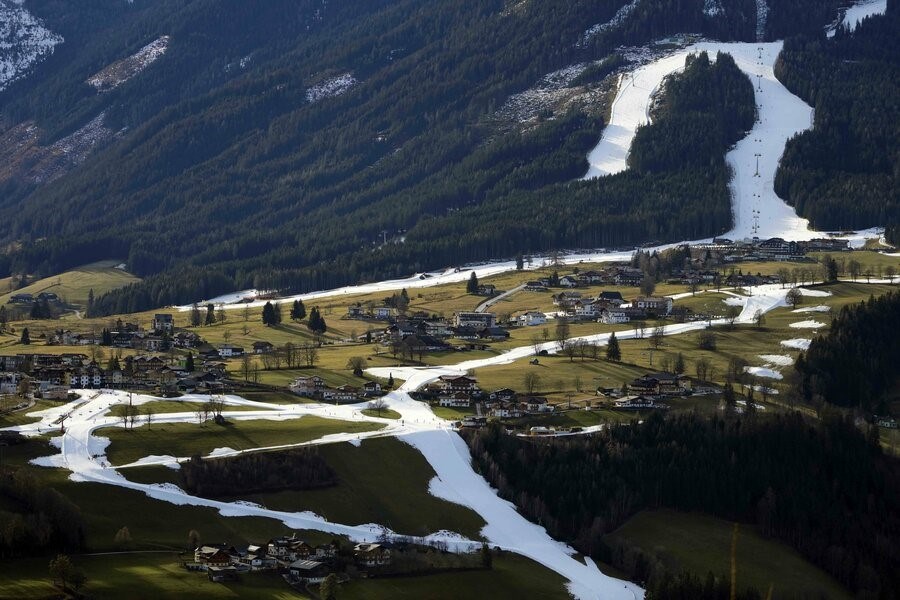 People ski on a strip of snow near Schladming, Austria, Jan. 6, 2023. This winter, warm weather and a shortage of snow caused almost a month of elite racing to be canceled at the beginning of the season. Athletes are asking for the ski season to start later. Matthias Schrader/AP
February 13, 2023
Nearly 200 athletes signed a letter calling on the International Ski and Snowboard Federation to take action on climate change. The athletes asked the federation to shift the start and the end of the Alpine skiing season, as "the seasons have shifted."
Early in the ski season, fortunes looked bright for snow lovers: In France, freezing weather into mid-December raised hopes that ski resorts in the Alps, the Pyrenees, and elsewhere might see plenty of early snow and the lasting subzero temperatures needed to keep runs open.
But exceptionally warm weather followed, prompting some resorts at lower altitudes to close down as snow cover melted away. News reports have described patches of grass, rock, and dirt instead of snow-covered slopes among Europe's skiing meccas – like Innsbruck in Austria, Villars-sur-Ollon and Crans-Montana in Switzerland, and Germany's Lenggries. The dearth of snow has not only revived concerns about temperature among winter recreation tourists but it also has elite athletes now sounding the alarm around upheavals to their sports linked to climate change.
Overall World Cup winners Mikaela Shiffrin, Federica Brignone, and Aleksander Aamodt Kilde are among nearly 200 athletes from multiple disciplines who have signed a letter addressed to the International Ski and Snowboard Federation demanding action over climate change.
The letter was delivered during the skiing world championships after warm weather and a lack of snow wiped out nearly a month of racing at the start of this season, with preseason training on melting European glaciers heading toward extinction and the impact of climate change on the schedule being seen even in January.
"It's about time to address a really important topic," Mr. Kilde said after earning a silver medal in downhill on Sunday. "We see that the world is changing. We see also the impact of our sport. … I want the future generations to experience winter and to be able to do what I do."
The letter was written by Austrian downhiller Julian Schütter, an ambassador for the nonprofit organization Protect Our Winters, known as POW.
"We are already experiencing the effects of climate change in our everyday lives and our profession," the athletes said in the letter. "The public opinion about skiing is shifting towards unjustifiability. … We need progressive organizational action. We are aware of the current sustainability efforts of FIS and rate them as insufficient."
Olympic cross-country skiing champion Jessie Diggins and Freeride World Tour champions Arianna Tricomi and Xavier de le Rue were also among the letter's signees.
"This is our most important race, let's win it together," the athletes said.
In terms of Alpine skiing, the athletes asked the federation, known as FIS, to shift the start of the season from late October to late November and the end of the season from mid-March to late April.
"The seasons have shifted and in the interest of us all we need to adapt to those new circumstances," they said.
Racers also requested a more "geographically reasonable" race schedule to reduce carbon emissions, citing how the men's circuit will have traveled from Europe to North America and back twice by the end of this season.
"The races of Beaver Creek in November and those in Aspen in February are 50 kilometers [30 miles] away from each other," the skiers said, referring to the two Colorado resorts. "Planning those two races one after the other would reduce approximately 1,500 tons of [carbon emissions]."
The athletes also asked FIS to create a sustainability department. There was no immediate response from FIS.
This story was reported by The Associated Press.
Related stories
Page created on 2/16/2023 3:12:14 PM
Last edited 2/16/2023 3:20:55 PM