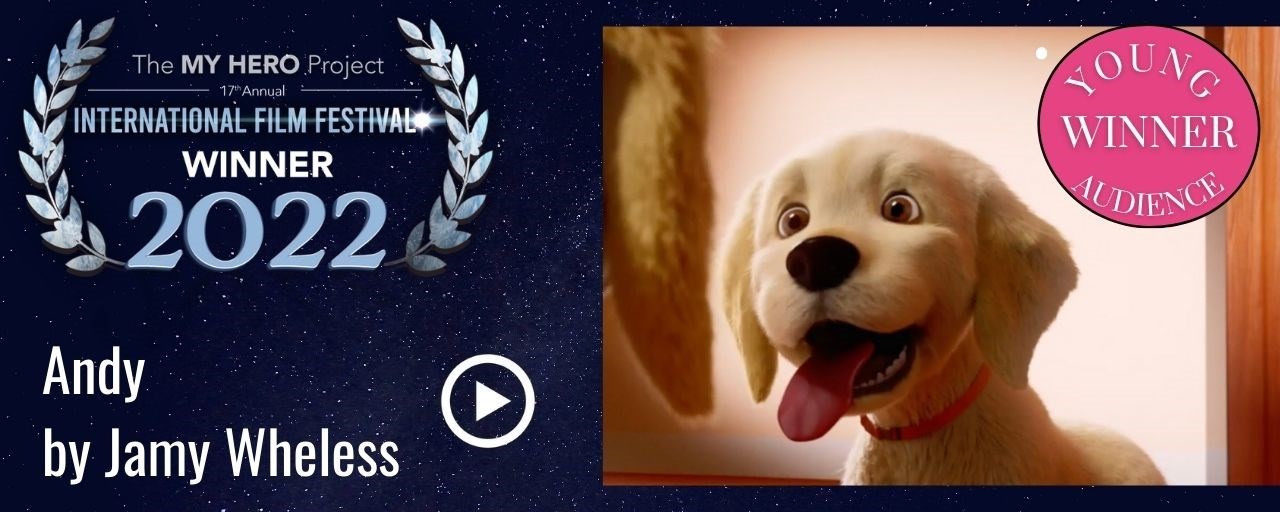 Andy by Jamy WhelessMY HERO
MY HERO is delighted to announce that the animated film 'Andy' has won the Best of Fest Award at The 18th Annual MY HERO International Film Festival. Directed by Jamy Wheless and produced by Jean Schultz. 'Andy' is an uplifting story of how one puppy overcomes a series of obstacles to find his purpose in life.
Said Wheless:
I would like to thank the MY HERO Project for selecting us. Jean Schultz, who sends her regards, motivated me to make this film. She had a vision that she wanted to promote Canine Companions, of which I had never heard, so I started my research, and the organization melted my heart. Olivia, who inspired the child character, has had three service dogs and her attitude, perseverance, and perspective on the world really inspired me.
Wheless is a Co-Founder of Lightstream Animation Studios. The company specializes in developing and producing high-quality animated feature films, commercials, episodic, and immersive VR stories. Wheless has over 30 years of experience in Animation and VFX. He began his career at Industrial Light and Magic (ILM) where he was a team leader on over a dozen films and numerous commercials. He was an animation supervisor on the Academy Award VFX winner 'Pirates of The Caribbean: Dead Man's Chest.' He was responsible for the character development and performances of Yoda for the Star Wars prequels and Hulk for Ang Lee's film 'The Hulk.' For the latter, he was honored with a VES Award nomination.
In his role as President at Lightstream Animation Studios, Wheless oversees all aspects of development, production, and operations leading Lightstream in building a global animation studio. He was a Co-Director for the award-winning short film 'The Pig on the Hill' and now 'Andy,' which is appearing in festivals across the globe in 2022 and 2023.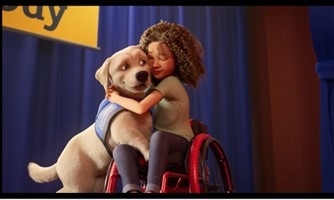 AndyDirected by Jamy Wheless | Executive Producer: Jean Schultz
This animated short film follows the journey of an adorable puppy named Andy who overcomes many obstacles before becoming a service dog.
Said Wheless:
I am thrilled to release 'Andy,' a story of a puppy whose journey resonates universally. Our furry hero's bravery exemplifies a deep truth that applies to every human story. Andy faces his biggest fear and ultimately finds his purpose in life —to help others as a Canine Companions service dog!
The project was made possible by Executive Producer Jean Schulz, Canine Companions board member and president of Charles M. Schulz Creative Associates.
Said Schulz:
It's so exciting to finally introduce Andy to the world. This short will raise awareness around the wonderful work of Canine Companions.
The film began with an idea from Schulz, whose late husband Charles Schulz had created the Peanuts character Snoopy. Schulz is also a national board member of Canine Companions, an organization, which trains service dogs to become assistants to people with an array of disabilities. Over the years, she's produced a number of promotional documentaries for the national non-profit, beginning with the 1986 30-minute film "Canine Companions: Dogs and the Disabled? You'd be Surprised." That film was narrated by Charles Schulz. A few years ago, Jean Schulz expressed a desire to produce a short film to let new generations know about the work of the charity. "We all have short attention spans these days," Schulz said, "so I thought that a short, animated movie that can tell a story about a canine companion would fit right in with the way we all maneuver today." And the idea of 'Andy' was born!
At the festival, said Olivia: "Thank you so much; it really means a lot to me. I was so honored to talk to Jamy and then to find out that he named the character Olivia after me was really so special…I hope more kids who are disabled can feel this joy too."
"It's a blessing to know you, Olivia," replied Wheless. "A hero has to preserve and overcome obstacles to find their purpose in life. Andy the puppy had to overcome his obstacles to meet Olivia, his best friend."
Watch Jamy and Olivia accepting the award at the MY HERO International Film Festival here: Andy excerpt | MY HERO
Watch the film here: /andy (Enter the password: andy).
MY HERO Annual Film Festival
The MY HERO International Film Festival brings together professional and youth filmmakers who honor local and global heroes working for positive change in the world. Thanks to generous sponsors, prizes are awarded to elementary, middle school, high school, college and professionals in a variety of categories including documentary, narrative, music video, animation, experimental, and more.
To view the 2022 MY HERO International Film Festival Program:
View all winning films online:
Page created on 11/10/2022 5:20:47 PM
Last edited 12/6/2022 3:54:26 PM