How the environment affects everyday life interests Jessica Arrington, a tenth grade student at Saint Gertrude High School in Richmond, Virginia. For the past three years, Arrington has worked as an assistant childcare provider at a local daycare center. Being a Girl Scout since the age of four has taught her leadership and independence. She was also elected vice president of her freshman class.
My Hero asked Jessica about her experiences on the JASON XIII Expedition:
MH: What are you working on here?
JA: We're working on ice worms, their habits, and how they survive on the ice. It's important because maybe we can use the research for humans.
MH: What is the strangest or coolest thing you've learned about so far?
JA: Ice worms - they're unique! Bio-sampling - strangest.
MH: What is it like to wake up far away from home and go to work among a group of strangers? What is the best thing about working with the scientists and the other argonauts? What is the most difficult thing?
JA: After the first day we were a tight group of friends. We're a great support team for each other. We all want to do everything.
MH: Will this experience change your study of science? If so, how?
JA: It has reinforced my desire to do forensic science.
MH: What advice would you give to another student who wishes to become an argonaut?
JA: Go for it! It's the Best thing you can do. You meet new people, it's awesome - an experience you'll never forget.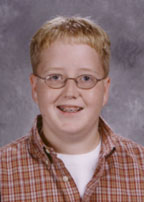 Cloning is a very alluring topic of science to Sean Ritter, an eighth grade student at St. Simon the Apostle School in Indianapolis, Indiana. Recently winning his school's science fair, he enjoys challenges and new experiences that allow him to work with others. Being a Boy Scout has helped him develop teamwork skills and he has attended several Boy Scout junior leadership-training camps.
Sean talks about his experience on the team:
"We are working on receding glaciers and how to research them, which can show global warming. It's very interesting and cool. We learn things first-hand. It's hard because you miss your friends but after awhile you make new ones. The trip has definitely made me more interested in the field of science. My advice to other people is sign up! It's a very enjoyable experience to work with a great crew and the argonauts, and it's a great way to learn."
A ninth grader from Columbia River High School in Vancouver, Washington, Sun Jin Lee finds digital electronics extremely interesting. Qualifying as the only female in an advanced course in technology, she learned how logic relates to everyday life. She is on her school's Math Counts team, where she placed in the top 20 in the chapter competition and is currently on her school's Knowledge Bowl team. Lee has been involved with past JASON Projects, earning leadership roles and planning camp-ins.
Nicholas Austin is a ninth grader from Lakenheath High School in England, and is fascinated by the study of life on other planets. He has a genuine love for all types of science. Austin is a member of the National Junior Honor Society, Student Council and the Internet Club. He serves as a teaching assistant to a sixth grade science class and escorted Space Shuttle Astronaut Col. Ron Sega at an air base visit.

Nicholas writes:

"Its so cool being here in Alaska. It's freezing cold and when we are traveling in any of the vehicles the windows will freeze up just from breathing on them. We wake up at 3:00am in the morning to get ready and go eat breakfast so a couple hours later it'll feel like it should be in the afternoon. When the sun rises over the mountains we see all the colors of the rainbow portrayed onto the clouds with the Chugach Mountains in the foreground. We get to do a lot of hanging out with our friends too, so we do a lot of bonding."
Patricia Brown attends Hoonah High School as a ninth grader. She has been fascinated by astronomy since she was a young child. As early as kindergarten she was showing an interest by asking her teacher to tell stories about the stars.
Brown hopes to study uncharted areas of space after graduating college, or perhaps become an astronaut. She enjoys playing in her school's concert and jazz band and participating in sports.
Patricia writes this letter from Alaska:
January 31, 2002

Sterling, Alaska

A dog sledding adventure!

Hey! Today we went dog sledding. It was so much fun. This is how it started (well, this is how it started for me at least.) I opened my eyes to the sounds of the teachers saying, "we're here." I sat up and looked around. The rest of the Argonauts were getting ready.

As we walked out of the bus, I could hear the sounds of a couple of dogs barking. The only ones barking were the ones that could see us getting off the bus. We split into two groups: ten in one group and five in another.

One of the owners of the sledding operation, Janine Seavey, gave us some background on their involvement in the Iditarod, the famous 1,049 mile dog sled race that happens every March in Alaska. She told us about how the dogs burn 13,000 calories a day during the race, and it takes a week for the dogs to gain all their weight back. Her husband loses ten percent of his weight during the nine days of racing 20 hours per day. It takes him six weeks to fully recover!

We walked towards the dogs, and as we did the dogs started jumping around and barking. You could also smell them -- and it wasn't a very good smell. There were 120 dogs. I watched the puppies in the big pens, who were also excited to see us. The dogs were very energetic. They were really noisy and and howling. They weren't huge huskies, just medium-sized dogs. Their eyes were either blue or brown.
Page created on 7/3/2013 11:55:23 AM
Last edited 7/3/2013 11:55:23 AM
Extra Info
What is the JASON Foundation?
The JASON Foundation is a non-profit educational organization working in partnership with teachers, corporations, educational institutions and government to inspire in students a lifelong passion to pursue learning in science, math and technology through exploration and discovery.
The JASON Project is a multi-disciplinary program that sparks the imagination of students and enhances the classroom experience. From oceans to rain forests, from polar regions to volcanoes, the JASON Project explores Planet Earth and exposes students to leading scientists who work with them to examine its biological and geological development.
From the depths of dark oceans to the heights of wet rain forests, from icy Polar Regions to red-hot volcanoes, the JASON Project travels the world, taking students and teachers on an exciting educational adventure. The JASON Project brings adventure and the thrill of discovery into the classroom, exploring the following questions:
1. What are nature's dynamic systems?
2. How do these systems affect life?
3. What technologies do we use to study these systems and why?