Music has the power to transform lives. A recording studio in Boston works to make sure that everyone knows that their creativity and voice matter.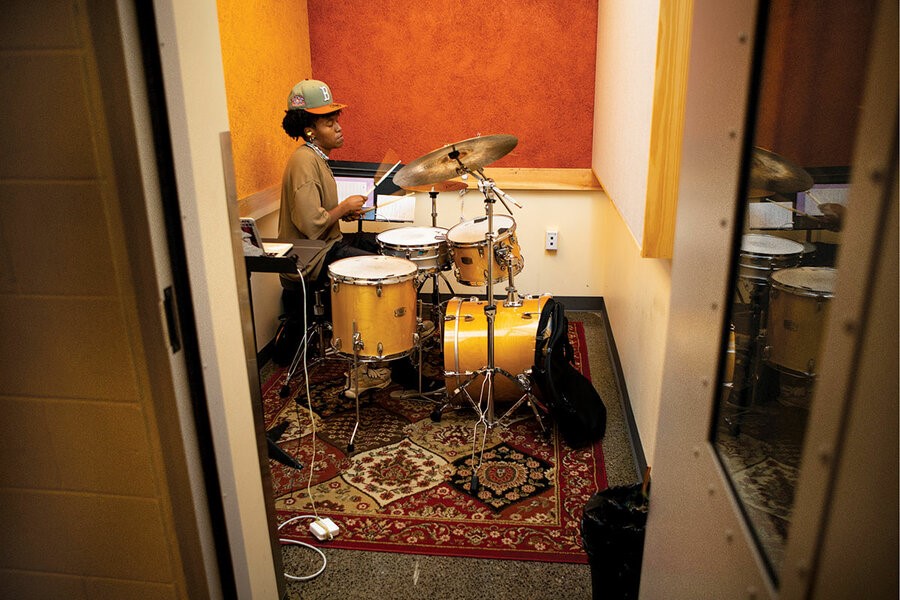 Christina Edwards practices drumming at The Record Co., a nonprofit rehearsal and recording studio, Aug. 24, 2023, for a wedding performance with a live band. Melanie Stetson Freeman/Staff
| BOSTON - Sanyé Mylo's eyes twinkle with excitement. He is standing in the sound booth of The Record Co. in Boston, eager to bring his creation to life.
"This place is a musical creative sandbox," he says. With the press of a button, his latest rap track fills the room. As the speakers blast Mr. Mylo's beat-pulsing rhythms, it's hard to resist the urge to dance.
"I didn't know spaces like this existed," says Mr. Mylo, who grew up in the low-income neighborhood of Dorchester. "It's the community. It's the mission. It's the energy. It's more than just the environment."
Mr. Mylo is one of the young musicians in Boston who, thanks to The Record Co., has turned his music into a full-time occupation. The sound studio, located amid a graying backdrop of warehouses on Massachusetts Avenue, is an unexpected island of creativity and hope.
Founded in 2010 by Matt McArthur, The Record Co. aims to give musicians more affordable access to creative workspaces and introduce the world of music to those who may have never considered their place in it.
Mr. McArthur understands this challenge firsthand. As a music technology student at Berklee College of Music, he was frustrated by the high costs of renting time in production studios.
Melanie Stetson Freeman/StaffFounder Matt McArthur poses at a piano at The Record Co., a nonprofit rehearsal and recording studio, Aug. 28, 2023, in Boston.
Music, often heralded as the universal language, finds itself increasingly ensnared in a web of exclusivity and commercial trappings. Access to quality recording spaces has often been the privilege of those who can afford them. On average, a recording studio in Boston costs more than $100 per hour to rent. Mr. McArthur's vision flipped that model on its head. He saw a recording studio not as a sanctuary for wealthy people but as a community hub available to all.
He took out loans, collected donations, and opened a studio in a tiny basement in Cambridge, Massachusetts. Slowly but steadily, Mr. McArthur expanded it and eventually rented a new property to include rehearsal spaces and production suites.
Today, The Record Co., with a full-time staff of more than 20 people, is a state-of-the-art, 12,000-foot facility that can be rented for as little as $10 per hour. Each month, it receives about 1,000 reservations, and around 3,500 musicians pass through its doors.
"We don't care if you're good or trying to do it for a living," says Mr. McArthur. "Our philosophy is that every single person deserves to express their musical creativity."
At The Record Co., the ethos is clear: Music belongs to everyone, and so does the space to create it. The building has been shaped not only with an ear to acoustics but also with an eye to inclusivity, ensuring it is as welcoming to a musician in a wheelchair as to one who walks in with a guitar slung over their shoulder.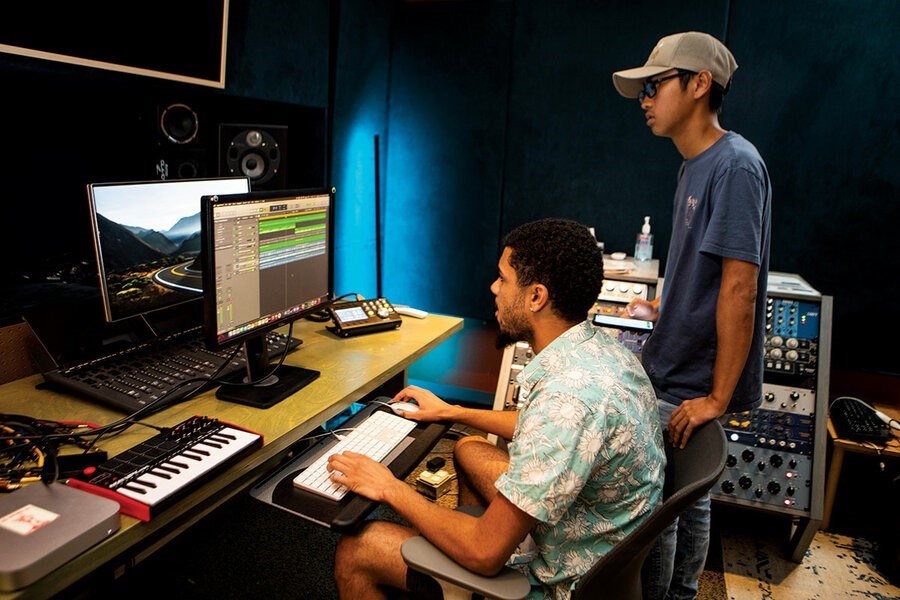 Melanie Stetson Freeman/StaffKyle Johnson (left) and Jonathan Hua-Phan create beats in a studio Aug. 24, 2023. Musicians can rent studio space for as little as $10 an hour – as opposed to the $100 an hour average rate in Boston.
"That moment of creation where something now exists that didn't exist before – watching other people have that experience – is magic," says Mr. McArthur.
Beat the Odds serves low-income communities to help young people channel their energies into creative pursuits, and confront and discuss their mental health challenges. Thanks in part to the music production facility available at The Record Co., the group continues to expand its reach. It recently received a $600,000 grant from Boston Mayor Michelle Wu to finance its after-school programs.
"Our journey with The Record Co. has been nothing short of remarkable," says Giovanni Lopez, co-founder of Beat the Odds. "They've given us the platform to share our music in a way we could never have done alone. Our partnership with TRC isn't just professional; it feels like family. We've grown together, experienced the highs and the lows, and come out stronger."
Since rental fees don't fully cover the operational costs, The Record Co. relies on donations. As a graduate of Berklee with her own memories of scraping by as a poor music student in Boston, Rachel Jordan says her investment feels personal. Now head of marketing for a tech startup in California, she says she welcomes the opportunity to help eliminate barriers to producing music, and she is committed to attracting investors to believe in the value of The Record Co.'s mission.
"There are so many quantitative ways to measure impact," says Ms. Jordan, "but sometimes the most meaningful way is through one human story at a time. We can talk about the economic impact of a thriving arts community, and that matters. But the artists themselves also tell the story of impact so well. And each person living a fulfilled life has an endless impact on the people, in their lives and beyond."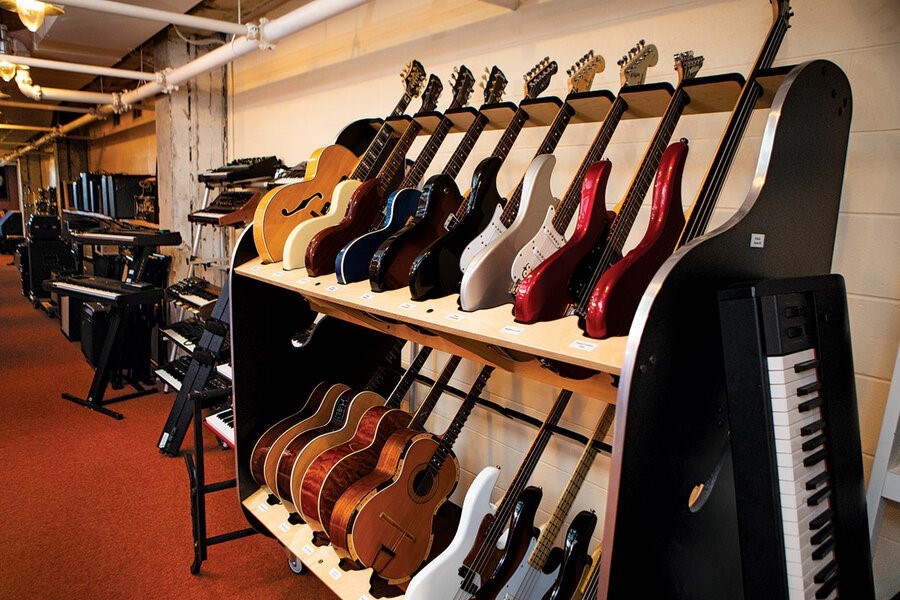 Melanie Stetson Freeman/StaffGuitars and other instruments are available for artists who are renting rehearsal or recording space at the nonprofit studio.
The Record Co.'s purpose becomes more meaningful in the context of the neighborhood surrounding it, which struggles with addiction and homelessness.
In Boston, the stretch where Massachusetts Avenue intersects with Melnea Cass Boulevard is known as Methadone Mile, a reference to the addiction treatment centers that share the same block as the studio. Mr. McArthur, who lives in the neighborhood, acknowledges the challenges facing those with addictions, noting, "I'm not delusional to think that somebody is going to kick a chemical habit just because they got in the studio one day." Yet he holds that music offers a positive alternative to counter the pull toward destructive behaviors.
Mr. Mylo can attest to the transformative power of music. He felt the one-size-fits-all educational system stymied his creativity. College seemed more like an insurmountable debt rather than an opportunity to learn and grow.
A friend introduced him to Beat the Odds and The Record Co. Here he felt that his talent was not only recognized, but also nurtured.
"It wasn't just a place to drop beats," Mr. Mylo says. "We all had stories, sounds that needed an outlet. [Beat the Odds] taught me how to be more human."
Walls, built from years of distrust and self-preservation, began to crumble, recalls Mr. Mylo.
Now he works not only as a musician but also as a producer and mentor for new musicians who join Beat the Odds. He sees the vision, community, and resources that The Record Co. provides converging to create a vibrant hub that is helping to transform the city's creative landscape, one artist at a time.
Some of the The Record Co.'s early users now make their living touring and performing full time, Mr. McArthur says.
"When I ponder on success stories, I visualize those brimming with happiness, not necessarily those drenched in fame," he adds. "And we're witnessing more and more of that."
Related stories