Audrey Hepburn
by
Gheeda from Beirut, Lebanon
It's Hollywood. What is the first thing you think of when you hear the word "Hollywood?" Fame or maybe glamour and shine. But the only thing you don't know about Hollywood stars is that some shine in their own way. Each celebrity has their own way of thinking or their way to becoming famous. One hero in Hollywood and the only one that saved millions of lives, by joining UNICEF, was Audrey Hepburn.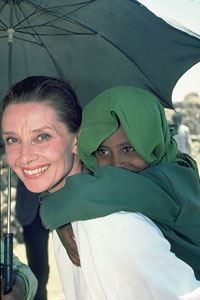 Audrey Hepburn tours a UNICEF-assisted food supply project in the northern Amhara region of Ethiopia. UNICEF https://www.unicef.org/specialsession/photoessays/audrey/photo1.htm
"I can testify to what UNICEF means to children, because I was among those who received food and medical relief right after World War II," said actress Audrey Hepburn on her appointment as a Goodwill Ambassador in 1989. "I have a long-lasting gratitude and trust for what UNICEF does."
On May 4th 1929 the world opened its arms to a new baby, that didn't know that one day she would become famous and successful. A young girl that went through wars and saw her family shot straight in front of her eyes and suffered a lot of consequences even though her parents were divorced. As an excellent ballet dancer, she thought that her career would be ballet dancing. But after the war Audrey went to London where she continued to practice ballet. She had great talent but her height and malnutrition during the war meant that she was unable to become a really great ballerina so she decided to seek work as an actor. Maybe getting her to think more about how she suffered and how she went through rough times during her childhood made her think of helping others that are going through the same problem she was, and that lead her to joining the UNICEF and becoming one of its members. A hero to me represents success, because without success people wouldn't have heroes that they are willing to look up to.
Audrey Hepburn helped children all over the world, by supplying them with love and courage. She thought the world was one family, a family that would care about the rich and the poor, the old and the young. Hollywood stars don't always have to be thinking about what makes them happy, and that's why I changed my mind about them. Audrey had a huge impact on life. She thought about what made people around her happy. Most of Hollywood's stars only think about what will make them satisfied and what will make the people like them more. Audrey was the one that stood out the most. Everything to her seemed happy and exciting. "I heard a definition once: Happiness is health and short memory! I wish I'd invented it, because it is very true." Audrey is a teacher of all ages, color, and religion. Charity work is like a test to me. Audrey once said, "It is never too hard to finish the work you love." And the most important thing is that Audrey taught me how to love the work I do.
Security and love are two ways to describe my hero. I always look up to people that had a rough time through their childhood, and that are willing to help other children that have the same childhood as they do. Audrey is a star I am willing to look up to the most. Her charity work just amazes me. She raised children that practically considered her as their mother. Audrey fought the negatives of the world, and turned them all to good. She is, a hero for all the people that she helped. As she always stated, the miracle is UNICEF and that's the only thing that matters to her. Even though Audrey has passed away, she always stayed in the minds of all. She received humanitarian awards from all around the world, thanking her for the effort in the work she has done to make children enjoy the life they are living in.
Audrey Hepburn a hero that will last forever. A hero for over a thousand kids. A hero that would last for a lifetime, who opened her heart and mind to other people around the world. War can have a great impact on one's life, but the only impact on Audrey's life was to change other people's lives. My hero is a hero that will have her name printed in all people's minds once they get a chance to read about her. But to you, what does a hero really mean? To me a hero is a part of a family.
Page created on 3/1/2015 4:26:05 PM
Last edited 1/7/2020 1:50:54 PM
The beliefs, viewpoints and opinions expressed in this hero submission on the website are those of the author and do not necessarily reflect the beliefs, viewpoints and opinions of The MY HERO Project and its staff.