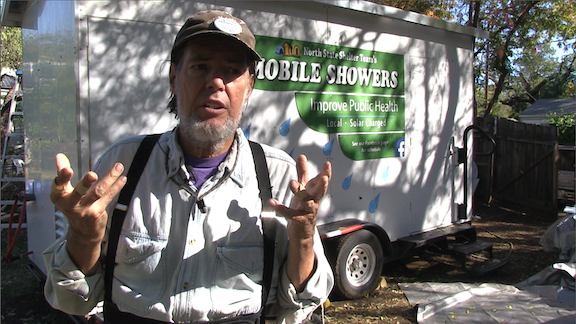 Charles Withuhn, shower trailerGerard Ungerman, with permission
Building a Shower Trailer for Chico's Houseless on a Budget... of Love! has been awarded MY HERO Film Festival Humanitarian Award. The short film documents the successful efforts of the community of Chico, California to create a mobile shower trailer for the city's homeless:
Imagine not being able to take a shower for... a year...?!? If you're a backpacker, you know the feeling... for a short, controlled amount of time. Well, hundreds of thousands in the U.S., millions around the world, are permanently in this predicament for lack of a roof over their heads. Not being able to shower brings endless consequences for both the health and the morale but you'd think we probably could do something to address this dire public health crisis today. YES, we can. And it doesn't take monumental budgets either. In this video meet a gentleman, his friends and mind-blowingly generous businesses in Chico, CA that made it happen on a budget... OF LOVE (including many local donations).
"Houseless people need a charger for their cell phone and a way to take a shower," filmmaker Gerard Ungerman told MY HERO, quoting Charles Withuhn of North State Shelter Team. "Some of these people have not had a shower for five years."
The film documents the project of building the shower trailer from beginning to end, where, led by the passion and fervor of Withuhn, residents of the town of Chico joined together to take responsibility for their homeless people and work to solve Chico's public health and shelter crisis. All the labor for the shower trailer was donated—including the plumbing, carpentry--everything. The community plans to publish its drawings and plans so that the project can be widely replicated in other locations.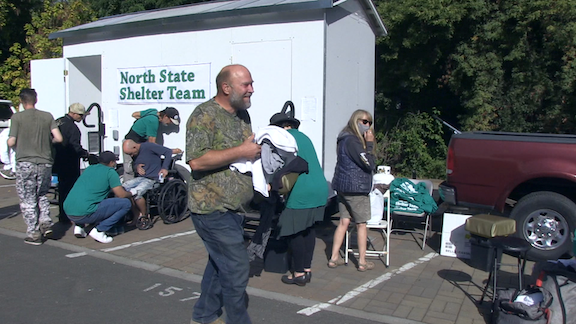 Shower trailer clientsGerard Ungerman, with permission
The film is beautifully made, capturing real life, on the ground scenes of homeless people interacting and coming out smiling from the shower trailer: it was amazing to hear people talk about how good they felt after taking a shower, a luxury most of us take for granted.
The film documents how Chico residents joined together for this effort, even making decisions jointly; for example, the decision to go solar. By buying an old car trailer and building the shower trailer from scratch, the cost was one-third what it would have been new. With one month's work and the large generosity of townsfolk, Chico's solar shower trailer was ready to roll within a month.
Ungerman had produced several films for Withuhn and North State Shelter over the last several years and is a great admirer: "Charles is a character—bigger than life. He has this superpower focus and obsession that gets things done."
"For many of the town's residents," he said, "the project is about gratitude--compassion and empathy for the less fortunate, and one of the most basic spiritual ethics: to love our neighbor. The point is to help someone while they're down--before they become desperate."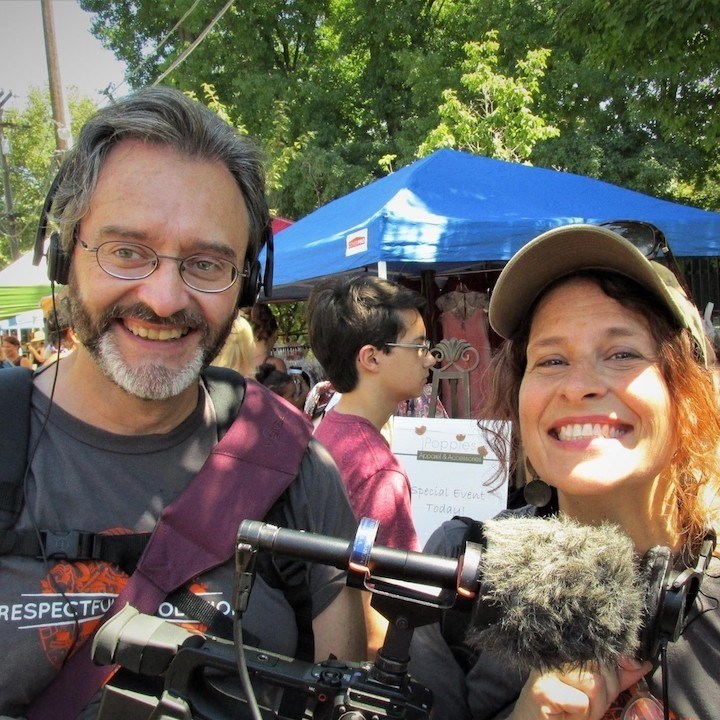 Gerard Ungerman and Stacey WearGerard Ungerman, with permission
Filmmaker and Storyteller Gerard Ungerman, Stacey Wear, and The Respectful Revolution Project
In 2012, Gerard and his partner Stacey Wear created Respectful Revolution for the purpose of "creating short video portraits of people who are taking action to help build a happier, more sustainable society."
From 2009 to 2012, the two toured the US by motorcycle, where they researched, produced, filmed, and curated video documentaries about people working for positive change. To date, the team has produced over 200 stories, many of which are now being featured on national television. You can view their original half-hour series on Free Speech TV.
Respectful Revolution is dedicated to documenting humane solutions to our world's many challenges. Like MY HERO, they seek to create meaningful change through stories that "inspire and can be replicated." The organization is about "respectful solutions and sustainability: not only through technologies, but more importantly through attitudes and behaviors."
These days, Gerard said, the couple are traveling less, making films locally with organizations in Chico, "...with the beautiful souls doing amazing work locally, like building the shower trailer and working for wildflower restoration."
While the US is now his home, Gerard was born and raised in Paris. When I asked him about his heroes, he thought for a moment and said, "As a kid being a hero meant having a gun." Following high school, he attended the Prytanée Militaire de La Flèche, after which he joined the French military, which led him to ultimately question the reasons for war. Then in 2006-2007 he toured with the Peace Movement, showing his documentary about the war in Iraq, along with several other films he had made about the senselessness of war. But he said he eventually "grew tired of looking at horror stories, suffering, and misery." He had met dozens of activists organizing for peace, so he decided to start making inspiring films about their work.
Gerard is currently working with a community in Sacramento that plans to grow their own food and "regain their freedom," where he will create a film about their own challenges, on behalf of millions of others everywhere struggling to make ends meet.
For More Information:
Watch the film: /building-a-shower-trailer-for-chicos-houseless-on-a-budget-of-love
About Gerard Ungerman: An independent journalist and documentary filmmaker, Ungerman studied English and Economics at the Sorbonne and served in the French military for five years. He moved to NYC and started Free-Will Productions in 1995. His hard-hitting documentaries have premiered around the world (Hidden Wars of Desert Storm, The Oil Factor: Behind the War on Terror, Plan Colombia: Cashing-In on the Drug War Failure). Witnessing firsthand the human and environmental toll of greed and carelessness led him to advocate for the respect of human dignity, nature and the world. A co-founder of the the Respectful Revolution project, Gerard is happy to call Chico, CA his home.
Watch Ungerman's documentary short, Davey Rogner - Picking Up Trash Across America, submitted to MY HERO International Film Festival in 2017:
https://myhero.com/film_daveyrogner
Respectful Revolution: https://www.respectfulrevolution.org
Respectful Revolution invites you to browse through its growing story list to discover and be inspired by everyday heroes who choose to build through action, the kind of world we are all longing for.
North State Shelter: https://www.facebook.com/NSSTchico/
The MY HERO International Film Festival:
The MY HERO International Film Festival brings together professional and youth filmmakers who honour local and global heroes working for positive change in the world. Thanks to generous sponsors, prizes are awarded to elementary, middle school, high school, college and professionals in a variety of categories including documentary, narrative, music video, animation, experimental, and more.