by
Skyler Gallarzan

from

Los Angeles, California in United States

In commemoration of Filipino American History Month, which takes place each October, we celebrate notable Filipino American heroes who have left an impact on our community. Generations of Filipino Americans exist because of the immigration of their ancestors, recently or long ago. These immigrants traveled from their native home in order to start a new life, to escape hardship, and to find opportunity in a new country, often facing trials, discrimination, and challenges in the process.

Carlos Sampayan Bulosan moved his life to the U.S. in order to support his family and further his education. As an author, activist, and poet, he documented and visualized the hardship he endured in settling in a new country. His poems and semi-fictional stories portray his resilience in a hostile, Eurocentric America.

Bulosan was born in 1911, in the small village of Mangusmana, within the province of Pangasinan, Philippines. In his rural village, Bulosan and his family struggled with economic hardship like many communities in the Philippines, which drove him to pursue a life in America to support his farm-working family.

In 1930, at the age of 17, Bulosan arrived to Seattle by ship. With very little education and minimal English language skills, Bulosan worked laborious, low paying jobs in order to get by. From farm working to dish washing, Bulosan went from job to job, being challenged by not only these work tasks, but also by various racist encounters, discriminatory laws against his ethnicity, harsh working conditions, and even sickness. Bulosan ended up suffering from tuberculosis and endured multiple operations in 1936. In his two years recovering in the hospital, Bulosan dedicated this period of rest to reading and writing.

While he wrote a number of poems and books reflecting on the immigrant Filipino American experience, his semi-autobiographical novel, America is in the Heart, published in 1946, was one of his most successful writings. Bulosan paved the way for immigrant storytelling, giving a glimpse into the hardships that Asian American immigrants endured through the 1930s labor movement. He gave a voice to this community, reflecting the racist and derogatory experiences that Filipino American immigrants faced in a country that they thought would bring freedom, hope, and prosperity.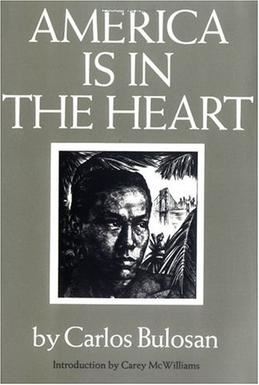 One of Bulosan's most successful pieces.https://en.wikipedia.org/wiki/America_Is_in_the_HeartCarlos Bulosan lived a short life but filled it with determination and perseverance. Even with his passing in 1956 due to continued sickness, his legacy continues through his stories and writings. To this day, America is in the Heart continues to be a valuable resource to Asian American Studies programs worldwide.
Page created on 10/16/2020 8:34:37 AM
Last edited 6/12/2021 2:42:53 AM