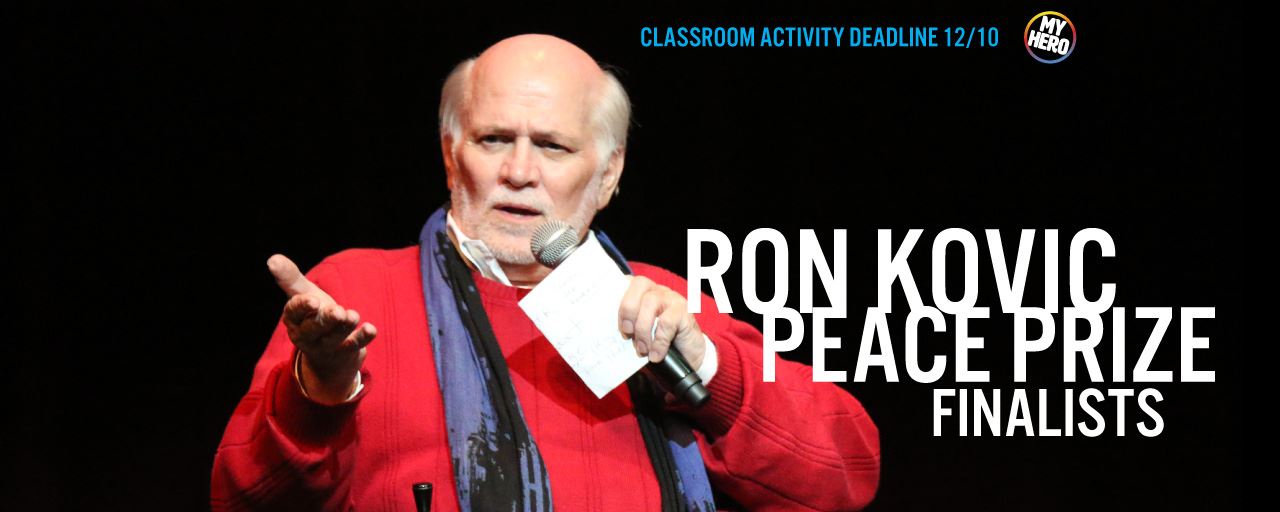 Ron Kovic Peace Prize FinalistsMY HERO
CONTACT: WENDY MILETTE FOR IMMEDIATE RELEASE
Director
MY HERO International Film Festival
949-376-5964
[email protected]
HELP MY HERO INTERNATIONAL FILM FESTIVAL JUDGES CHOOSE THE 2019 RON KOVIC PEACE PRIZE
DECEMBER 04, 2019 – It's time to choose the winner of the 2019 Ron Kovic Peace Prize and The MY HERO Project would like your help. The Kovic Prize is named for Ron Kovic, a former U.S. Marine sergeant whose story was told in his best-selling autobiography, and in his Oscar winning film — Born on the Fourth of July.
Kovic, who was paralyzed from the chest down in the Vietnam War, became an outspoken anti-war activist and, for the past 45 years, has been a leading advocate for peace. Each year, he offers a $1,000 cash award for a filmmaker who creatively and powerfully uses that theme. The prize is presented each year at the MY HERO International Film Festival.
The judges welcome your input and invite you to watch the five finalist films, select your favorite, and make a suggestion to the judges using the link below.
Link to Kovic Peace Prize Ballot
Finalists include:
Bullets to Books (excerpt) – produced by Andy Truschinski, Gail Prensky, and Sean MacLaughlin, it explores the efforts of a man in South Sudan who built a school in hopes of elevating the level of education in his region.
The Nun's Kaddish - by Luis Ismael, the film tells the true story of a Catholic Nun in 1933 Portugal who observes a Jewish ritual in an act of kindness that transcends religion. (Password: CIP2019)
Between Sky and Earth - directed by Neha Nahata and Dibyajyoti Nath, the film tells the stories of people in the Assam community in India, some of whom have served in the military, who are having to fight for their citizenship rights because of their location.
Guns, Bombs & War: A Love Story (Trailer) - the Wonderland Entertainment Group unveils a new documentary film that explores humanity through the topics of violence and war.
Education in the Times of Demolition - by Anwar Hammadin, the film shows youth solidarity when a community is under threat of demolition and displacement.
Page created on 12/4/2019 8:29:21 PM
Last edited 12/6/2019 3:00:40 AM