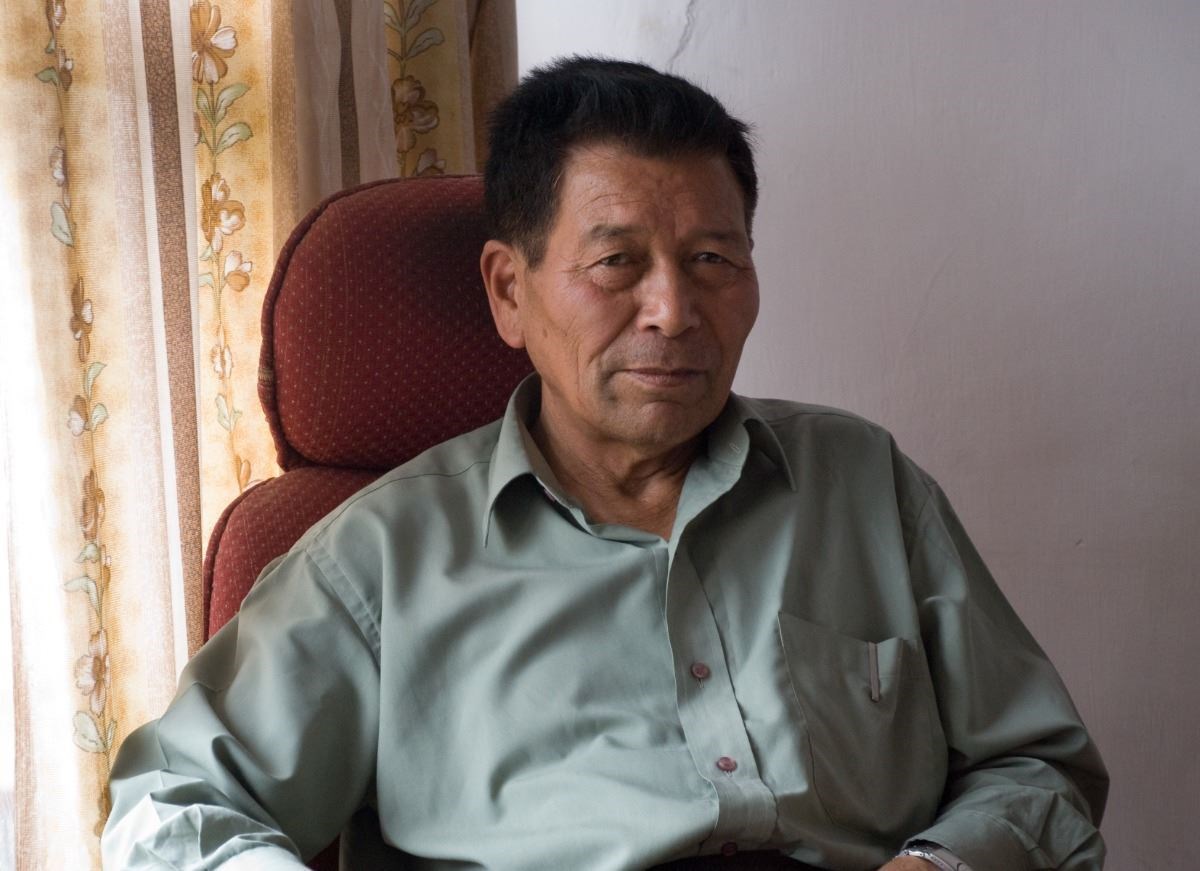 Chewang NorphelKiran Jonnalagadda from Bangalore, India, CC BY-SA 2.0 via Wikimedia Commons
Someone has rightly said, "Doing something for the nation is the best achievement in life, indeed he is a true hero."
The 2015 Padma Shri, the fourth-highest civilian award in The Republic of India, was awarded to Mr. Chewang Norphel, popularly known as 'The Ice Man of India.' He is a messiah for the people devoid of water in Ladakh. Ladakh is always known for its alluring beauty, blue mountains and lush green grasslands among the tourists, but little do people realize its implications, such as the hardships faced due to the frozen water. It's often easy to blame a situation, but few take the courage to aim at sustaining a decent living by fighting through all the odds, and here stood Norphal.
As a matter of fact, Ladakh receives exceptionally low precipitation, leaving farmers with the only choice to rely on glacier meltwater as their source for irrigation. With 80 percent of the inhabitants dependent on agriculture, it became hard for them to cultivate and bear fruits due to scarcity of water. They could not wait till June, the time when natural glaciers downpour the water. People had started questioning their existence and survival. Mr. Chewang Norphel, being always soft and humble, had soon realized that with the rare sight of glacier melt, villagers would be left in a poor state of condition.
"What if there were glaciers at lower altitudes which would melt sooner due to relatively higher temperature? Thus, came the idea of artificial glaciers," said Chewang Norphel. His inquisitive nature since childhood eventually made him stumble to an idea of coming up with the first artificial glacier in mesmerizing Leh, and then there was no looking back. He was often subjected to mockery by people and termed as 'crazy,' but the knowledge gained from a civil engineering diploma course made him design and execute a series of artificial glaciers which were set up at a low height so that it melts quickly, enabling the farmers to grow their crops easily.
"As you sow, so you reap. There is no doubt that if one has strong determination and dedication, there is nothing impossible in the world. That is what I believe," Norphel says. Using the resources available locally and harnessing the manpower from the local community, he completed his first 500 foot long project in Umla. His determination was a catalyst for change.
His idea made everyone's head turn when he planned to divert the water which came from the glaciers in June towards the canals, catchment areas and reservoirs where it was stored until winter giving rise to an artificial glacier. This water gave a sigh of relief to the farmers who could use it after it had melted down in April.
Norphel never lost hope in spite of several attempts. His hard work and dedication is a benchmark for the future generations. The astounding contribution by Norphel profoundly changed the lives of many living in the freezing temperatures and infertile land due to the roads, bridges and irrigation systems made by him. However, his biggest contribution was the artificial glaciers as it melted earlier, and farmers could get water for irrigation faster, especially during the sowing period which was always the crucial concern for them. The decision for migration has come to a halt and they are living happily in their green pastures.
With already fifteen artificial glaciers made, he aims to continue making glaciers in other areas like Spiti, Zangskar, etc., in the upcoming years. Heroes like Norphel, the blessing in disguise, has received accolades across the globe and proved that if a person has a strong desire to serve humanity, no obstacle can stop him. His untiring efforts has made way for development and gave a happier contented life to the inhabitants of Ladakh.
Page created on 4/8/2021 2:33:49 PM
Last edited 4/13/2021 6:07:17 AM