Chibeze Ezekiel : Award Winning Climate Activist
by
Deborah Neff, MY HERO Staff writer

from

United States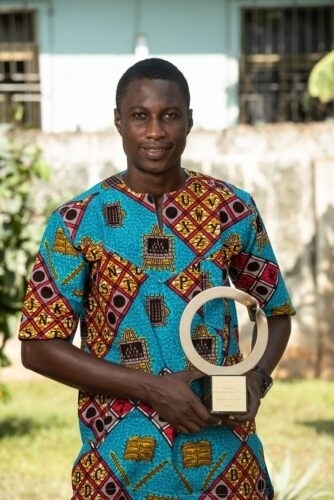 Chibeze EzekielGoldman Environmental Prize, with permission
Chibeze Ezekiel: 2020 Goldman Prize Winner for Africa
Chibeze Ezekiel of Ghana was awarded the Goldman Environmental Prize for Africa in 2020 for his efforts to build a youth movement and mobilize community members to stop the construction of a 700 MW coal-fired plant.
Chibeze succeeded in stopping China from making Ghana a coal client state and forced the Ghanaian government to honor its climate conference commitment to embrace sustainable energy production.
As part of the process China decided to support the development of Ghana's Renewable Energy Master Plan. China has the odd distinction of being the greatest proponent and user of coal fired power as well as the greatest proponent and user of sustainable energy. It's no small fete that this group of idealistic, young, underfunded activists stopped Chinese-backed coal.
Chibeze talked with MY HERO about the huge impact that receiving the Prize has had on his work during the last year: "Being in the limelight and getting media attention during the COVID crisis, NGOs wanted to learn from us and partner with us. The award provided a huge platform to connect with other activists for knowledge, learning, and sharing to help strengthen our advocacy work in Ghana and beyond."

Since receiving the Prize Chibeze has worked more closely with international and local partners working in Ghana for his organization, Strategic Youth Network for Development (SYND), which works to increase the impact of young people working for environmental and social change in Ghana. Partners include 350.org, one of the biggest international platforms on climate change, SLYCAN Trust, Africa Climate Reality Project (ACRP), Student Energy, 25onehundred, SIPRI and ACCESS Coalition (where SYND is now the West Africa Regional Node). Chibeze was named to 350.org's board within a year of receiving the Goldman Prize.
During our interview, Chibeze also shared that his organization has received recognition and support from the French Embassy, British Council and British High Commission, World Bank and UNDP. As a result of this support, he and his team have been able to contribute and influence climate change processes at the local and national levels from a youth perspective. For instance, Ghana's National Adaptation Plan (NAP) and the Nationally Determined Contributions (NDCs) specifically capture the role of young people in the planning and implementation processes.

Chibeze said that the most important thing about the Goldman Prize is that it encourages more activism, "for us not to give up." Having worked for nine years to bring young people to the table in high level talks about climate change in Ghana, he says, "It is now proven beyond a doubt that given the right resources, youth can influence climate change: Youth as a change agent in the fight against climate change." Chibeze and his young activists represented Ghana at COP26 in November 2021.
View Mill Valley Film Group's Film about Chibeze, called Alternative Future: https://myhero.com/alternative-future
Page created on 12/2/2021 1:14:54 PM
Last edited 12/23/2021 1:18:48 AM
The beliefs, viewpoints and opinions expressed in this hero submission on the website are those of the author and do not necessarily reflect the beliefs, viewpoints and opinions of The MY HERO Project and its staff.