Christopher Reeve
by
Marlis from Palmdale
Superman doesn't have to be strong, perfect, and fast to be a hero. Christopher Reeve isn't perfect in every way. He doesn't have the same normal life like people like us do today, but I still consider him my hero.
Christopher Reeve was born on September 25, 1952 in New York, NY. His mother Barbara Franklin and his father Franklin Reeve had raised him as a wealthy child. He had always loved to ride horses and wanted to be an actor when he got older. He graduated from Cornell University, went to The Julliard School in New York and majored in drama. Christopher Reeve had always dreamed of having a good career that he would love to do his whole life and live like a movie star, but once that dream came true, not everything turned out to be perfect.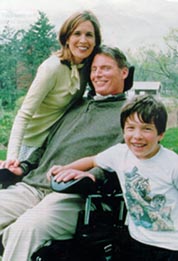 Christopher Reeve got married in 1992 to Dana Morsini and had a son named Will. He became well known when he played Clark Kent in "Superman" in 1978. At that point, it was a start on his career he always wanted and a start on being known as a hero. He loved to ride horses and wanted to compete and do tricks with his horse in the future. He hired a trainer named Mark Weissbeck to train him and his horse Buck to maybe one day compete in a real competition. That dream soon came true; he went to compete and finished 1st in Tamarack and 3rd in the Area 1 Championships in the fall on 1994. Christopher Reeve was planning to go to another event on Memorial Day the following year yet to come, which would be the last competition for the season because he was headed to Ireland for a film. He hoped his next competition would be successful and exciting as the last one was, but it turned out to be a frightening and dangerous event.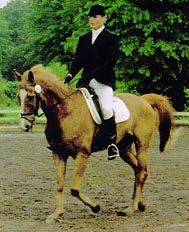 On Memorial Day 1995, Christopher Reeve was headed down to Culpeper,Virginia with his horse Buck to compete in a combined training event. He had been training really hard for this event, and for the preliminaries for the following year to come, which would be a lot more difficult. He had been practicing a few jumps with Buck before it was his turn to compete. Buck was hitting every jump perfectly, even the hardest jump of the whole competition. Right before it was Christopher's turn to go up, a good friend of his, John Williams came up to him to wish him luck. It was his turn to go up, it was exactly 3:01 p.m. Buck started off doing a great job getting right over the 1st two fences perfectly, right before he was going to jump over the 3rd fence, Buck put on his brakes for no reason and Christopher Reeve went down head first, all 6 ft., 4 in., and 215 lb. of him. Witnesses had said that a shadow had passed in front of Buck and caused him to make a sudden stop. Christopher Reeve was on the ground unable to breathe for about 3 minutes, until the paramedics had arrived. The paramedics flew to the University of Virginia to try to save is life.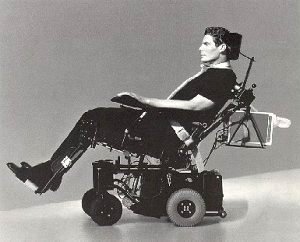 As soon as Christopher Reeve got to the University of Virginia, the doctors had rushed him into the emergency room for intensive care. They put him on a respirator because he was unable to breathe. Shortly after, he had to be rushed into surgery because he has stabilized and had broken his 1st and 2nd vertebrae. The doctors had to literally reattach his head to his spine because of the hard impact that had happened when he hit the ground. The doctors had said if it weren't for the helmet he was wearing, he would have gotten brain damage or even worse. Christopher Reeve was in the hospital for about 6 months, but the accident caused paralysis for life. After he was released, he had to have 4 hours of physical therapy daily in order to help his spinal cord and himself get better. He planned one day to be back to his old self. He continually said to himself that he wasn't going to stay that way his whole life.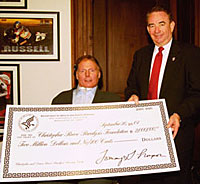 Today I consider Christopher Reeve to be my hero because he has started his own foundation to find a cure for paralysis caused by spinal cord injury and other nervous system disorders. I really admire that he supports the New York Spinal Cord Injury Research Bill, which has made about $8.5 million since he has started supporting it. Even though Christopher Reeve can't walk anymore, he still hasn't given up his career. After his accident he has produced and directed various films and commercials. His physical therapy has helped him a lot to regain some feeling in his index finger and thumb. He is now able to control the button on his electronic wheelchair. Even though Christopher Reeve is paralyzed, he is helping himself and others to get better and to keep on conquering their dreams. That's why Christopher Reeve is my true hero.
Page created on 4/16/2003 12:16:28 PM
Last edited 4/16/2003 12:16:28 PM
The beliefs, viewpoints and opinions expressed in this hero submission on the website are those of the author and do not necessarily reflect the beliefs, viewpoints and opinions of The MY HERO Project and its staff.
Related Links
Extra Info
Christopher Reeve is a popular hero. Please read the My Hero stories from: