Anne Frank
by
Stephanie from Cornwall
"Whoever is happy will make others happy too.
He who has courage and faith will never perish in misery!". (http://kirjasto.sci.fi/anne)
Anne Frank, what a hero she was, for saving her family from the Nazis. The way I look at it, a hero is someone who is not afraid to take risks, who has a lot of courage, even on the day when World War II began. She was not thinking about only herself but about others as well. When she was writing in her diary she never thought it would have an impact on the world like it has. She was writing down her thoughts for herself. But little did she know that the rest of us would learn what it was like to be a Jewish person in those times and the torture they all went through in the concentration camps and how so many people were killed by Hitler. Even now, after so many years, we are still affected by all she wrote in the diary.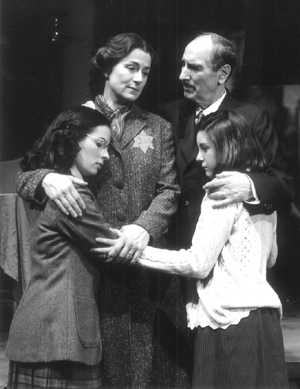 Anne Frank was born on June 12th 1929 in Frankfurt, Germany. Her family consisted of her father Otto, her mother Edith and her older sister Margot. In 1933 because of Hitler's Jewish laws, Mr. Frank opened his own company in Amsterdam and sent for his family. Anne began school at the Montessori school and made many friends. She was a very popular girl. Her wish was to become an author or a journalist. When Anne turned 13 years old in 1942 she received a diary from her parents. A few weeks later, Anne`s life was changed forever. Her family had to go into hiding from the Nazis. On July 5 1942, Anne`s sister Margot got a notice from the Nazis that she had to report for work at a labour camp and that is when the family went into hiding. They could only bring a few things with them. They received some help from four other people who worked at the same place as Anne`s father Otto. These individuals would bring them food, clothes, books and nes of what was going on in the war. On August 4 1944 their hiding place was found and the two families were split up and were moved to different camps. Anne and Margot ended up in Bergen-Belsen in Germany after being evacuated from Auschwitz in October 1944. This is when Margot and Anne developed typhus and died.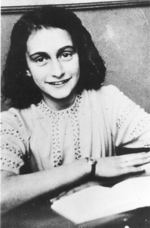 Anne was very mature and reasonable for a girl her age because she was thinking about her future, that she wanted to be an author. She also had a lot of faith in human nature even when the Germans were doing all those terrible things to them. Anne also loved to play pranks on people like when she and her friends poured some water on peoples' heads from a building. Anne was also very lively and that is why she was often corrected or disciplined by adults and teachers. She was also a very honest person and that is why she would tell people exactly what she thought.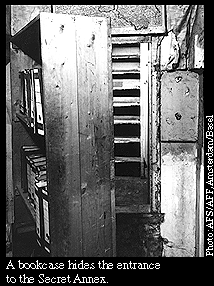 What makes Anne Frank a hero to me is that at the mere age of 13 years old she has become known as the best author ever. In 1942, 10,000 Jews had to go into hiding from Hitler. The Franks were living with friends of the family, the Van Pels. In 1944 the two families were split up and moved to different camps. During this time Anne was writing everyday in the diary about what was going on and she was so terrified of what would happen to everybody, especially her family. Unfortunately it would turn into a tragedy for Anne and her family. Anne and Margot developed typhus and died in 1944. Out of the two families, only her father Otto that survived. Otto was so impressed by Anne's journals that he had her diary published so people would know how the Nazis had affected everyody. Anne's diary is well known in 55 languages and there have been more than 24 million copies sold worldwide.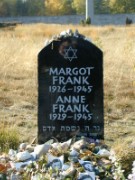 I cannot believe that in the 15 years of her life Anne Frank had accomplished more in her short life than anybody who has lived a lot longer life. She had gone through so much even though despite all, she never lost faith in people and still thought that things would get better. I suppose by writing everything down it made her feel better and she didn't feel so alone. I don't think in this day in age we could ever find another person like Anne Frank. It just proves how we are selfish and spoiled and that we have everything and they had nothing but they still seemed to believe in each other and had faith. "How wonderful it is that nobody needs to wait a single moment before starting to improve the world" (http://www.bodin.vgs.no/elever/ beathe.htm)
Page created on 10/23/2005 12:00:00 AM
Last edited 10/23/2005 12:00:00 AM
The beliefs, viewpoints and opinions expressed in this hero submission on the website are those of the author and do not necessarily reflect the beliefs, viewpoints and opinions of The MY HERO Project and its staff.
Related Links
Bibliography
Mooyaart-Doubleday, B.M . Anne Frank the diary of a young girl. New YorkJuly 1993.
. .