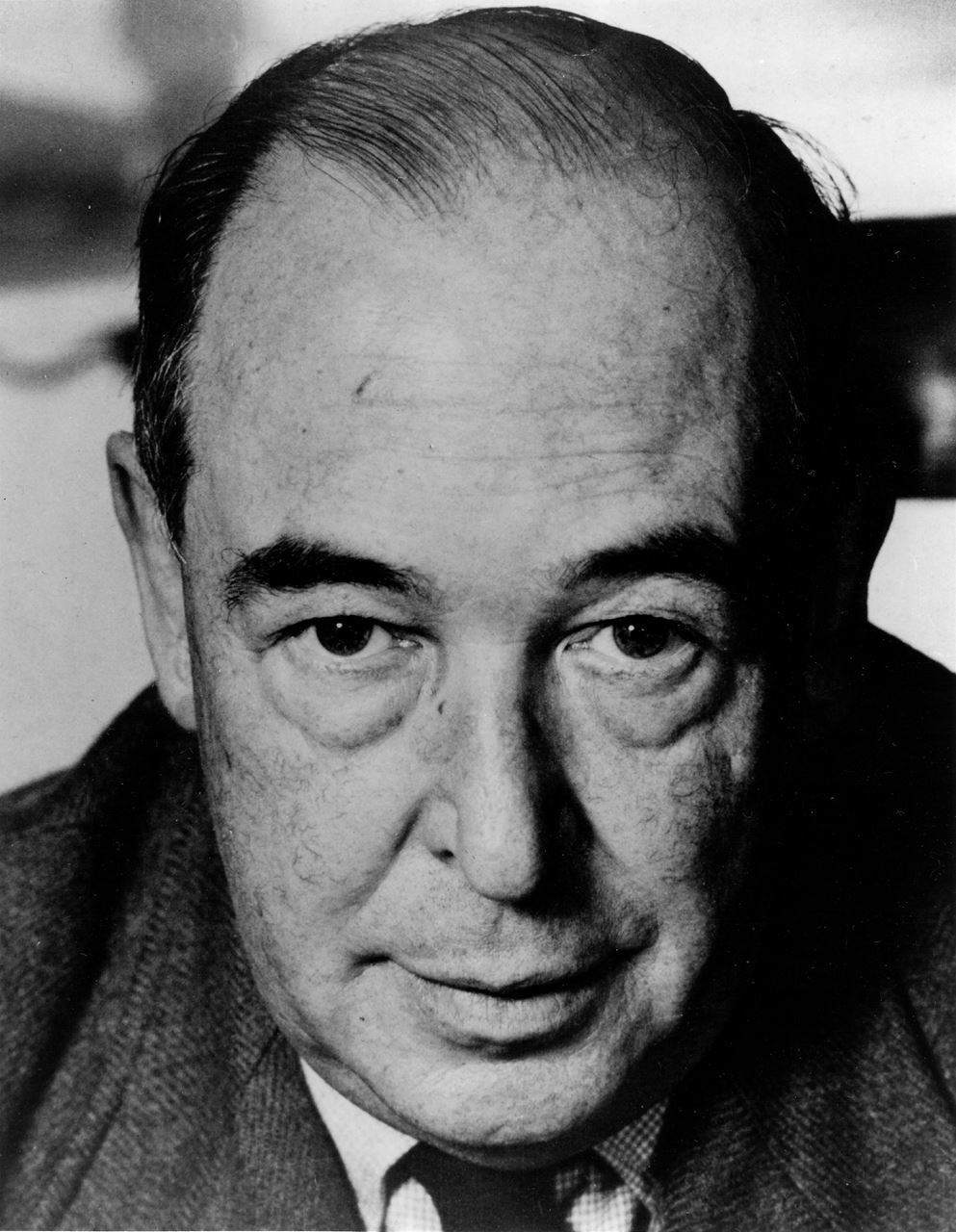 C.S. LewisLevan Ramishvili - Flickr [Public Domain]
Depth of faith and keen reason being the wellspring of his inspiration, Clive Staples (C. S.) Lewis stands as one of the greatest intellects of the twentieth century. Dr. Bruce L. Edwards, author of "C.S. Lewis: A Modest Literary Biography and Bibliography," notes that in his "varied and comprehensive writing career Lewis carved out a sterling reputation as a scholar, novelist and theologian for three very different audiences." His published works, all still in print today, are truly diverse: literary criticism, poetry, science fiction, children's literature, and Christian apologetics.
C.S. Lewis (or "Jack" as he chose to be called) was born in Belfast, Ireland, on November 29, 1898. Edwards provides insight into Lewis' happy childhood days where he had variety of books to read in the family library. Jack and his older brother, Warren, loved to read and in fact "were more at home in the world of ideas and books of the past, than the technological world of the 20th Century" (Edwards).
At ten years of age, Lewis' life changed when his beloved Christian mother died of cancer. Three years later, in 1911, he was sent to Cherbourg School in Melvern, England and became an enthusiast of Norse mythology. He had also given up his Christian faith (Dr. Zeus).
Having been awarded a scholarship to University College at Oxford in 1916, Lewis undertook his studies there for some months before voluntarily joining the British army during World War I. He was wounded but recovered and later returned to his studies at Oxford where he received, in successive years, top awards honoring his achievements in Greek and Latin literature, philosophy and ancient history, and English.
In 1925, Lewis became a Fellow of Magdalen College at Oxford and tutored students in literature and English. A year later he met another faculty member who would become one of his closest friends-- J. R. R. Tolkien, future writer of The Hobbit and The Lord of the Rings.
September 28, 1931, marked a milestone in Lewis' life. While walking on a tree-lined path on Oxford's campus called Addison's Walk, he had "a long talk on Christianity with J. R. R. Tolkien (a devout Roman Catholic) and another friend, Hugo Dyson" (Dr. Zeus). On the next day, Lewis became a Christian. Bruce Edwards notes that Lewis had recovered his childhood joy through his adult conversion to Christianity. His book, Surprised by Joy, recounts his experience.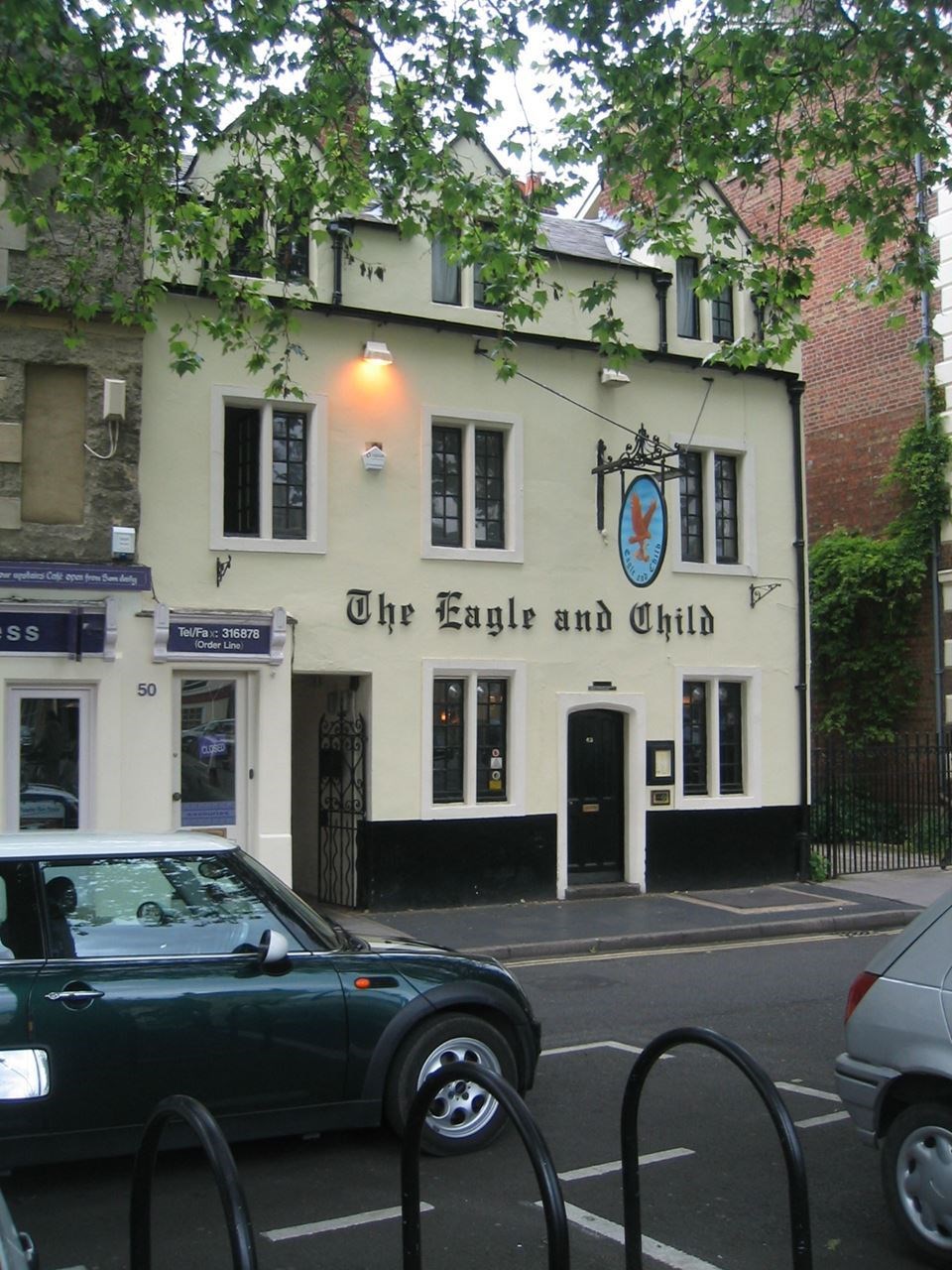 The Eagle and Child pub in Oxford where the Inklings met on Tuesday mornings in 1939en.wikipedia user Remember [Public domain]
In the fall of 1933, Lewis started a group consisting of close Christian friends called the Inklings. Among the members were J. R. R. Tolkien, Lewis' brother, Warren, Hugo Dyson and others. The group met twice a week in different locations. One such place was an Oxford pub called the Eagle and Child (or "Bird and Baby" as they liked to call it). Members read and discussed their compositions and encouraged one another. Any criticism was constructive although one gets the feeling that lively debates were not uncommon among such great minds.
Through the Inklings, a deep bond of friendship between Tolkien and Lewis was forged. British author Colin Duriez, who wrote Tolkien and C. S. Lewis: The Gift of Friendship, discusses the love that both men had for the mythic stories of old, for such stories revealed deep truths concerning the universal questions of life. However, as Duriez notes, Tolkien and Lewis realized that these stories had become "marginalized as children's stories" in recent times and that "…there was a need to create a readership again for these books—especially an adult readership" (Duriez). Soon after, J. R. R. Tolkien would complete The Hobbit and a few years later, Lewis would go on to publish the first book in his science fiction series, Out of the Silent Planet, in 1938. Perelandra and That Hideous Strength followed in later years. However, before starting the science fiction series, Lewis wrote the textbook on 16th Century English literature for Oxford's English literature series. It became a classic (Dr. Zeus).
Two years after World War II began, Lewis' The Screwtape Letters was published. It concerned the correspondence between two demons: a senior and his apprentice. The senior offers advice on how the apprentice can deceive and tempt his earthly "patient" in keeping him away from "the enemy"--or God. Lewis actually hit upon the idea for the book when listening to a speech by Adolph Hitler, another great deceiver. The Guardian published Lewis' Screwtape Letters. He was paid two pounds for each of the thirty-one letters but gave the money to charity (Dr. Zeus).
In 1944, Lewis gave seven radio talks, which were later published as Mere Christianity. According to Bruce Edwards, these talks "explained and defended the Christian faith." Lewis became known as "the apostle to the skeptics." Lewis' extraordinary ability to reach a wide audience is noted by author Robert C. Stroud of "C.S Lewis Chronicles: A Compendium of Information about this Great Writer" who writes:
"The fact that Lewis, a professor at both Oxford and Cambridge, possessed a keen intellect strengthens his credibility in many circles. That this brilliant agnostic came to recognize the validity first of Theism, and then of Christianity, provides an amazing testimony. That he could also communicate the gospel so effectively to the "common person" is an additional evidence of his skill. Lewis, a faithful member of the Anglican communion, was no defender of denominational particulars. His calling was to promote a profound vision of "mere Christianity," which was nothing less than the heart of the faith. His theology was thoroughly incarnational--focusing always on Jesus Christ."
In all, Edwards notes that Lewis published at least eight books on Christian apologetics and "is arguably the most important Christian writer of the 20th century."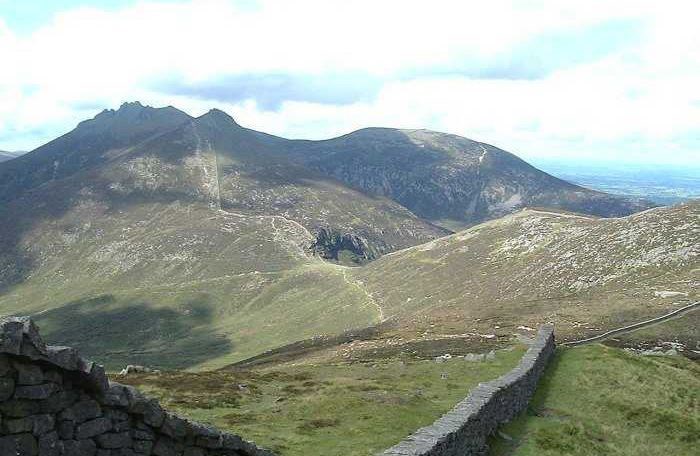 The Mountains of Mourne inspired Lewis to write The Chronicles of Narnia.Marksie531 [CC BY-SA 3.0]
In 1950, the first in seven books of his popular and critically acclaimed fantasy series, The Chronicles of Narnia, was published. The Lion, the Witch and the Wardrobe is the story of four children who enter a fantasy world through a wardrobe in the home of their relative. The central character, Aslan, is a Christ-like figure, and the delightful characters of Narnia are talking animals. Lewis published the series between the years of 1950 to 1956.
In 1952, Lewis met an American woman named Joy Davidman Gresham. The two were married in 1956. Joy almost died of bone cancer but had a remission. She survived until 1960. The movie, Shadowlands, is based (perhaps loosely) on this time in Lewis' life.
On November 22, 1963, C. S. Lewis died in his home (the Kilns) of failing health (the same day president John F. Kennedy was assassinated) and is buried in the yard of the Holy Trinity Church in Headington Quarry, Oxford. His classic works are as popular today as they ever were and will, no doubt, stand the test of time for generations to come.
"Even in literature and art, no man who bothers about originality will ever be original: whereas if you simply try to tell the truth (without caring twopence how often it has been told before) you will, nine times out of ten, become original without ever having noticed it." -- C.S. Lewis