Daniel Taylor interviewing his teacher in the Lora Batchelor Middle School newscast Jeff Ruskin, with permissionA student at Lora Batchelor Middle School in Bloomington, Indiana, Daniel Taylor is passionate about video production. "To me, filmmaking isn't just a hobby, it's a way to enjoy life, participate in wholesome recreational activities, and bond with your peers and the people who help you make your film," Taylor told MY HERO. "I've enjoyed many hours making movies with my friends and hope to enjoy many more."
This year, Taylor's short documentary The Forgotten Hero: Carl Lutz is the winner of the WOJ Youth Reporter Middle School Award at the 2022 MY HERO Film Festival. "I am passionate about the Holocaust, and our video production class has made many films on that particular subject. After researching him [Carl Lutz] further, I knew he was a hero and would make a good candidate for the MY HERO film festival," Taylor said. Often referred to as "the forgotten hero," Carl Lutz "stepped up and saved tens of thousands of innocent Jews. He should be forever regarded as an unsung hero," Taylor said in his short film.
The Forgotten Hero: Carl Lutz, directed and produced by Taylor, tells the story of Carl Lutz, a Swiss diplomat who conducted a rescue operation in Budapest, Hungary that saved more than 62,000 Jews. Born in Walzenhausen, Switzerland, on March 30, 1895, Lutz immigrated to the U.S. to pursue higher education and decided to become a pastor. After realizing that becoming a pastor was not the right path for him, he began to work at the Swiss Legation of Washington. In 1924, he then became a diplomat with a degree from Washington University. In January 1935, he was appointed to the Jaffa Consulate in Palestine under British rule. In 1939, when WWII broke out, Germany asked Switzerland to represent its diplomatic interest with Lutz at the head. Several years later, Lutz created a plan to issue letters of protection, known as Schutzbrief, to 7,800 Jews. These letters stated that the holder had been authorized to immigrate to Palestine under Swiss protection, saving them from forced labors or deportation. Very rapidly, various series from 1 to 7,800 began circulating around Budapest, a clever strategy that allowed Lutz to save a greater number of Jewish people instead of only 7,800.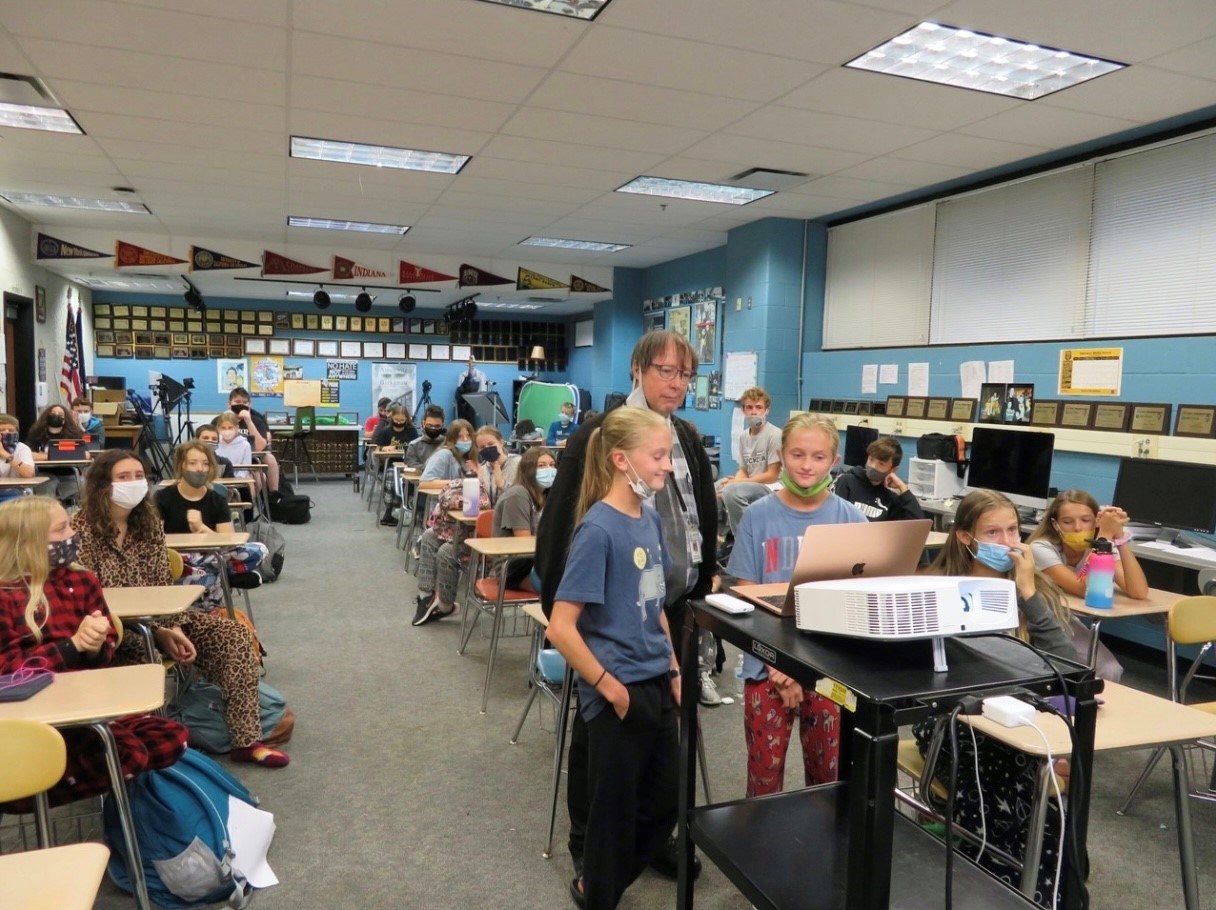 Jeff Rudkin's video production classJeff Rudkin, with permissionMuch of Taylor's inspiration also stems from his video production teacher, Jeff Rudkin. "He is an excellent student with a lot of potential who I am sure will make some more excellent films in the future. I enjoy being his teacher," Rudkin said. In a previous interview, Rudkin told MY HERO that he encourages his students to make films about "ordinary people doing heroic things." Today, Rudkin is the recipient of the 2022 MY HERO Teacher Award for his work on heroism at Lora Batchelor Middle School for thirty one years. "The study of heroes gives the students role models to look up to," Rudkin said. "The students discuss the stories of ordinary people doing heroic things and making the right choices and [this helps] the students understand global world views." In previous years, other of Rudkin's students have also been recognized for their work at the MY HERO Film Festival.
Involved in his school's newscast, Taylor is passionate about using his films and art to connect with his audience and spread awareness about folks who are leading with empathy and doing exemplary work. "Mostly, I am trying to show that there are many people, heroes, out there, who committed an amazing feat like saving tens of thousands of lives but didn't receive any recognition for it," Taylor said. "I'm trying to make more heroes such as these known to people and recognized for their selfless acts, and I hope that films like these do just that!"
Page created on 11/24/2022 8:30:52 AM
Last edited 12/9/2022 4:51:57 PM
Extra Info
To view the 2022 MY HERO International Film Festival Program,
Click here
View all winning films online