Our intention is to reduce suffering in the world by challenging the unjust and oppressive social structures and by promoting peace with justice, equality and dignity for all. --Fr. Harry Bury, Twin Cities Nonviolent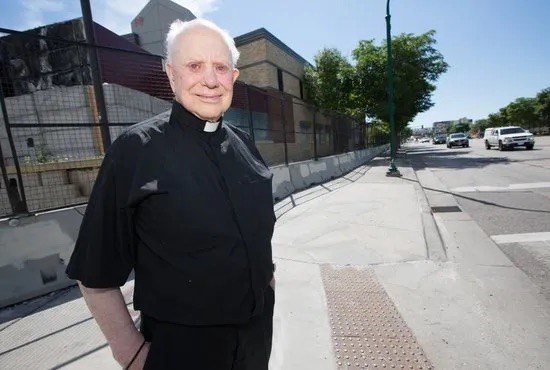 Father Harry Bury of Twin Cities NonViolentMitch Waters, with permission
The video, Eight Points to Peace, has been voted a finalist for a MY HERO 18th International Film Festival this winter. The short documentary focuses on solutions to the injustice, police violence, mass shootings, poverty, homelessness, and racism that have plagued the Twin Cities for years. Eight Points to Peace is expertly rendered, with powerful and realistic shots of people affected by violence and important interviews with those working to help.
The video was directed and shot by Mitch Waters and produced by Twin Cities Nonviolent, a nonprofit coalition led by Father Harry Bury as part of the organization's annual event, '12 Days Free from Violence,' from September 21 to October 2nd, 2022.
The organization envisions a Twin Cities community that is free from violence:
The Mission of Twin Cities Nonviolent is to: reduce violence in all its forms; increase awareness and engagement in nonviolent policies and practices; bring together local community organizations, including nonprofits, religious institutions, educational institutions, and government agencies; and dismantle the structures and systems that lead to violence throughout the Twin Cities and beyond.
According to their website, "The coalition includes citizens from all walks of life who will not let politics or our differences get in the way of doing what needs to be done. Our role is to be a catalyst for local organizations that practice nonviolence. "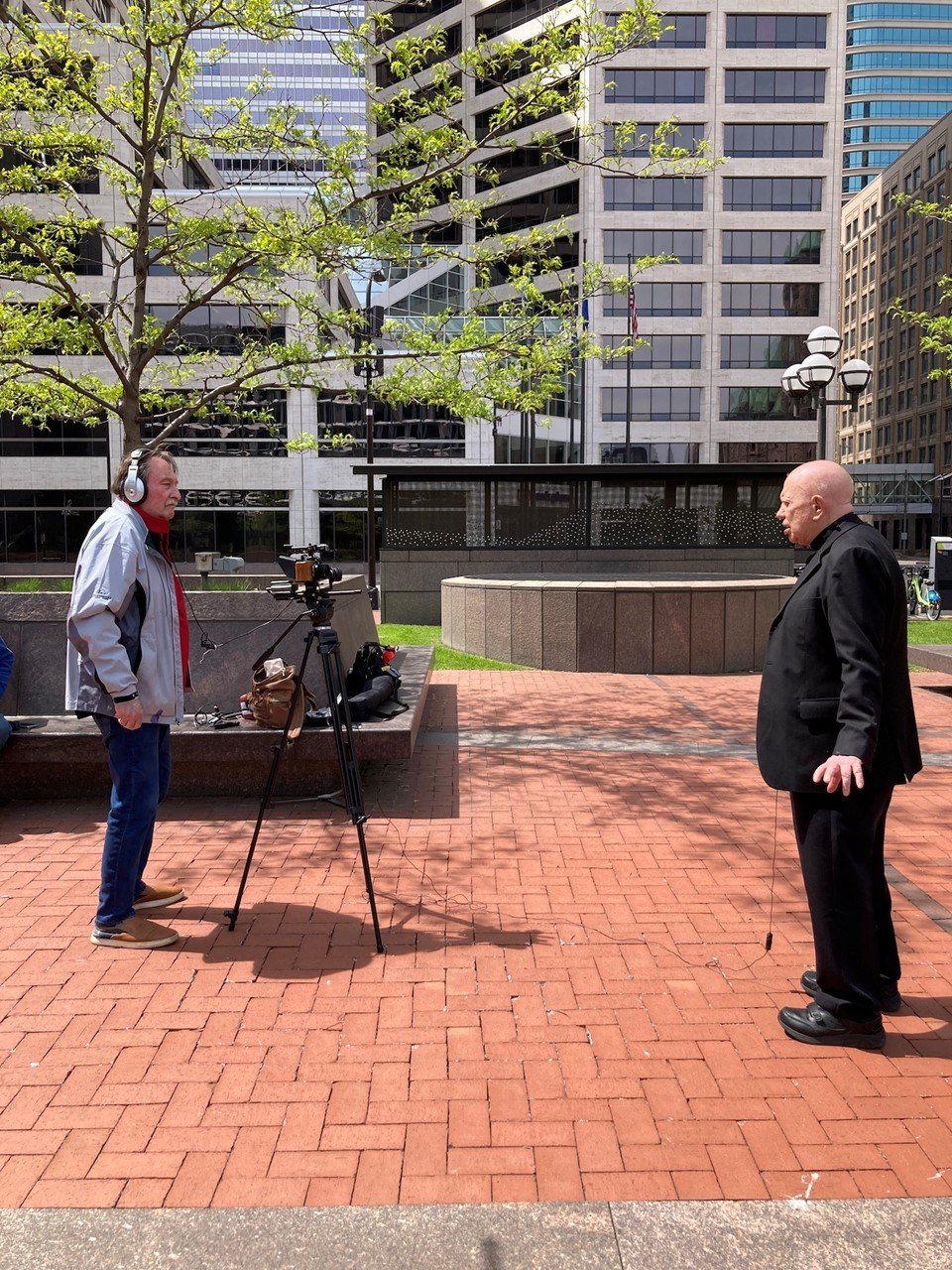 Mitch Waters filming Fr. Harry BuryMitch Waters, with permission
The first thing filmmaker Mitch Waters said in his interview with MY HERO was, "It is an honor to give an international stage to the message of the film and to the work of Father Harry and Twin Cities Nonviolent."
Father Harry Bury is the founder, President, and visionary leader of the organization. He was raised in the Twin Cities and has a 50-year history of fighting against violence throughout the world. "Father Harry is a saint," Waters told MY HERO, "a lovely maverick priest: what a subject."
The two men were friends and having worked together before, discussed ideas for the film in preparation for the year's annual peace event. Waters came up with the title of the film and, with editor Mike Thomas, wrote parts of the script along with Fr. Harry.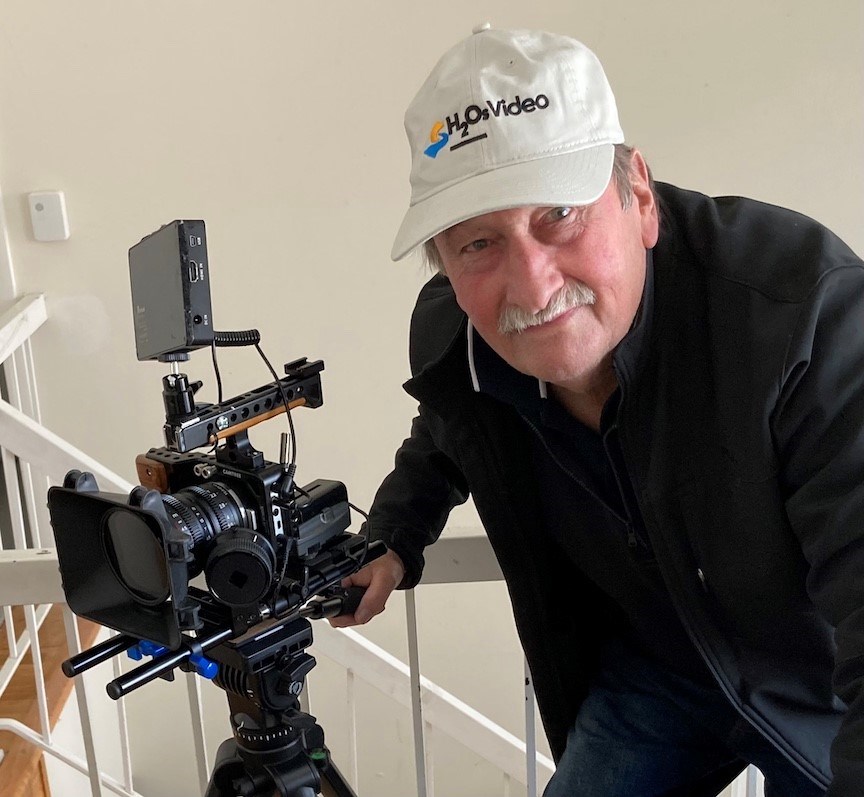 Filmmaker Mitch WatersMitch Waters, with permission
The filmmaker, Mitch Waters
Waters has been doing video film and TV broadcasting for fifty years, both corporate work and work for nonprofits. His small production company, H2Os Video, primarily makes short form narrative documentaries and television spots. Making motivational and inspirational video presentations is their ultimate goal—in particular, videos that inform, evoke emotion, and promote change.
We asked Waters, "What was your inspiration for Eight Points of Peace?"
"Minneapolis-St. Paul is a lovely town. But we have murders and gang problems. Last week we had five separate shootings, and there was a shooting at Mall of America on August 4th." Mall of America!
He went on to say, "John Turnipstein in the early 90s called our city "Murderapolis," a term that, sadly, has made it into the Urban Dictionary.
We asked Waters if he had any advice for budding filmmakers. He responded:
You can't do it for just the love, you have to do it for the love and believe in yourself. Even commercial art is art. You need to be a storyteller—help them tell their story. There is a lot that one person can do with some effort: put in a little effort. You don't need money to make a clean-looking story.
The award-winning filmmaker's humility was palpable: "I'm just a regular person," Waters said at the close of the interview.
Mitch Waters is H2Os Video's Executive Producer. He produces award winning non-broadcast "Business Story" videos for entrepreneurial businesses, fortune 500 corporations and non-profit organizations.
Waters' directing credits include the awarding winning short documentaries, St. Stephens Temporary Homeless Shelter, Stewards of the Earth and the short documentary The Thin Blue Line that was a Twin Cities Film Fest Official Selection.
Waters was the director and cinematographer for the feature film Alamo Gold. His short documentary, Twin Cities Non-Violent, was an International Short Film Festival award winner. Mitch is also an Emmy recipient broadcast television sports camera person those career spans 40 years from the NFL to NBA from the Olympics to Winter X Games.
Links for more information:
Watch Eight Points to Peace:
/eight-points-to-peacehttps://myhero.com/eight-points-to-peace
Twin Cities Nonviolent:
https://twincitiesnonviolent.org
12 DAYS FREE FROM VIOLENCE 2022
Your dream, vision and action for 12 Days! Wednesday 9/21 to Sunday 10/2/22.
H2Os Video Production Company:
SAVE THE DATE - 11/19/22 @ 2PM INTERNATIONAL FILM FESTIVAL AWARDS CEREMONY VIA ZOOM
CHECK BACK AS THE DATE GETS CLOSER FOR DETAILS: /festival-information
& 12/10/22 @ 10 AM INTERNATIONAL FILM FESTIVAL FAMILY FRIENDLY AWARDS VIA ZOOM