Emily Hunter is an environmental activist, journalist and filmmaker. Currently finishing her journalism degree at the University of Toronto, Emily, 25, is already an accomplished eco-warrior. At 19 she took part in her first campaign with the notorious Sea Shepherd conservation society, travelling to the Galapagos Islands to protect the endangered Sea Cucumbers and other marine wildlife. Since then, Emily has participated in 4 campaigns in Antarctica with the Sea Shepherd, covered the Tar Sands for MTV Canada, saved a beached whale in Australia, appeared on numerous radio and television shows and written extensively in various magazines and online, speaking out for endangered species and the environment. She is currently completing her book, The Next Eco-Warriors, a collection of tales from 21st century eco-activists around the world.
Emily Hunter comes by it naturally, being the youngest daughter of the late Bob Hunter and Bobbi Hunter, co-founders of Greenpeace. It all started in 1971, years before she was born. Bob Hunter, then a journalist for the Vancouver Sun set out on the maiden voyage of a journey that would morph into the Greenpeace movement. According to Emily, her father was greatly influenced by the events of the nukes in Hiroshima… "it gave an image to a lot of people that we could bring about our own demise." So when the U.S. military was testing nuclear weapons on the Island of Amchitka, off the Alaskan coast, Bob Hunter and a small group of men sailed toward the island to challenge them in a rusty fishing boat, "The Greenpeace". This single act of non-violent protest created an avalanche of protests and support that caused the U.S./Canadian border to be closed for the first time since the war of 1812. The result? The nuclear testing program was soon stopped and a brand new movement of environmental and peace activism was launched.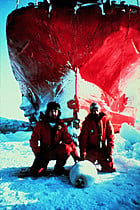 Emily is one of many people who feel Bob Hunter charted the more spiritual course of the movement. It started with anti-nukes and the whales, dolphins, seals and the environment came later. "My Dad made Greenpeace into the multi-issue global organization that it is today." Bob Hunter came up with the name "Rainbow Warrior" (which would become the most famous of the Greenpeace ships) in tribute to a Cree prophecy from a book that literally jumped into his hands 'when the Greenpeace dropped down a steep swell' during that first voyage to Amchitka. In Hunter's 1978 book, "Warriors of the Rainbow", he tells the story of these warriors, 'a legendary tribe of spirits who would rescue nature when the Earth became sick.'
Emily's mother, Bobbi Hunter, like many women in the environmental movement has never been given the credit she is due. She was the first woman to put her body in between a whale and the harpoon of a Russian whaling boat off the coast of California. Bobbie Hunter served as the first Greenpeace treasurer, securing the first loan through mortgaging their home to help pay for those early campaigns. Emily told me, "when my Dad was out at sea on a campaign, he had the quotes ready for the press and my Mom would be the land coordinator, playing a pivotal role in getting the message out to the appropriate media. There are the mystics and the mechanics. My Dad had the visionary attitude and my Mom was the mechanic that made things happen."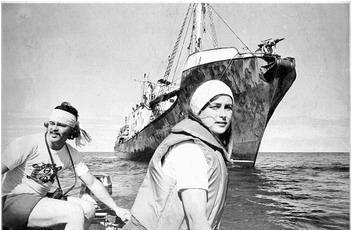 No wonder Emily is the empowered, focused young woman she is today. My daughter Slater and I met up with Emily Hunter in Copenhagen at the United Nations Climate Change conference, COP15, where 100,000 youth, members of civil society and world leaders had converged to take part in the making of policy decisions that would affect the environmental future of our planet. Emily was there covering the conference as an eco-journalist/filmmaker and generously extended her experienced hand to Slater, who was there filming her Documentary, An Inconvenient Youth, about the global youth environmental movement. For the first few days Emily and Slater exchanged tactical phone calls about "actions" being planned by activists, the best way to navigate the conferences main venue, the Bella Center and which youth delegates were critical to interview. We were quite worried about Emily, as she was outside covering the protest of thousands of people who had made their way to the Bella Centre to meet hundreds of delegates leaving the talks, demanding that their silenced voices be heard. Chaos finally broke out and the police clubs, tear gas and water cannons brought this peaceful march to a bitter end. Emily later told us that taking part in that march "was one of the more beautiful moments in my life and one of the best times I've had in Copenhagen. We wanted to bring this huge world stage to the people, to let them talk about their climate future… not just leave it up to the few politicians. I joined the protest because I needed to make a stand for my own future and for justice for everybody. I was on the front lines in many instances and my heart was racing. There were people from all around the world, not just activists, from extreme radicals to clowns, all with linked arms and joining in this fight. We were saying, "Peace, Peace, Peace, don't hurt us," but still the police responded with huge violence. It really is a climate dictatorship. For a person being born to parents who helped start the modern day environmental movement, it was an intense moment and realization that the next generation was standing up and making themselves heard. I just had to cry."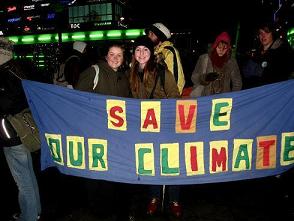 You would think that Emily became involved in this movement because of her parents but she told us: "Despite my parents co-founding Greenpeace and being such an inspiration to so many, it was actually other young people going out there and working to make a difference despite all the obstacles and doom and gloom situation we find ourselves in. It was meeting people my age who are already captaining ships at sea, meeting people who are using their talents in the arts and music to get the environmental message out in a whole new way. Clowns on the streets, writers, speakers, movers and shakers… they are the ones who keep me going."
Bob and Bobbi Hunter influenced their youngest daughter with their philosophy and ideologies about the world and the thought that one person could really change the world. They never pushed her into one particular direction but did encourage her to follow her dreams. Emily is doing just that. She told us, "growing up I was a painter, wrote poems, acted, directed short films and experimented with a lot of different things. I never considered myself an environmentalist. My art is now the written word." Her parents set the stage for her global journey by encouraging her to travel, experience other cultures and learn about how other people live. Emily participated in many exchange programs, taught English as a second language and discovered the environmental devastation that was going on. She told us about witnessing deforestation in the Amazon rain forest, droughts in Australia and the choking smog of China, along with wide spread social injustices. So it was after 6 months in China at the age of 19, sick from the pollution, that her epiphany came. She had seen enough. Her parents had come to China to inform her that he father had terminal cancer and her world flipped upside down. She went back to Canada with them, recovered for a month and spent as much time with her father as she could. "We had these conversations… my Dad always treated me as an equal… and eventually it came out of me how upset I was with the state of the world, environmentally. He was so amazed at what I had seen in such a short time and was happy that I had come to my own conclusion about becoming an environmentalist." It was then that he set up her first campaign with his best friend, Paul Watson, another original Greenpeacer and now Captain of the Sea Shepherd. "Uncle Paul" now became her Captain and her Dad shared their journey via daily emails. "I was so seasick the whole time but my parents kept telling me to keep going and that once I was back on land I would be OK. I was the only girl on the front lines against the Sea Cucumber fishermen at the Charles Darwin Research Center in the Galapagos. Economy versus Ecology. They took us hostage. They had weapons. My Dad had his own talk show on City TV in Toronto, so I gave him a call and told him I was a hostage and he put me on LIVE but when the Dad (in him) kicked in, he got very concerned… it made for a good story."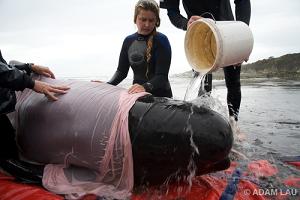 It has been several months since the Copenhagen talks and I caught up with Emily by phone in Toronto.
My Hero: "Many leading scientists and environmentalists said that Copenhagen was THE moment for the countries of the world to address global warming. What are your thoughts on the disappointing outcome of COP15?"
Emily: "I went into COP knowing I was not finding hope from the politicians but the movement, the third wave of the environmental movement. I knew I was going to find hope outside the conference with the activists, not just the banner waving but the art activists, the lobbyists on the inside and the online social net-workers. The conference outcome was very disappointing. I don't want to think of it as the beginning of the end but I certainly have less optimism after COP15. Mainly it has to do with the divides… Global South and Global North. The G8 climate tyrants missing the big picture. I realize how important it is to have people's voices from around the world, heard… to actually be in solidarity with these people. If we are really going to find a solution to global warming, we need to include all people because this is about all our survival."
My Hero: "What do you have to say to young people who are curious about or just getting involved with the environmental movement?"
Emily: "It's our future at stake here. By 2050 when we are all about 50, 60 years old, our whole world is going to be dramatically reshaped because of the mass destruction we will witness in our time. Because of the melting Arctic summer sea ice, a lot of island states and nations will be completely reshaped, leaving millions of climate refugees. It's survival or suicide. You can't think it's just going to affect someone else. You can be part of this incredible movement in this incredible time and fight the most important battle in human history or you can contribute to the problem. But if you do decide to join, it's a pretty rockin fight and it's a lot of fun."
My Hero: " What about the climate change deniers?"
Emily: "In terms of "climate-gate", it's a sad state of affairs that the deniers' rhetoric has taken hold in many people's minds. There are always going to be people that make barriers to the truth. They are going to deny it for their own agenda and own profits in the short term. We need to get this story told on a mass level, through what you are doing, through mass media, through documentary filmmaking and through speaking out as far and wide as possible. We must include everyone and make them realize we are all in this together."
My Hero: "Who is your hero and why?"
Emily: "I have a couple. My first one is my Dad… always a strong central force in my life. He reminds me that anyone can be a visionary, not just people at the top. He was about having ideas and spirit and going for it. He made me see I could change the world. He was someone everyone could relate to, so down to earth… a genuine human being trying to save something so big.
My mother, who is a strong worker. Every day she is working on projects to make the world better. She taught me how to be persistent and strong and to never take "no" for an answer.
And my heroes are all the next eco-warriors that I have met around the world, that even at a young age are already dedicated to this global cause. Like Slater in Copenhagen, getting the message out through her filmmaking. All the next eco warriors.. to see them rising is empowering."
Emily is in the midst of finals at University and completing her book, The Next Eco-Warriors. This book has been good for her. She tells me, "When people can expand their minds, to create a new world of possibilities, maybe we can steer ourselves from the cliff, become engaged and use their talents and abilities to make change."
Emily Hunter is certainly using all her talents and abilities to help bring about positive changes on the planet. I'm sure her Dad is very proud, wherever he is… and that her Mom is happy. Emily is continuing with the work they started 4 decades ago.
Thank you Emily for picking up the torch your parents handed you. We watch your journey with wonder.