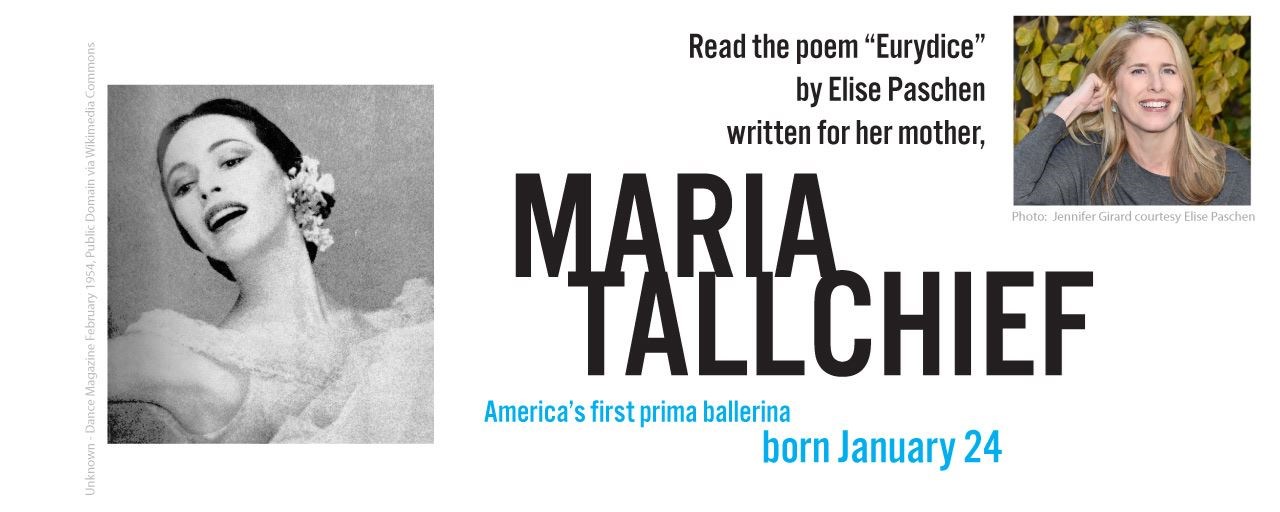 Maria Tallchief - Eurydice by Elise PaschenUnknown - Dance Magazine February 1954, Public Domain via Wikimedia Commons | Photo: Jennifer Girard courtesy Elise Paschen
In 1947, when Kirstein and I agreed that Ballet Society should commission a new ballet from
Stravinsky, the composer consented to the project. He asked for
suggestions, and I told him that I would like to do a new, modern
"Orpheus." It seemed to me that the Orpheus myth, with its
powerful portrayal of the poet-musician's destiny and of his love,
was particularly appropriate for ballet, and particularly a ballet
with music by Stravinsky.
-- George Balanchine
You were all of twenty-three, married
to Balanchine. The nights he spent,
absorbed, at work on "Orpheus"
you felt alone, and stayed at home,
stitching an Indian patterned skirt.
But when you danced Eurydice's
last pas de deux, you wrapped your arms
and legs around your poet husband,
"Orpheus," willing him to look
into your eyes. As Balanchine
wrote: "tormented because she cannot
be seen by the man she loves."
Attempting to seduce, you dance
the dance till finally he tears
away his mask, and you collapse
to earth and die. During rehearsal
Stravinsky asked, "How long to die?"
In the score he scratched five long counts.
The time of the ballet, "the time
of sand and snakes," "of Greek earth legends"
wrote Balanchine. And Kirstein saw
(describing their Gluck's "Orpheus")
"the eternal domestic tragedy
between an artist and his wife."
Your husband, armed with song, lays siege,
enchants the gods to claim you back,
vowing he will not look. But you
persuade him. Therefore Orpheus
throws off his mask, and loses you.
His mask becomes a lyre.
Mother, when I was young, I watched
you from the wings and saw the sweat
dripping from arms and neck, your gasp
for breath. I thought it was your last.
But no. You'd towel off, and then
step back into the spotlight, smiling.
Published in Bestiary (Red Hen Press, 2009). Reprinted here with permission.