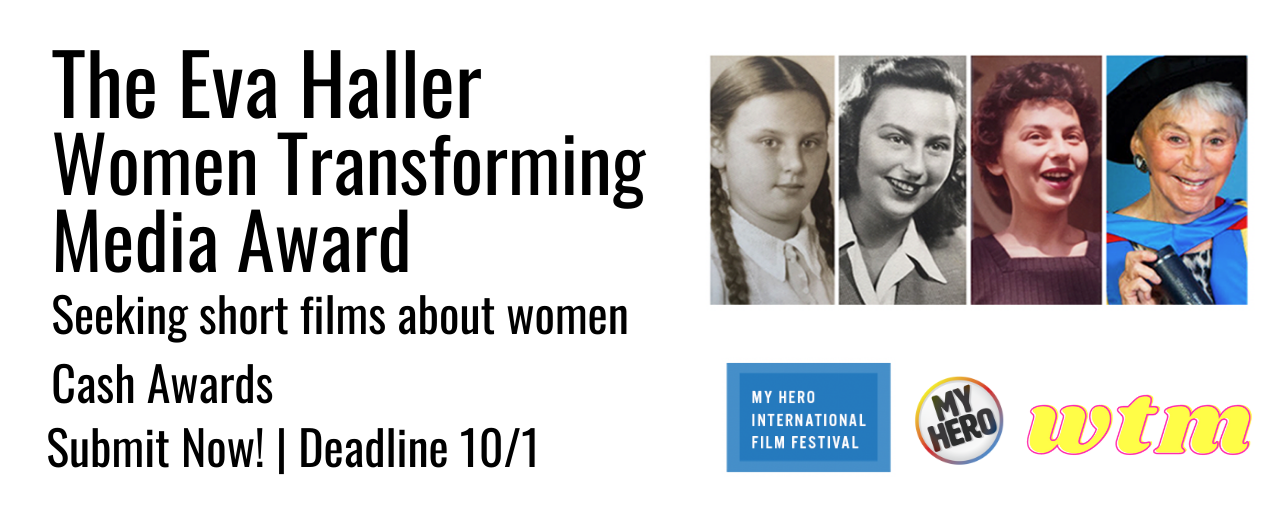 Eva Haller WTM AwardMY HERO
CONTACT: Wendy Milette FOR IMMEDIATE RELEASE
Director of Media
The MY HERO Project
[email protected]
949-376-5964
CALL FOR ENTRIES – EVA HALLER WOMEN TRANSFORMING MEDIA AWARD – 2021 MY HERO INTERNATIONAL FILM FESTIVAL
LAGUNA BEACH, CA 7/12/21 – The MY HERO Project is looking for short films that feature women creating positive change in the world. The Eva Haller Women Transforming Media Award, which comes with a cash prize of $2,500, is offered each year through The MY HERO International Film Festival. Submissions may include women's stories of any genre up to 10 minutes in length. Excerpts and trailers from longer documentaries and feature films are also accepted. The 2021 deadline is October 1.
This award was established by Eva Haller — an activist, philanthropist, and Holocaust survivor who has served as a mentor to generations of women change-makers. Haller was born in Budapest, Hungary, before the Second World War. When Nazis invaded her city, Haller escaped the concentration camp by convincing a young Nazi soldier that she was much too young and beautiful to die. However, her beloved older brother was not as fortunate. After his death, Haller vowed to honor him by living her life with a sense of purpose.
In 2020 there were three professional winners:
Looking After Our Spirit by Mark Pearce featuring Dr. Anne Poelina, an amazing activist in Australia who speaks out about the social, human, cultural and environmental values that has built the community spirit of Broome.
Trudie's Goose created by C. Lily Ericsson, Cheri Gaulke, Samara Hutman and Liran Kapel, Based on the life and art of Holocaust survivor Trudie Strobel. This film is a collaboration of Holocaust survivors and teens created through the Righteous Conversations Project.
Unladylike 2020: Bessie Coleman by Charlotte Mangin & Sandra Rattley. This film is about Bessie Coleman who became a media sensation with her daredevil performances, and was hailed as "Queen Bess" and "the world's greatest woman flier." Throughout her brief career, Coleman refused to perform in airshows where audiences were segregated.
The MY HERO International Film Festival is part of The MY HERO Project, a 501(c)(3) organization dedicated to sharing stories of heroes from all parts of the world. Winning films are featured on the MY HERO website (myhero.com), and enjoyed by a global audience.
Learn more about the Eva Haller Women Transforming Media Award. For additional information, MY HERO Media Director Wendy Milette at [email protected].
Page created on 9/26/2019 9:08:54 PM
Last edited 8/11/2021 5:29:08 PM