by
Jenny Kim

from

Port Coquitlam, British Columbia, Canada

What we do to the environment we do to ourselves.

Fin Donnelly is a hero in Port Coquitlam and in many places where he has traveled. He swims in different rivers and lakes all around the world to raise awareness of how much pollution we have in our waters. He is doing this because it is his mission and his dream. Fin Donnelly says you can do anything if you set your mind to it.

Fin Donnelly is a very good example of a hero to us. When he came to swim in the Fraser River, he didn't care how cold or hot it was, or if he was surrounded by seals; he was doing it because he was trying to make our rivers a better place for our animals to live.

"At 7 a.m. the next morning it is a cool, fall day on the river, thick with fog. A dozen people have turned out to see Fin Donnelly off. He hits the water and cautiously the entourage of swimmer and support raft makes its way through the early morning mist. The day's destination is Quesnel, the interior city founded at the spot where adventurers once left the Fraser for the push inland to the gold fields of Barkerville. When planning the swim, Fin Donnelly had considered this one of the long legs of his journey and a late arrival was forecasted."Here is an excerpt of his journey in 1995, as described on his Web site. "As if in reward for the long days on the slow-moving upper Fraser River, Fin Donnelly's swims are shorter and in more rapidly flowing water. The first day is an almost leisurely seven hour jaunt from Prince George to Hixon, through rapidly changing geology as the Fraser leaves the Mcgregor Plateau and enters the northern reaches of the Cariboo. The river valley gradually widens until the now-low hills are miles apart. The river itself has carved down into land created 10,000 years ago by the retreat of glaciers.

The Rivershed Society of British Columbia was formed in January, 1996 to work towards change, building on the momentum of Fin Donnelly's amazing swim of the Fraser River in 1995.

In 1998 the Rivershed Society of B.C. launched its ambitious Fraser 2000 project. Fraser 2000 was a two-year initiative culminating in September 2000, with another month-long swim by Fin. Fraser 2000 was part of a coordinated series of Canadian Heritage River celebrations happening across the country in the year 2000.

The Rivershed Society of B.C. puts on several special events and sponsors many programs to promote better understanding of environmental issues. Fin is devoted to spreading his message through personal presentations to school children of all ages, community and business groups and conferences.

Fin Donnelly is working toward a sustainable future. "Disappearing salmon runs, lost streams, increasing levels of toxins, heavy metals and chemicals in our waterways, a loss of critical habitat and biodiversity are all indicators that our riversheds are in trouble." Fin is a hero because he cares, and he does something about it.
Since Jenny Kim submitted her MY HERO page on Fin Donnelly...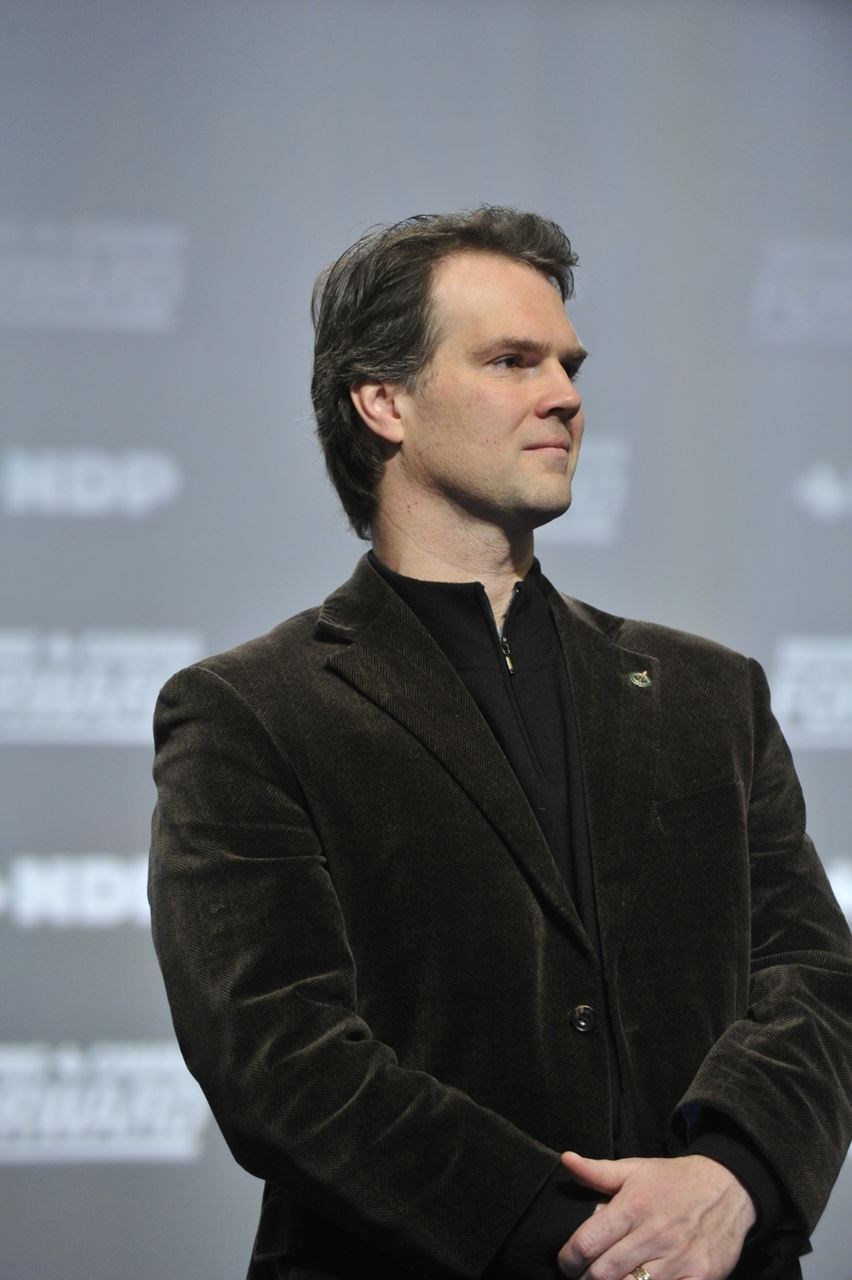 Fin Donnellybcndp / CC BY (https://creativecommons.org/licenses/by/2.0)Fin has been even busier in his work to make a difference, intertwining politics and environmental policy in his quest for sustainable living and a cleaner environment. Living with his wife Lynda in Coquitlam, Fin was elected to the Coquitlam City Council in 2002, serving as its youngest representative. His political platform focuses on sustainability, a healthy environment, a vibrant economy, and social equity:
"I believe the best decisions for our community integrate social, economic and environmental values...I believe a healthy community needs a healthy environment. I support safe drinking water, watershed planning, protecting environmentally sensitive areas, public education, stewardship and independent environmental studies on major developments....I support Smart Growth. I encourage community driven and conservation-based economic development. I support small business, clean industry and expanded tourism."
While he still excels as the Executive Director of the Rivershed Society of British Columbia, he is also the Chair of the Coquitlam River Aggregate Committee, Vice Chair of the Riverview Committee, a Member of the Evergreen Cultural Centre Board and more, and has served on several other committees prior to!
His passion for aquatics and spreading environmental issues continues today, and thus far, Fin has made 14 marathon swims covering 3,200 km of BC's rivers and lakes, as well as the Pacific ocean.
Fin's achievements have NOT gone unnoticed. In 2002 he was awarded the prestigious Queen Elizabeth Golden Jubilee Medal, and in 2001 he was inducted into the BC Summer Swimming Pool of Fame, which come in addition to his previous commendations.
Called a "new breed of politician" Fin is admired in his community, and considered a hero throughout Canada. Ruth Foster, a retired teacher from Coquitlam had this to say about Fin:
"I find Fin to be extraordinarily committed to the community and the environment, knowledgeable, and fair-minded. He works tirelessly and collaboratively for long term, sustainable solutions and he has the courage to speak and act on his well-considered convictions. An inspiring role model for young people who has received many awards for his extensive volunteer work in environmental education, he is in my mind not only a local treasure but a hero of national stature."
Page created on 4/22/2015 7:20:53 PM
Last edited 2/28/2020 6:35:52 AM
Extra Info
This biography was adapted from the Fraser 2000 website:
Fin's passion for the environment stemmed from his University of Victoria philosophy studies and his volunteer work. He has been an advocate of sustainable living for more than a decade.
Since 1990, Fin has made fourteen marathon swims for the environment, covering over 1,800 km in BC's rivers, lakes and ocean. In 1995, Fin swam the length of the Fraser River (1,370 km), the "heart and soul of British Columbia," to emphasize the need for people to live sustainably. He has swum four times across Georgia Strait (120 km), once across Juan de Fuca Strait (31 km), the lengths of Quesnel Lake (77 km), Pitt Lake (27 km), Williams Lake (6 km), the Raush River (50 km), across Lake Okanagan (3 km) and has made three, "Spirit of the Salmon Swims" (150 km) in the Lower Fraser River.
Drawing attention to environmental health issues, his swims evoke critical thought, prompting community solutions. Since 1995, Fin has visited 100 schools, making over 380 presentations, to more than 30,000 people in fifty BC communities.
In 1996, Fin founded the Rivershed Society of British Columbia, a charitable organization dedicated to educating people about living sustainably within healthy riversheds through public education, communication and outreach.
In 1999, Donnelly was named "Environmental Educator of Year," by the Environmental Educators Provincial Specialists Association. In 1997, the Squamish Nation honored him with the name Iyim Yewyews. In 1995, the Georgia Strait Alliance gave him a lifetime membership. In 1994, the Coquitlam Chamber of Commerce named him "Sportsperson of the Year." In 1994, he set the unofficial world record for swimming Juan De Fuca Strait (10 hours, 10 minutes). He also set the unofficial world record for swimming Georgia Strait (8 hours, 5 minutes). In 1988, he made the finals at the Canadian Olympic swim trials and won four gold medals swimming for Canada in Tel Aviv, Israel. He has raised over $50,000 for environmental concerns.