Frida Kahlo's life was one marked by extreme suffering, extreme heroism, and extreme genius. Stricken with polio as a child, then nearly crippled in a bus accident at the age of eighteen, Kahlo defied the odds, not only by learning to walk again (twice), but by taking the world by storm with her unique artistic vision.
"I paint my own reality. The only thing I know is that I paint because I need to, and I paint whatever passes through my head without any other consideration."
Frida Kahlo was born July 6, 1907 near Mexico City. However, she always claimed to be born in the year of the Mexican Revolution, 1910, in order to link her own birth to that of modern Mexico. It was just one of the many half-truths Kahlo told about her life, some say, in order to create a myth through which she would always be remembered.
The desire to be remembered was always a central theme of Kahlo's art, as reflected in the many self-portraits she painted (the images for which she is best known). Once she embroidered a pillow for her husband, the muralist Diego Rivera, which read, "Remember me, my love."
Kahlo's obsession with mortality is no mystery, as illness, severe pain and the threat of death repeatedly imposed themselves on her young life. At age six, Kahlo contracted polio and had to spend 9 months confined to her room. During that time, she created an imaginary friend who would later be reflected in a painting called "The Two Fridas." Explaining the painting in her diary she wrote, "I experienced intensely an imaginary friendship with a little girl more or less the same age as me ... I followed her in all her movements and while she danced, I told her my secret problems."
Once over the polio, Kahlo seemed determined to live life to the fullest. She became a tomboy at school and the leader of a group of rebellious youngsters (mostly boys) who pulled endless pranks at the National Preparatory School they attended.
In 1925, Kahlo suffered another tragedy when the school bus on which she was riding collided with a streetcar. A metal pole pierced her body, leaving her with multiple injuries, including a broken spinal column. During a long recuperation, Kahlo discovered her love for painting. Using a lap easel her mother gave her and a mirror she'd had hung in the canopy above her bed, Kahlo produced some of her earliest self-portraits.
"I never lost my spirit. I always spent my time painting."
Miraculously Kahlo regained the ability to walk, though she would be tortured by pain and fatigue throughout her life and would undergo more than 30 operations for her injuries. "I never lost my spirit," she once said, "I always spent my time painting."
After her recovery, Kahlo took up with a group of Mexican artists who introduced her to well-known Mexican muralist, Diego Rivera. Rivera immediately recognized her talent and encouraged her to continue painting. At his suggestion, Kahlo also began wearing traditional Mexican clothing, which consisted of long, colorful dresses and exotic jewelry.

In August of 1929, Rivera and Kahlo married, but their 25-year union would prove to be a stormy one marred by numerous affairs on both their parts. Beautiful, intelligent, and immensely talented, Kahlo was considered one of the most desirable women of her day. She was romantically linked with movie stars, artists, and politicians of many nationalities, many of whom came to visit her at the casa azul -- the blue house -- in Coyoacan.
"My painting carries with it the message of pain ... Painting completed my life ... I believe that work is the best thing."
All over the world people loved Kahlo and her work. She was praised by French surrealist André Breton, and wined and dined by Picasso when she visited Paris. During her life she had three exhibitions: one in New York in 1938, one in Paris in 1939, and finally one in Mexico City in 1953. But by that time, Kahlo's injuries were catching up to her. Her health was so bad doctors advised her not to attend. But Kahlo would not be dissuaded. Minutes after the exhibition started, a wail of sirens filled the air and an ambulance arrived. Frida Kahlo was wheeled out on a stretcher and placed in the center of the gallery where she held court all evening.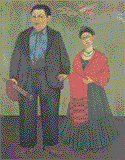 The pain of Kahlo's complex marriage was often reflected in her paintings, such as one entitled, "Frida y Diego." Although the couple did divorce in 1939, they reunited in less than a year. For all their troubles, they remained one another's greatest loves and greatest fans.
That same year Kahlo suffered another blow. Her right leg had to be amputated below the knee due to a gangrene infection. On July 13, 1954, at the age of 47, Frida Kahlo died. The cause was never officially determined. The last entry in Kahlo's diary read, "I hope the leaving is joyful and I hope never to return."
Little known outside of the art world until the 1990's, Frida Kahlo has recently become a cultural icon. Numerous books and articles have been written about her. She has been the subject of three documentaries, and a feature film about her life was released October 25, 2002. For a woman who wished to be remembered, it seems, her wish has come true.
Page created on 7/28/2014 11:01:32 AM
Last edited 11/30/2019 7:45:49 AM
Extra Info
SOURCES:
"Kahlo, Frida," Microsoft Encarta Online Encyclopedia 2002.
Fuentes, Carlos and Lowe, Sarah M. The Diary of Frida Kahlo: An Intimate Self-Portrait. Abradale Press:1998.
The World of Frida Kahlo Web site.
Homage to Frida Kahlo Website, author: Rachelle Drouin.
"Frida Kahlo, Artist, Diego Rivera's Wife." New York Times Magazine, July 14, 1954.
The Frida Kahlo Museum Website, "A Narrative by Gale Randall."