Press Release
January 2021
'Faith's World' has won The People's Choice Award and has come joint first in the Overcoming Obstacles category at the 2021 MY HERO Film Festival.
Faith Guilbault placed 1st in the Overcoming Obstacles category as well as winning The People's Choice Award for her trailer, Faith's World, produced with BYkids.
People's Choice Award
Faith Guilbault, age 16, has cerebral palsy and invites us to experience living with special needs so we can all treat being differently-abled with humanity and normalcy. With guidance from filmmaker Joyce Chopra, Faith shines a light on her world, inviting viewers to focus on the similarities rather than differences between abled and disabled people.
Whether by birth, accident or illness, nearly 14% of our student population (seven million kids) in the United States is disabled. Faith Guilbault is one of them. Born with cerebral palsy, epilepsy and cortical vision impairment, she can now walk with the use of canes due to her fierce determination to be independent and weekly physical therapy sessions. Because she was born with neurological blindness, Faith attends the Maryland School for the Blind where she works one-on-one with teachers who are guiding her towards new ways to learn.
In her film, Faith shares her many ways of being physically active in the world, from skydiving to traveling to New York City where she walks the catwalk during Fashion Week with 'Runway of Dreams', showcasing adaptive clothing lines that enable people with physical disabilities to dress themselves.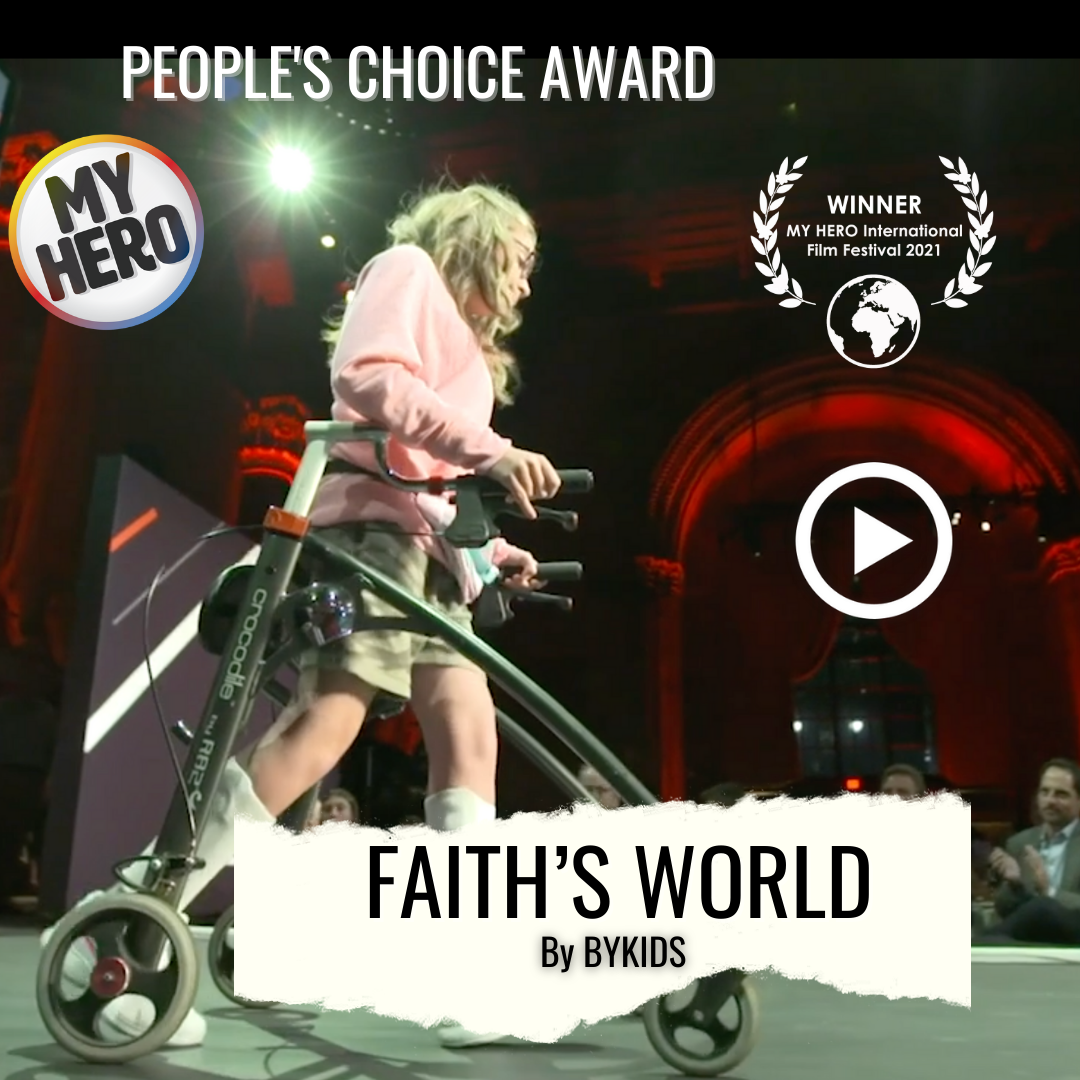 Faith's WorldMY HEROFaith joined the MY HERO 2021 festival from her home outside of Baltimore: "I am honored to have this award. I am proud of myself and my team. I am so happy."
BYkids is a non-profit organization that mentors teens to create short documentaries to tell their stories through film and share the realities of global inequality and injustice on the world stage.
Said Holly Carter, Founder and Executive Director, "We give kids agency to inspire, empower and enact change. Kids learn citizenship through empathy, using film as a starting point for understanding. By giving kids the tools and mentoring to make documentary films about their lives and packaging those films for a wide American audience. BYkids gives voice to youth from diverse cultures and encourages international understanding and engagement by giving viewers concrete ways to respond."
The 17th Annual MY HERO International Film Festival Took place on December 4th, 2021. Watch Faith Guilbault receive her award for People's Choice and 1st Place in the Overcoming Obstacles category: myhero.com/17th-annual-iff-peoples-choice-award
View the full film Faith's World (2021) at FAITH'S WORLD | BYkids Trailer
About MY HERO International Film Festival
The MY HERO International Film Festival brings together professional and youth filmmakers who honor local and global heroes working for positive change in the world. Thanks to generous sponsors, prizes are awarded to elementary, middle school, high school, college and professionals in a variety of categories including documentary, narrative, music video, animation, experimental, and more.
To view the 2021 award-winning films, go to Winners

For more details about MY HERO's International Film Festival, please visit myhero.com/FilmFestival
Page created on 1/11/2022 5:05:05 PM
Last edited 2/17/2023 11:24:00 AM