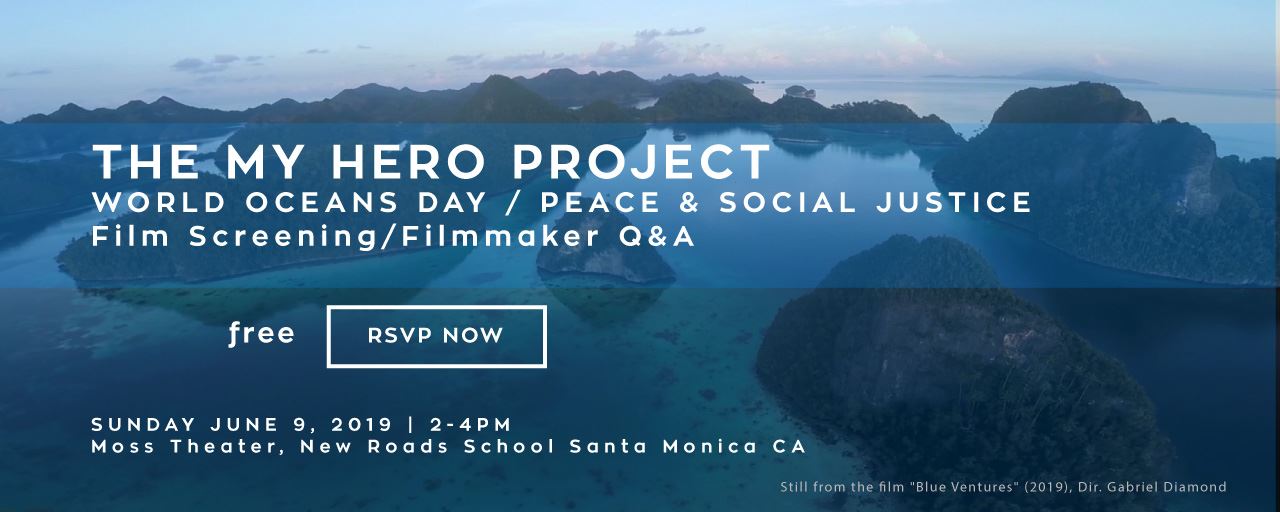 Sunday ScreeningsMY HERO
CONTACT: JEANNE MEYERS FOR IMMEDIATE RELEASE
Co-founder/Director
The MY HERO Project
[email protected]
949-376-5964
MY HERO HOSTS FREE FILM SCREENINGS FOR WORLD OCEANS DAY
MAY 16, 2019 – SANTA MONICA, CA – To celebrate World Oceans Day, The MY HERO Project is hosting a free community screening on Sunday, June 9. The short films represent the finalists of The Sylvia Earle Ocean Conservation Award, which is presented each year at the MY HERO International Film Festival.
The Earle award, sponsored by MacGillivray Freeman Films' One World One Ocean campaign, is named for world-renowned oceanographer and conservationist Dr. Sylvia Earle. The award honors filmmakers who shine a light on heroes working to protect the world's oceans.
The Ocean's screenings will run from 2:00 PM – 3:00 PM at:
Moss Theater – New Roads School
3131 Olympic Blvd
Santa Monica, CA 90404

Highlights include:
Protecting Blue Whales and Blue Skies - directed by: Michael Hanrahan – is a collaboration of government agencies, non-profits, and private industry that come together to solve the problem of commercial ships causing increased air pollution and whale strikes in the Santa Barbara Channel.
Living with the Oceans – a documentary by Nicky Milne for Thomson Reuters Foundation – shows the efforts of the people from a fishing community in Madagascar as they learn sustainable methods to protect the ocean that provides their livelihood.
Defending The Deep - directed by Will Parrinello of the Mill Valley Film Group – tells the story of Claire Nouvian, a marine life advocate who lead a campaign against the destructive practice of deep-sea bottom trawling. Nouvian's efforts led to a European-wide ban on the practice and earned her the 2018 Goldman Environmental Prize.
Blue Ventures – by filmmaker Gabriel Diamond – features marine biologist Alasdair Harris, who urged a coastal fishing community to temporarily close off an active section of their octopus-fishing area to boost productivity nearby. The experiment showed that efforts to protect the oceans could improve lives as well.
3:00 PM to 4:00 PM - Peace and Social Justice screening
Hosts for the event:
Wendy Milette - Director of the MY HERO International Film Festival
Trey Carlisle - Filmmaker and social justice activist
The MY HERO Project is a nonprofit 501()3 organization with a mission to share stories of the world's heroes through stories, art, music and short films. MY HERO website (myhero.com) hosts the world's largest archive of hero-themed media submitted by students, teachers, professional writers and others around the globe. ​
Page created on 5/16/2019 5:54:39 PM
Last edited 5/22/2019 8:39:05 AM