by
MY HERO Media

from

Laguna Beach, California in United States

CONTACT:

FOR IMMEDIATE RELEASE

Shannon Luders-Manuel

Story Director

Giselle Villatoro

Art Director

949-376-5964

FINALISTS ANNOUNCED FOR STORY, ART, AND FILM AWARDS

June 16, 2021 – LAGUNA BEACH CA - The finalists are announced for the Mattie J.T. Stepanek Poetry Prize, the Robert Shetterly Portrait Prize, the UN Sustainability Development Goals Poster Contest, and the Coronavirus Community Heroes Multimedia Contest. Winners in each category will be announced June 23, 2021 in a Zoom event.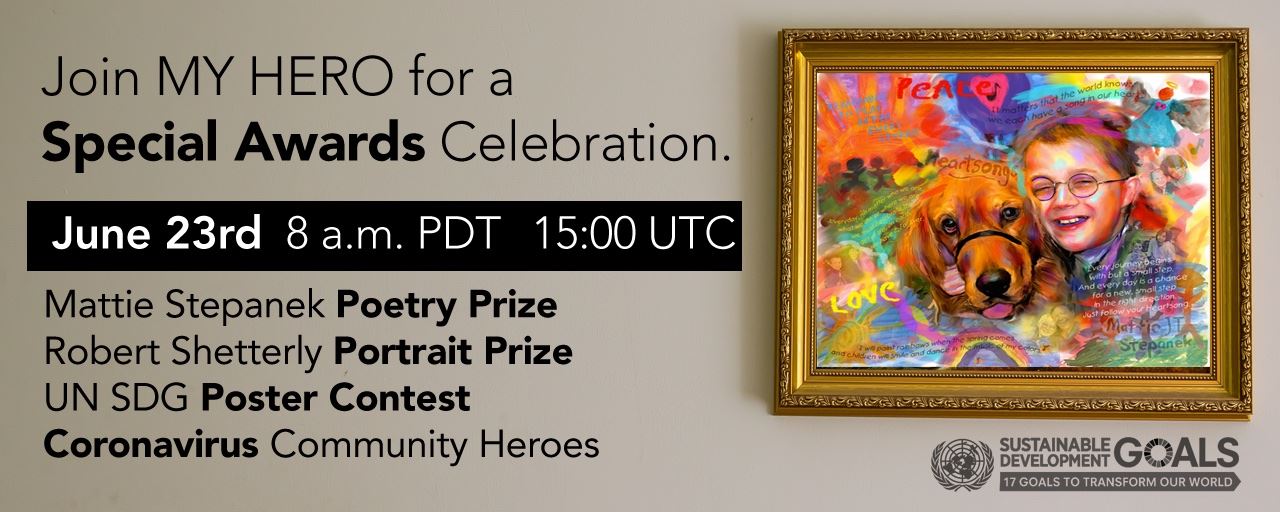 Special Awards CelebrationMY HERO
The Mattie J.T. Stepanek Poetry Contest was established by The Mattie J.T. Stepanek Foundation and The MY HERO Project to honor the life of poet and peacemaker Mattie Stepanek. Participants submitted original poems, art, films and audio about heroes working for peace, human rights and the environment. The finalists are judged by Mattie's mother, Jeni Stepanek.
The Coronavirus Community Heroes Multimedia Contest was established by The MY HERO Project and the Storytelling Association of Southern California to honor community members helping others during the COVID-19 pandemic. Finalists have been announced in the categories of story, art and film.
The Robert Shetterly Portrait Prize is named after the artist and social activist Robert Shetterly, who has beautiful painted portraits of Americans who tell the truth and heroes celebrated from all walks of life.
The UN Sustainability Development Goals Poster Contest was launched to educate youth on the UN sustainable development goals through the use of art. Students are asked to create a poster of a hero working to achieve these goals.
Students and professionals around the world have taken part in these competitions.
Winners in all four contests will be announced at a special awards celebration on June 23, 2021 at 8:00 PDT (15:00 UTC). Email [email protected] for the Zoom link and passcode. Please include your affiliation.
All contests are ongoing. We invite you to submit to one of our contests for future consideration: /enter-contests
The MY HERO Project is a 501(c)(3) organization dedicated to sharing stories of heroes from all parts of the world. MY HERO's award-winning website (myhero.com) hosts the world's largest archive of hero-themed stories, music, art, and short films.
Page created on 6/19/2021 4:53:08 AM
Last edited 6/22/2021 2:55:35 AM