Ilse, a childhood friend of mine, once found a raspberry in the concentration camp and carried it in her pocket all day to present to me that night on a leaf. Imagine a world in which your entire possession is one raspberry and you give it to your friend.
Gerda Klein has told this story and many others about her life to millions of people throughout the world. Klein was living a happy childhood in southern Poland when German soldiers invaded in September, 1939. In time she would lose her entire family except for one uncle. She was in the Czech town of Volary when a Jewish lieutenant named Kurt Klein helped liberate a group of survivors, including Gerda. The two would marry and begin a life together.
Gerda and her husband established the Gerda and Kurt Klein Foundation to combat hunger and intolerance. The Gerda and Kurt Klein Foundation partners with Dr. J. Larry Brown's Center on Hunger and Poverty, and with other national organizations to carry out their mutual mission to end hunger and promote tolerance and human rights.
The Klein Foundation has established educational programs for middle and high school students. One of the programs teaches tolerance, acceptance, and hope. The other, entitled "KNOW Hunger," focuses on developing local community service programs to combat hunger.
Following the tragic shooting at Columbine High School May 7, 1999, the Kleins travelled to Littleton, Colorado to speak to students and teachers about tolerating difference and ending bigotry.
Kurt Klein died April 19, 2002 at the age of 81. He was on a lecture tour in Guatemala City, Guatemala, delivering his and Gerda's message of hope. Click here to read his obituary.
Gerda Klein was a featured guest speaker at a dinner held in Los Angeles in January, 2002 to raise awareness about ending Childhood Hunger in America. Gerda has received numerous honors including an Academy Award for her documentary about the Holocaust. The following excerpts were taken from the powerful message she shared at an event for Children Uniting Nations and Hunger Free America:
It has been my mission and my incredible joy to be speaking to kids all over the country and I've been asked this question in almost every community: 'How did it feel for you, a Holocaust survivor, to be standing on stage (at the Academy of Arts and Sciences) holding an (Academy Award winning) Oscar in your hand?'
I should tell you what I thought. I remember the long days on the death march, the bitter cold, the hunger, the loneliness, and the fear. I stood with a rusty bowl in my hands praying that when I got to the end of the line there should be enough food left in the kettle, and if by some miracle the ladle went deeper and brought forth a potato, I was a winner. I don't want our children and grandchildren to live in a world where a potato is more valuable than an Oscar, but I don't want them to be in a world where an Oscar is so important, forgive me, that one forgets that so many still don't have a potato. This, my friends, is what it's all about.
How blessed we are to be able to reach out to stamp out intolerance and hatred and feed the children, our future.
And I have been asked 'Why did you go on?' in those bitter days when I lost everyone I loved. My dream, I kept in my heart and pulled it out when the going was rough, was a picture: I could see my childhood home, my father smoking his pipe and reading the evening paper, my mother working at her needlepoint, my brother and I doing our homework, and I stood struck by the enormity of the thought that those were the evenings I took totally for granted. I called them boring evenings at home. To be a part of one such evening became the driving force for my own survival.
When you return to your homes, approach them slowly. Approach them as a hungry, nameless stranger would, and through the eyes of the stranger do not see what is missing but what is there.
Ask yourself, 'Why am I so lucky? Why am I so blessed?' Ask yourself, 'What can I do for those people in our country for whom an evening at home is still Utopia?'
Page created on 4/2/2013 7:32:11 PM
Last edited 4/30/2020 12:30:54 AM
Extra Info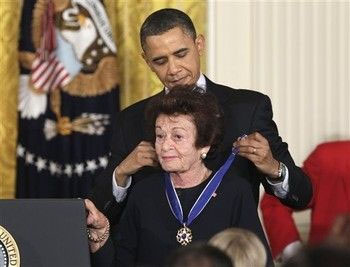 President Obama awards Gerda Weissmann Klein the Presidential Medal of Freedom
Photo courtesy of The Gerda and Kurt Klein Foundation
Gerda Klein is a recipient of the 2010 Medal of Freedom.  America's highest civilian honor, it is awarded to individuals who make an especially meritorious contribution to the security or national interests of the United States, world peace, cultural or other significant public or private endeavors. Here is what was said about her:
Gerda Weissmann Klein.  Gerda Weissmann Klein's life is a testament to the tenacity of the human spirit.  A Holocaust survivor, she was separated from her parents and sent to a series of Nazi labor camps.  In 1945, she was one of a few survivors among those forced to undergo a 350-mile death march to avoid the progress of liberating Allied forces. From tragedy to triumph, she and her husband proudly started the Gerda and Kurt Klein Foundation to promote tolerance, respect and empowerment of students throughout the world. By sharing her stories and encouraging others to see themselves in one another, Gerda Klein has helped to advance understanding among all people.
  In the bitter winter months of 1945, the Nazis forced 2000 women slave laborers on a 350-mile death march. On May 7, 1945, a young American Army lieutenant named Kurt Klein 

liberated the 120 skeletal survivors remaining from that march, including one 21-year-old who would change his life.

Barely alive and weighing only 68 pounds, Gerda Weissmann demonstrated an indomitable spirit and faith in the goodness of man that stunned the young GI. From that first encounter between a survivor and a soldier whose own parents had perished in Auschwitz, they developed a love that would lead to a marriage of 56 years, three children and eight grandchildren - and a partnership to fight for human rights.

  Some of her many other honors include six honorary doctorates, the Lion of Judah Award, and the Human Rights Award given by the National Lawyers' Committee for Human Rights,

Gerda Klein has been featured on 60 Minutes and appeared with husband, Kurt, on Nightline following their inspiring meeting with parents, teachers, and students at Columbine High School after the tragedy there in 1999. She has authored several books including All But My Life upon which the Emmy and Academy Award-winning documentary One Survivor Remembers is based.
Excerpt from a fall 2000 lecture held at Chapman University's Rodgers Center for Holocaust Education.
This story was edited by Stephanie Cole
Photos courtesy of The Klein Foundation, Carl Cox Photography, Jewish Virtual Library, The Holocaust History Project, Aish International, and Karen Simonetti.