Dr. J. Larry Brown
"In my religious tradition it is said, 'if you save one life you save the world.' We can make the world better by protecting and nurturing the small brains that we hold in our collective hand."
Dr. Brown directs the national Center on Hunger and Poverty, located within the Heller School for Social Policy and Management at Brandeis University, where he holds the title of Distinguished Scientist. Formerly on the faculty of the Harvard School of Public Health, Brown chaired the Physician Task Force on Hunger in America, leading a team of prominent medical leaders on field investigations into half the states in the nation during the 1980s. Their work drew sustained national media attention, and led Congress to take steps to address the growing problem of hunger.
Brown is the immediate past chairman of the board of Oxfam America, and served as Assistant Director of Peace Corps/VISTA under President Carter. He also chaired the Medical Task Force of USA for Africa/Hands Across America. Dr. Brown is the author of numerous articles in both lay and scientific journals, including Scientific American and The Encyclopaedia Britannica Medical and Health Annual. He is the author of several books including Living Hungry in America (Macmillan and Mentor) and appears frequently on national television including Nightline, The Today Show and Good Morning America.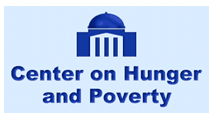 As executive director of the Center on Hunger and Poverty in the Heller Graduate School at Brandeis University, Dr. J. Larry Brown is a leader in the fight against childhood hunger in America. Since its inception in 1990, the Center on Hunger and Poverty has played a leadership role in determining the extent of food deprivation and hunger in the United States. Of particular concern to Dr. Brown is hunger and its effects on young school aged children.
Mild hunger is the most prevalent type of hunger in the U.S. and scientific evidence exists linking mild hunger with permanent impairments in cognitive (learning, memory and judgment) function in children. Even mild hunger harms children in a permanent way.
Dr. Brown spoke at the Solidarity Now to End Childhood Hunger in America symposium sponsored by Daphna Ziman and Sharon Davis' organization Children Uniting Nations and Hunger Free America. The event was held in Los Angeles in January 2002. The following excerpts are taken from Dr. Brown's speech at this event:
"There are 31 million people in households across America that are hungry ... 12 million of these people are children. They do not know where their next meal is coming from."
"Science has documented what mothers, school nurses and teachers have believed for years—that hunger hurts kids. They suffer more stomachaches, headaches and missed school days. A human brain is impaired when a child misses meals. Even missing one meal can impair cognitive behavior. When there's not enough dietary energy, the brain allocates the limited dietary energy in this order:
(1) towards critical bodily function,
(2) to height and weight gain,
and if there's enough left, the remaining dietary energy is then, lastly allocated
(3) to brain function.
"When you have the body of a hungry child in the classroom . . . you don't have his or her brain."
"We are the richest nation in the history of the world with millions of people going hungry and wondering where their next meal is coming from and we're still unable to rid our society of this scourge. This is a solvable problem. We have programs in our arsenal that work and work well when they're used fully. We have an unprecedented opportunity to strengthen America by safeguarding our children. We simply have to take the programs we already have and make sure they reach those in need. We don't need new programs ... we need to do a better job with what we have."
Brown's hero is Gerda Weissmann Klein, a Holocaust survivor who has dedicated her life to fighting the problem of hunger. Brown says of her that she "shows every day of her life that not even the worst of tragedy can beat the best of the human spirit." As a Jewish teenager in Poland, she was taken from her family by the Nazis, never to be reunited. For six bitter years she was in brutal work camps, and for weeks was forced to march with more than 2,000 other young women through the snow. Just over 100 survived this ordeal. Gerda promised herself that she would spend her life honoring those who lost theirs, and she is still doing so in her 70s. Her challenge to the students of Columbine High School is her message to all youth: you cannot prevent tragedy from happening in life, but you have the power to decide whether it represents the end for you, or whether the ashes around your feet become the soil in which to grow flowers in the world. Joined by her husband, Kurt, who liberated her at the end of the war, the Kleins established a foundation to enable American youth to help end hunger in our nation. Though Kurt recently passed away, Gerda carries on the belief that no child should ever know the hunger she knew as a youth.
Page created on 4/2/2013 7:30:00 PM
Last edited 1/6/2017 4:45:33 PM
The beliefs, viewpoints and opinions expressed in this hero submission on the website are those of the author and do not necessarily reflect the beliefs, viewpoints and opinions of The MY HERO Project and its staff.
Related Links
Feeding Children Better
- Corporate responsibility has always been a ConAgra Foods priority. Through Feeding Children Better, ConAgra Foods has focused its long history of giving and channeled it to make a deep and lasting impact on an issue that is important to its consumers.
The Feinstein Foundation:
- Founded by Alan Shawn Feinstein, the Feinstein Foundation is dedicated to philanthropic endeavors focusing on the advancement of public service and the alleviation of hunger.
The Institute on Assets and Social Policy
- promotes policies that broaden wealth, reduce inequality, and improve social and economic well-being.
Extra Info
This story was edited by Stephanie Cole. Content was provided by the Center to End Hunger and Poverty and at a symposium sponsored by Children Uniting Nations and Hunger Free America, "Solidarity Now to End Childhood Hunger in America" that was held in January of 2002. This event brought together the entertainment industry, the media, educators, child welfare activists, and leaders of both parties to seek solutions to this national emergency.