Mohandas K. Gandhi (español)
by
Escrito por: Jeff Trussell
Nosotros debemos ser el cambio
que deseamos ver en el mundo.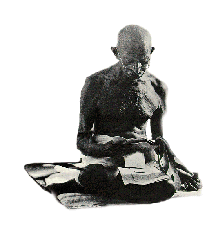 A principios de los 1600's, marineros de la Gran Bretaña se dirigiéron rumbo a India. En esos tiempos, India era conocida como un pais rico en tradiciones y cultura. El Imperio Británico tomó control del gobierno de India y cambio para siempre la fisonomía del país. Tradiciones y religiones antiguas fueron desechadas; hechas ilegales por despiadados generales Británicos ansiosos de convertir a India en otra Inglaterra. Como usted se puede imaginar, los nativos de India sufrieron mucho, viendo a su forma de vivir pisoteada bajo el deseo Británico de "civilizar" a su país.
No huvo nadie en India que pudiese exitosamente pelear contra los Británicos y la opresión que ellos habian traido. Eso todo cambio cuando un pequeño hombre, nacido en la ciudad antigua de Porbandar en 1869, dijo "Basta!" Este hombre llego a ser conocido en todo el mundo como Gandhi, el Mahatma, o la "Gran Alma" de la India.
La niñez de Mohandas Karamchand Gandhi dio poca seña de la exitosa vida que el iria a vivir. El fue a la escuela, se caso, y tiempo despues se convirtio en un abogado bastante fracasado y terriblemente tímido. Todo esto cambio, sin embargo, un fatídico dia cuando a Gandhi le fué negado un asiento en una diligencia en Sur Africa. El chofer racista lo habia hecho sentarse afuera bajo el sol ardiente en un largo viaje hacia Pretoria, simplemente por no ser blanco.
Gandhi, hasta ahora muy timido ni siquiera para hablar delante de un juez, demando a la compañía de ferrocarril, y ganó el pleito. De ahí en adelante, Gandhi se convertió en el portavoz numero uno de toda la gente de color impotente del mundo.
Después de veinte años de dar asistencia a sus compatriotas Indios en Sur Africa, Gandhi regreso a la India y reinició la lucha contra la opresión Británica. En vez de animar a los naturales de la India a tomar las armas y forzar los colonizadores Británicos a salir de su patria, Gandhi creó una politica de protesta pacífica. "No violencia es el arma para los valientes," el dijo.
Durante veinte años, las manifestaciones pacíficas, marchas, y huelgas de los Indios agotaron a la resistencia Británica. Afrontados por un delgado hombre usando solo una lisa tela, y acompañado por milliones de seguidores armados no con armas pero con amor y verdad , el gobierno Británico, en 1946, al fin le dio a la India la independencia, un sueño largo anhelado. La lucha por la libertad de la India se ganó sin haber sido peleada ninuguna batalla.
Tristemente, dos años despues de su gran victoria, Gandhi fue balaceado y asesinado por la bala de un criminal. Pero, la herencia de Gandhi vivio tras de su muerte, mostrandole al mundo que uno puede ser un héroe y lograr grandes cosas sin pistolas ni espadas ni odio. Como Gandhi una vez dijo, "La no violencia es solo cuando amamos a aquellos que nos odian. Yo se que difícil es seguir esta gran ley de amor, pero no son todas las grandes y buenas cosas difíciles de hacer? Amar al que odia es lo mas difícil de todo. Pero por la gracia de Dios incluso ésta cosa más difícil se hace fácil de realizar si lo queremos."
Page created on 8/13/2014 12:28:14 AM
Last edited 8/13/2014 12:28:14 AM
The beliefs, viewpoints and opinions expressed in this hero submission on the website are those of the author and do not necessarily reflect the beliefs, viewpoints and opinions of The MY HERO Project and its staff.