Grace Zia Chu
by
Rene Cheng

from

Los Angeles, California in United States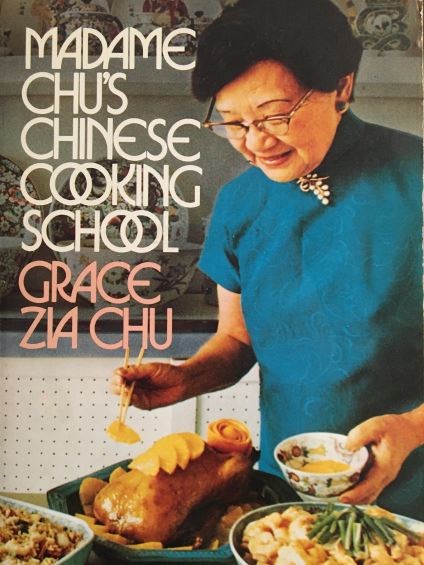 Grace Zia Chu's Second Cookbook in 1975eBay [Public domain image]
Grace Zia Chu (1899-1999)
Grace Zia Chu was a notable author of Chinese cooking and became a landmark figure in Chinese cuisine to Americans. She wrote two culinary books: "The Pleasure of Chinese Cooking," published in 1962, and "Madame Chu's Chinese Cooking School" in 1975. Her works introduced a generation of Americans to the beauty of Chinese cooking.
Chu was born in Shanghai on April 23, 1899, where she attended a private school, McTyeire School, and graduated in 1918. Chu later received a full scholarship to Wellesley College in the United States, where she earned a bachelor's degree in Physical Education in 1924. Upon college graduation, Chu returned to China to teach at McTyeire School and Ginling College.
Chu later married Chu Shih-Ming, who was a personal assistant to Chiang Kai-Shek. Ming was elected to be the representative of the Nationalist Government and served as the military attache to the Chinese Embassy in Washington D.C. in 1941. By 1955, Chu settled in Manhattan, New York, where she hosted her cooking classes on Chinese cuisine at the China Institute and ran her restaurant, Mandarin House, for nearly 30 years.
In Chu's first cookbook, "The Pleasure of Chinese Cooking," she explained the ingredients needed, utensils, and preparation techniques. While most of the recipes Chu introduced were Cantonese, she included some of the Mandarin ones as well. After receiving many compliments and respect from her first cookbook, Chu continued to impress the public with her second cookbook, "Madame Chu's Chinese Cooking School." Instead of providing techniques like she did in her first cookbook, Chu wrote over 200 new Chinese recipes. The instructions were crystal clear and easy to follow, and were illustrated with drawings. Her tips and suggestions in this cookbook led to her ultimate success with fine Chinese cuisines.
Chu passed away on April 15th, 1999, at the age of 99, in Columbus, Ohio. However, her cooking techniques and recipes had lived on in today's popularity. The legend introduced Americans to the finest Chinese cuisine, and her work influenced a new American generation.
Page created on 8/14/2020 3:49:06 PM
Last edited 4/27/2021 10:57:44 PM
The beliefs, viewpoints and opinions expressed in this hero submission on the website are those of the author and do not necessarily reflect the beliefs, viewpoints and opinions of The MY HERO Project and its staff.